May 4, 2020
HOW I BECAME INTERESTED IN BIRDS
By Dion Hobcroft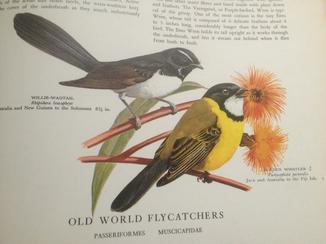 Golden Whistler and Willie Wagtail Plate by Oliver L. Austin
While leading VENT tours, participants have often asked me how I became interested in birds, but being distracted by finding birds and running the tours, rarely have I been able to explain. It all started in 1971 when I was six years old. Family friends Gwen and Bill Harwood in Tasmania gave me a Periwinkle Press book called Common Garden Birds of Australia written by Graeme Chapman. Let loose on a country property in rural Tasmania, I figured out the Masked Lapwing (then called a Spur-winged Plover) and the introduced European Blackbird. In 1972 my dad took up an appointment in Sydney, and we moved to the city I call home. In the backyard one day on the clothesline (called a Hills Hoist in Australia), there was a brilliant blue and white mini kookaburra—a Sacred Kingfisher! I was fascinated. Excursions around the suburb of Waverton produced the amazing Red-browed Finch. We moved to a then largely sandstone bushland suburb called Killara, and I was free to roam through the bush. At one time I had a male Golden Whistler and an Eastern Yellow Robin beside me in the same view. I have often told people that this was the end of me—my fascination with birds became all-corrupting and has remained obsessive ever since. These brightly feathered micro-dinosaurs that sing and skulk and change with the seasons were too much.
My dad traveled for work overseas and brought back books like the famous Golden Guide to North American Birds and A Field Guide to the Birds of Britain and Europe. I saved my pocket money to buy Oliver L. Austin's Birds of the World. My mum bought me my first pair of binoculars in 1975 and provided transport. She would read her university textbooks in the shade of a tree on a hot summer's day whilst I wandered around swamps and woodlands. Despite no overall fascination themselves with the natural history world, my parents were happy that I had this interest and allowed it to flourish.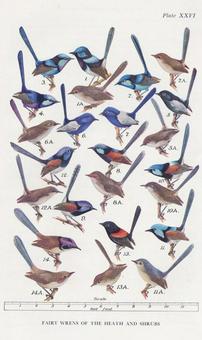 Fairy-Wrens Plate by Neville William Cayley
In Australia at the time (late 1970s), there was only one bird book—the famous What Bird is That? by Neville Cayley, first published in 1931. The plates were rather sketchy, and my identification skills were equally sketchy. The Koel was a Black Falcon, and the Glossy Black Cockatoo was a Red-tailed Black Cockatoo. When I was twelve (1977), my step-mum found out about the New South Wales Field Ornithologist's Club and that they would meet once a month at the Australian Museum in Sydney. So, I began attending meetings; the folks there were quick to adopt me and provide transport to bush campouts in far-flung regions of the state. My skills developed, and the folks were delighted when I would bring in reports of a tree full of Regent Honeyeaters, find a night-roosting Turquoise Parrot, or whistle a Black-eared Cuckoo into the middle of the campsite. As my teenage years rolled on, I was lucky to be mentored by many great field birders and scientists like Walter Boles, Mike Carter, Chris Corben, David Eades, and Alan McBride. Birding was very different then—no digital technology, rudimentary bird books, bad roads, and only the grapevine for birding intelligence. In sports-mad Australia, a young kid interested in birding was a bit peculiar. My school friends found it unusual, but they were always accommodating, and some would join me catching snakes, looking for owls in dense forests, or wandering at night with a torch trying to find elusive marsupials. Some school friends, like David James, have been birding companions for forty years.
My parents wondered if I would ever leave this interest behind, or where it might take me. The culmination of all of this was perhaps when I showed my mum a VENT catalog in 2000 and told her that I could be leading bird tours for like-minded people. This was not a career that was possible in her day. She was most impressed, as were the entire family, that unbeknownst to all of them, I had actually been doing a thirty-year apprenticeship of wandering around in jungles, swamps, forests, and oceans learning how to identify all the songs, field marks, and behaviors of the birds of the region. Now I could use these skills to get people on the birds; thanks to Victor and the VENT team, I am still doing this in 2020 and beyond. Interestingly, now Graeme Chapman and I correspond on different topics like Grasswrens. It has gone full circle.