May 8, 2020
A BIRD NEW TO SCIENCE ON THE VERY FIRST DAY OF A VENT CRUISE!
By David Ascanio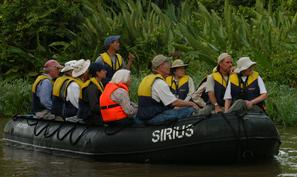 Birding from a Zodiac along the Orinoco River
When VENT offers a new departure, the first day in the field is memorable. On that day we are more alert than ever, as we are trying to get the "sense" and the "dynamic" of the birdlife there. One of these exceptional—and truly unforgettable—first days of a new tour happened during our first Jungle Rivers Cruise, which navigated the Orinoco, Essequibo, Suriname, and Amazon rivers.
A year prior to departure, I was requested by Victor Emanuel to explore the potential anchoring sites along the Orinoco, Essequibo, and Suriname rivers. The scouting trip was requested to explore key areas, find the target bird species, and design the anchoring site on each of the rivers. But given the short period of time available to scout these rivers, I had only a day and a half to explore the Orinoco Delta. I decided to explore a location used 60 years earlier by a binational expedition sponsored by the government of Venezuela. And guess what? Within an hour and a half of birding on a heavily forested river close to the one used on that expedition, I saw more than 60 species of birds, including the astonishing Agami Heron, a Zigzag Heron, and the (enigmatic at the time) Black-chested Tyrant. After such a grand slam, I said to myself, "This is our site on the Orinoco!"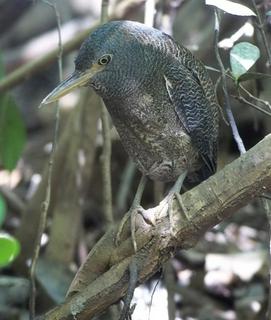 Zigzag Heron © David Ascanio
A year later, on October 27, 2004, I was back there again, but this time on a ship with about 10 VENT leaders and about 70 participants. Because I wanted to clear a Zodiac-unloading site at the forest edge, I asked the expedition leader to lower the Zodiac that was designated to me at 04:30 AM. It was pitch dark. Steve Hilty, my colleague and mentor for many birding adventures in Venezuela, came with me. Using spotlights, we found a place that seemed like a solid landing site. As I started cutting branches, I heard a bird voice that I could not recognize. I asked Steve about the voice, and he could not recognize it either. We continued to cut branches, and it sang again, but this time we taped the voice. Upon playback, two birds came fairly close to us. We looked at them but could not see details; it was barely getting light.
As we discussed what we had seen, the first Zodiac arrived with participants. We decided to continue this conversation later, since I was assigned to take the first group into the forest. The track turned out to be very muddy and buggy, but the birding was splendid. As the day gained light, we were some 300 yards away from Steve's group when I heard the very same bird again. I played back the recordings, and this time a pair approached in full light: two Furnariids, but of a species I could not identify! Upon a second playback, we observed it well, and I came to the conclusion that it might be something new—for the location and for the country. I called Steve by radio, but he wasn't in the vicinity. I decided to run to find him. Eventually I came across his group and brought them to our site. We did a third playback and got more views of the bird. Steve and I were confident that this was a very exciting discovery, but we wanted to keep calm and focused. Surprisingly, as I did the third playback, Andy Whittaker was in a Zodiac and heard my playback. He taped my recording—and he got to see the very same pair!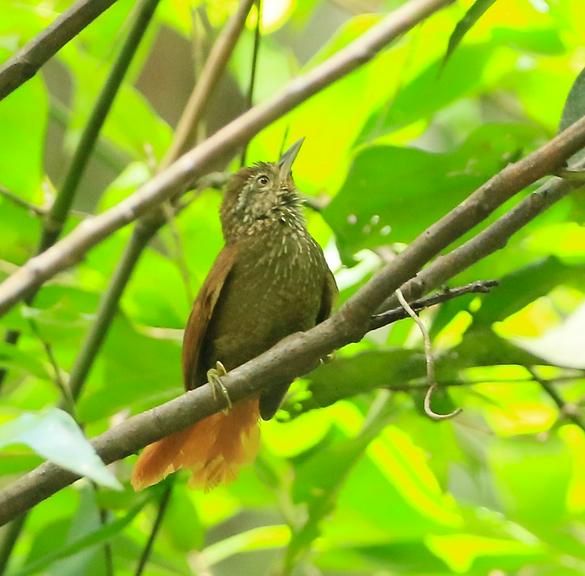 Orinoco Softtail © Steve Hilty
Later in the day, when everyone had seen this bird and was taking a break, we returned to the forest to take more notes and make more recordings. At this point, we knew it was a softtail and speculated it would be an enormous range extension of the little-known Orinoco Softtail. The closest population was some 600 miles away!
The very first bird of our very first Jungle Rivers Cruise was something exceptionally good, and we got almost everyone to see it. 
After the cruise was over, I conducted an expedition to the location to verify the species. In late December 2004, we confirmed that it was indeed a new species to science. For the first time in VENT history and probably for the whole bird tour industry, this was the first time that the first bird on a tour was new to science!
Extract from the cruise log:
"Meanwhile, back on that forest trail, ornithological history was being made. Steve Hilty tape-recorded a strange sound at dawn, while David Ascanio and Andy Whittaker heard the same thing a little later, as the morning brightened up. All of these top experts on the birds of the region were perplexed by what they had heard, and it wasn't long before they had determined that the bird behind the mystery voice was the Black-chested Tyrant, a bird barely known to exist from a few old specimens taken on the far opposite side of Venezuela many years ago. It is a rare event indeed to rediscover a "lost" species; it was totally unexpected, and by the end of the day almost all of the birders had managed to see this somewhat drab member of the Ovenbird family. What a beginning!"
Extract from the November 24, 2004 VENTFLASH:
"Our recent Jungle Rivers Cruise had the most dramatic beginning of any VENT tour in almost 30 years of VENT's history. On the very first morning, David Ascanio, Steve Hilty, and Andy Whittaker found an Orinoco Softtail, a species of ovenbird that is described in The Birds of South America as "virtually unknown in life," and "known only from a single site in southern Venezuela." That site is near the border of Colombia. We were on a tributary of the Orinoco near its mouth hundreds of miles from Colombia. Needless to say, the Orinoco Softtail was a lifer for everyone (over 50 participants saw it) including ace Venezuela birders and tour leaders David Ascanio and Steve Hilty. The bird we saw differed from the description in The Birds of South America in having a dark eye, and in some other ways, raising the possibility that it could be a new species! That same morning, most of us saw the Black-chested Tyrant, a striking, but very local and very poorly known flycatcher that only a few birders have ever seen. This species was also a lifer for Steve Hilty. What were the odds that Steve, the author of The Birds of Venezuela, would get two lifers in Venezuela on the first morning of our cruise?"
David's bio and upcoming tour schedule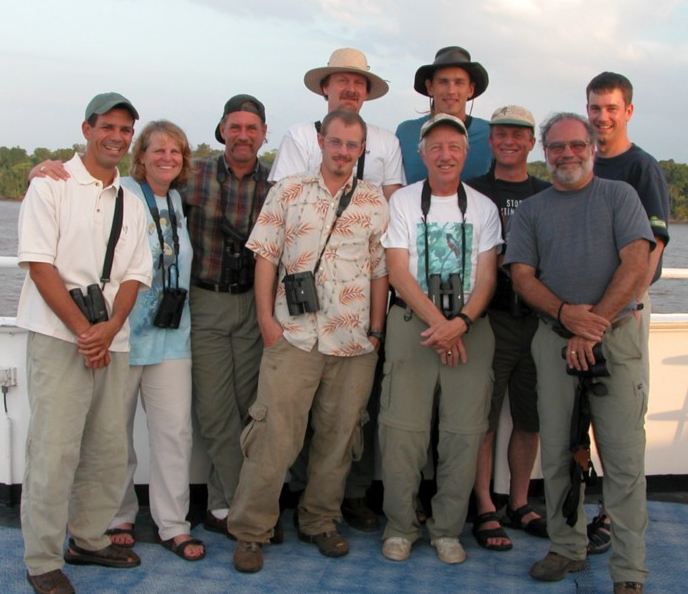 VENT Leaders and Guides of the 2004 Jungle Rivers Cruise