May 6, 2020
Dear friends: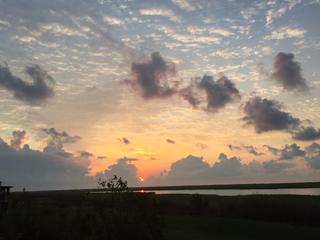 Sunrise at Warbler's Roost © Victor Emanuel
My five weeks at my Bolivar house have flown by. It seems like yesterday that I arrived late on the evening of March 26 to spend over a month at Warbler's Roost. Every day has been different and wonderful. Much of my time has been spent sitting on my porch looking out at the mudflats, the marsh, and the Gulf of Mexico. There is so much to see all the time: avocets marching; a Peregrine Falcon perched on a nearby tower; flocks of terns rising up and then settling down; a feeding frenzy when egrets, pelicans, herons, spoonbills, cormorants, and ibis gather in a mass to take advantage of a school of fish the avocets have discovered. On some days there are orioles, tanagers, and grosbeaks in the mulberries next to my porch. At times, birds come to the water drip that Winnie and David Burkett built for me.
Of course, my days have been affected by my concerns over the pandemic. I have seen many great birds, but I would have enjoyed them more if those concerns had not been on my mind. I have also greatly missed sharing these marvelous sightings with another birder. Sharing birds and nature with another person greatly enhances your pleasure.
I will never forget these past few weeks at Bolivar, watching spring unfold and seeing the changes. All of a sudden, the Scissor-tailed Flycatchers arrived, the harriers that flew by every morning and evening were gone, most of the avocets left one night, the mulberry trees now have no mulberries for the birds, most of the Hooded Warblers have passed through, and the Bay-breasted Warblers arrived in numbers. I hope to spend all of April here as many times as I can. I will return to Austin tomorrow. I will look forward to seeing my friends and spending time in nature in my neighborhood and in areas near Austin. I will enjoy seeing different birds and flowers but will miss the sunrises, sunsets, and birds of Bolivar.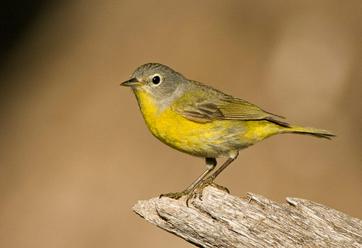 Nashville Warbler © Greg Lasley
April 19 – Started the day with a male Yellow Warbler atop one of the mulberries—a new species for my warbler year list! Then, at a nearby woodlot, I saw my first Blackburnian Warbler (a male); a Yellow-billed Cuckoo; Wood and Swainson's thrushes; Indigo and Painted buntings; Kentucky, Magnolia, Blue-winged, and Tennessee warblers; and an Ovenbird. This was my best day so far for migrants.
April 20 – Saw Scorpio, my birth constellation, and then to the east, the red horizon. I looked down at my drip and was delighted to see a Nashville Warbler, my 22nd warbler for the spring, a new bird for my yard list. Then a male Scarlet Tanager bathed in my drip. There were several Rose-breasted Grosbeaks and Baltimore Orioles in the mulberries.
April 21 – Started the day with two new yard birds: a Northern Waterthrush and a Solitary Sandpiper. Many thousands of avocets had left during the night. David Burkett told me that the night before they left there was much more avocet chatter. Those that remained were very active, flying from place to place. I will miss their huge flocks.
April 22 – Spent an hour at my favorite drip at High Island. I saw two Red-eyed Vireos, two Tennessee Warblers, a Common Yellowthroat, two Gray Catbirds, a Veery, two male Scarlet Tanagers, an Ovenbird, a Blue Jay, two Common Grackles, a male Northern Cardinal, a female Indigo Bunting, and two Yellow Warblers. I love sitting at drips because you never know what will pop in next; also, you get great looks at the birds you see.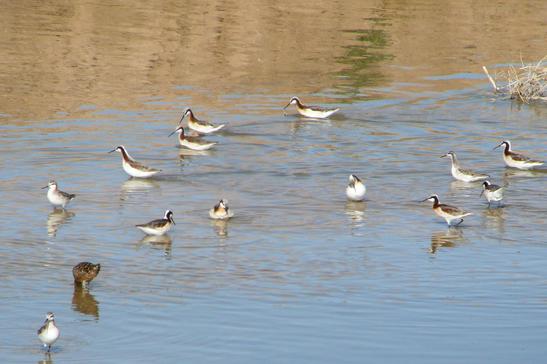 Close views of beautiful Wilson's Phalaropes © Barry Zimmer
April 23 – Went to see Tom and Laura Bacon, who own a ranch on West Galveston. Their ranch has a wonderful patch of coastal prairie and mudflats. Laura has created a marvelous woodland around their house. As I drove through the prairie to their house, I remembered the times many years ago when I saw an Eskimo Curlew in that grassland, poking its bill into the base of a bunch of grass. On a walk around their property and at their water features, we saw a wonderful variety of birds, including lots of orioles, tanagers, and grosbeaks. When we went inside a wooded area on a trail, we flushed a Chuck-will's-widow. I am always impressed with how big that nightjar is. There were so many birds all around us that it was hard to know where to look first. I spotted a Black-billed Cuckoo and flocks of Dickcissels flying over. While I was on the ferry, I received a call from Winnie Burkett telling me that there were 120 Wilson's Phalaropes in front of her house on the flats. I went straight there after I got off the ferry and was delighted to see so many of one of my favorite shorebirds.
April 24 – Woke up to very strong SE winds, so I knew I would see fewer migrants today, but I did see Scorpio, the red horizon, and the green flash just as the sun peeked over the horizon. Walking in my yard, I saw droplets of dew on the grass; some were bright yellow and others were intense blue as the sun hit them. There is always so much beauty to see if we are observant. In the late afternoon at the woodlot, I saw two male Scarlet Tanagers, three male Rose-breasted Grosbeaks, two male Baltimore Orioles, and a Common Yellowthroat. You can find great birds to enjoy even on days when few migrants stop in the coastal woodlands.
April 25 – Since the wind had been from the north last night, I expected this would be a big day for migrants. On the way to High Island I was delighted to see an Upland Sandpiper, which is so elegant standing erect. At High Island I saw my first Chestnut-sided Warblers, a species Audubon saw only a few times, as well as Hooded and Black-throated Green warblers. I glimpsed a male Golden-winged. Then a storm came up midafternoon with rain, lightning, and thunderstorms. Back at my house I saw eight very pink-breasted Franklin's Gulls. The fallout I had expected did not happen, but I hoped for more migrants tomorrow.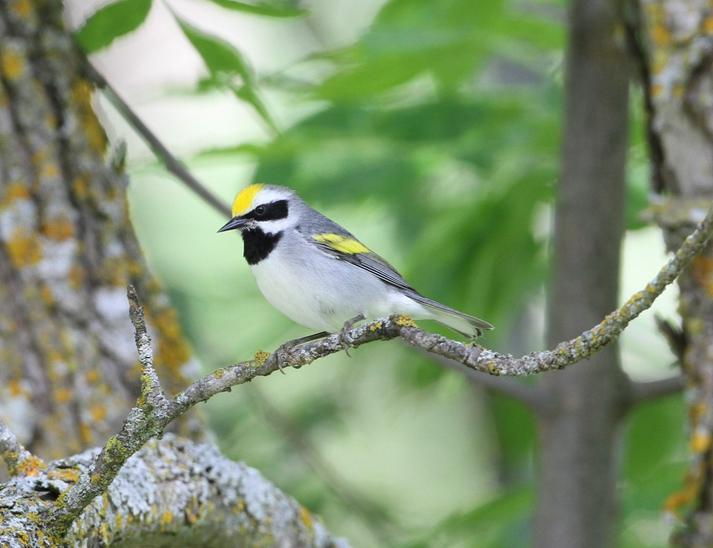 A stunning male Golden-winged Warbler ©​ Brian Gibbons
April 26 – I arrived at Hook's Woods at High Island at about 9 am. As soon as I got out of the car, I realized that warblers had arrived overnight. In almost every tree you could see movement and get on another bird. This was going to be the day I had been hoping for. The first warbler I saw was a female Bay-breasted; nearby I saw a gorgeous male. Another birder spotted a male Blackpoll, which I got to see. The most common warbler was the Bay-breasted, one of my favorites. Then a Canada Warbler was spotted that I also saw. Those warblers were all new for my warbler year list, bringing it to 26! After a quick lunch, I went to my favorite drip. I sat on a bench watching that drip for three hours! The action was almost continuous, with warblers, tanagers, a grosbeak, catbirds, Blue Jays, and a Philadelphia Vireo. The highlight was a male Golden-winged Warbler that fed almost at eye level, at times as close as fifteen or twenty feet. Then, after it moved on, a male Blackburnian did the same thing. Later a male Bay-breasted bathed just as the sunlight was shining on the bath! I had the best looks of my life at these warblers and later at a Gray-cheeked Thrush. Drips can be magical. Those three hours were the highlight of my five weeks. I only wish friends had been there with me. I had a FaceTime visit with Willy Hutcheson, whom I met in 1988 at Camp Chiricahua and who will become a VENT tour leader in 2021.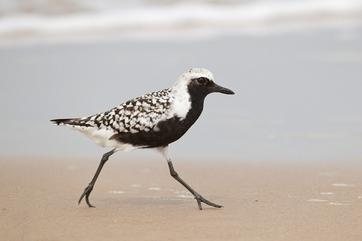 Black-bellied Plover © Greg Lasley
April 27 – Spent the day in the house and at times on the porch. Walked the beach in the late afternoon and saw all four small plovers and lots of terns and gulls. Had a great FaceTime visit with my dear friend Mary Beth Sollins, whose son Andrew Farnsworth came to our first youth birding camp and who is an outstanding researcher at Cornell on bird migration. Thanks to birding, I have met so many wonderful people who have become dear friends.
April 28 – Stepped out on the porch at first light and was amazed that the first bird I saw was a frigatebird that flew over my house! Again, most of the day in the house dealing with VENT business and meetings. At midday I drove north of High Island into the ranch country, where I saw a Hudsonian Godwit and a White-tailed Hawk.
April 29 – Woke up at 6 am to lightning, thunder, heavy rain, and wind that gusted to 52 mph. The storm lasted for two hours. Spent the day in my house and on the porch. I counted 149 Black-bellied Plovers on the mudflats. Almost all of them were in high breeding plumage. Most of the times I'd seen them they were gray, but now they were deep black from just below their eyes to their undertails. That change had occurred in only the last week. In breeding plumage, they are one of the most elegant shorebirds. They were on the way to their breeding grounds in Canada and Alaska at the edge of the Arctic Ocean. That evening I walked the beach one more time and saw all four small plovers and over a hundred Black Terns, another bird that had only recently arrived in numbers.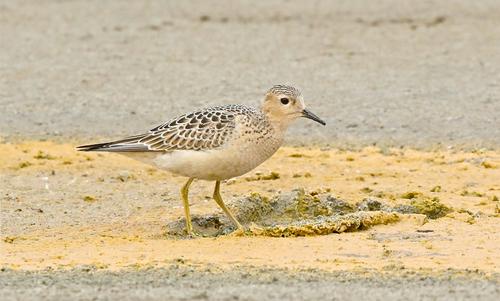 Buff-breasted Sandpiper © Kevin J. Zimmer
April 30 – Worked all day at my house on VENT business. I got a phone call from Winnie Burkett informing me that she had found a rice field that had hundreds of shorebirds, including a few Buff-breasted Sandpipers. I went there in the late afternoon. A dirt track led out into the field. I soon spotted nine Buff-breasted Sandpipers feeding in the grass on one side of the track. On the other side, there were fifty Wilson's Phalaropes spinning around in the water as they fed. Those species are my two favorite shorebirds, and I had one of them to my right and the other to my left. They were stunningly beautiful in the late afternoon light. I also saw hundreds of Pectoral Sandpipers and Long-billed Dowitchers, as well as Stilt and White-rumped sandpipers, Whimbrels, and Semipalmated Plovers. That late afternoon with all these shorebirds was one of the top experiences of my time here and a great ending to spending all of April on the upper Texas coast.
May 1 – My last day. I returned to the rice field to look at the shorebirds. It had been drained overnight. As a result, there were almost no shorebirds. I spent forty-five minutes at my favorite drip savoring my last migrants. I saw five species of warblers: Magnolia, Blackpoll, Chestnut-sided, Ovenbird, and a gorgeous male Bay-breasted that bathed with the sunlight hitting it. The bay color on its throat and sides is lovely. The top of its head is an even more intense darker bay color. I also saw a Veery and a male Scarlet Tanager. It was hard to leave, but I was going to have a goodbye visit with Bob and Jean Warneke and Winnie and David Burkett. During my five weeks here, I have often thought of the Beatles song, "I get by with a little help from my friends." Thanks to Bob, Jean, Winnie, David, and my neighbor Edith Watson, I got by with a lot of help from five wonderful friends. I have a special place in my heart for Winnie, because as conservation director for Houston Audubon, she saved almost two thousand acres in this area for conservation. Without Winnie's efforts Bolivar would not be nearly as wonderful as it is.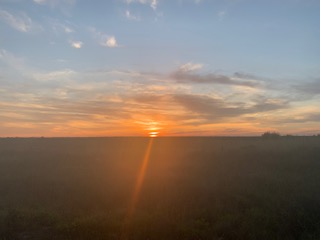 Sunset at Warbler's Roost © Victor Emanuel
May 2 – I packed up, took one more look at the shorebirds on the flats, and departed for Austin. David Ascanio, who is waiting for flights to open up to Venezuela, arrived that afternoon to spend a month at Warbler's Roost. That evening he texted me that being here was the closest he had been to heaven in our country, and that it was like a dream. For me, being here for five weeks was a dream come true. It was, as Dickens wrote in A Tale of Two Cities, "the best of times and the worst of times." The best because I was immersed in nature every day at my favorite place in the world. The worst because of the pandemic and the tragedies it is causing. The pandemic will end, and we will all have the opportunity to immerse ourselves in the wonder and beauty of nature without the worries we are living with now. On the way to Austin I received a phone call from Barry Lyon letting me know that he and his wife, Brooke, had discovered a Sutton's Warbler near Austin! More on that soon. I hope you all stay healthy and get to spend time in nature.
Best wishes,
Victor Emanuel