May 13, 2020
SPOTLIGHT SAFARI IN BELIZE
By Louise Zemaitis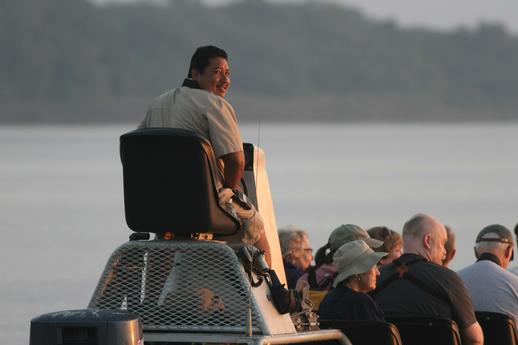 Ruben Arevalo conducting a Spotlight Safari © Michael O'Brien
Each year, as chilly March winds blow in the northern United States, I am drawn to a place that I have come to love as a second home—Belize. In my many visits there, I've had the good fortune to cross paths with Jaguars, marvel at army ants on the move, scan for raptors from atop Maya ruins, and gawk at Jabirus amid thousands of waders. I've spent many hours enjoying warblers, both in their winter territories and in their migrant flocks. But one aspect that I find particularly appealing is venturing out at night.
During the night, when awakened by roaring howler monkeys, trumpeting Limpkins, or quavering tinamous, my heart soars. I have no fear. I have learned from my friends, the Belizean guides. Of the many night activities that I have participated in, Lamanai's Spotlight Safari is probably my favorite. Since 2010, Ruben Arevalo has been expertly taking my husband, Michael O'Brien, and me with our VENT Relaxed & Easy tour participants out in the night by boat to explore the New River and its creeks.  
I always feel a sense of anticipation as Ruben uses his searchlight, while expertly maneuvering the boat through waters he has navigated since childhood (and could do so blindfolded). A fishing bat goes skimming past. The beam finds glowing eyes, like big marbles, which quickly vanish and then reappear. Oh! It's a Northern Potoo turning its head as it hunts from its perch. More glowing orbs, this time at the surface of the water; a Morelet's Crocodile is revealed. Slowly exploring back creeks, we find sleeping songbirds with their heads tucked, kingfishers big and small, dozing Snail Kites, and more often than not, a prized Agami Heron!
All too soon, it's time to head back to the lodge across the lagoon, but not before that extra special moment when Ruben turns off the engine and lights. Suddenly we find ourselves surrounded by nothing but a thousand stars and the sounds of the night. Just magical!
Louise's bio and upcoming tour schedule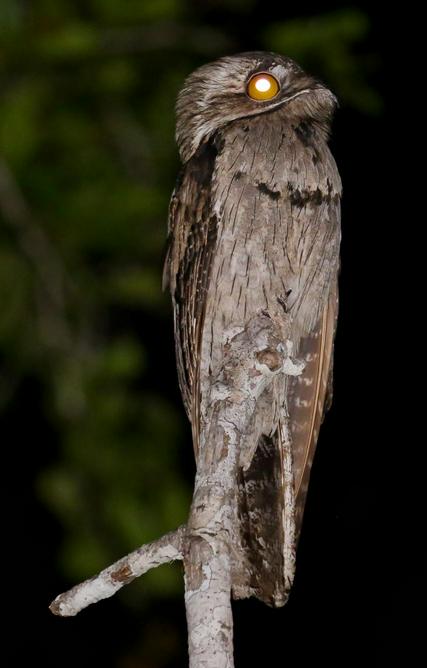 Northern Potoo © Michael O'Brien