May 11, 2020
WHY I LOVE MY JOB
By Michael O'Brien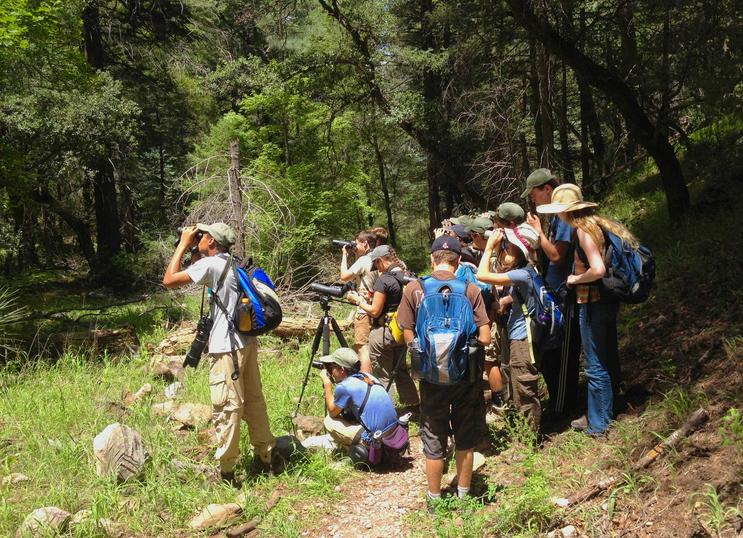 Campers watching Tufted Flycatcher © Michael O'Brien
In recent weeks, I've been looking back on my tour leading career and pondering the various reasons why I love my job so much. The obvious "perk" is that I get to visit beautiful places with rich natural history—and in most cases, I get to do this with my wife, Louise Zemaitis. But equal to visiting these great places is meeting fun and interesting people, and sharing exciting sightings and adventures with them. My richest experiences are when I learn new things about the natural world that I love so much, and share what I learn with others.
One particular story comes to mind that touches on all of these. Among our very favorite tours is Camp Chiricahua, VENT's long-running summer youth birding camp in Southeast Arizona. Young birders are like sponges when it comes to learning, so every moment, every step on a trail, has potential for learning, frequently realized. Plants, insects, lizards, birdsongs (my goodness they have good ears at that age!), none of it gets ignored on these camps, so fulfillment level is always high for me. And their excitement for the possibility of seeing something new is contagious.
During the summer of 2015, a Tufted Flycatcher had taken up residence in Upper Ramsey Canyon, high in the Huachuca Mountains. Tufted Flycatcher is a rare stray from Mexico, and our group of young birders that summer was overflowing with excitement about the possibility of seeing it. One obstacle, however, is that during our only window of opportunity to make the necessary hike, Ramsey Canyon was closed. Our only option was a much longer trek from Carr Canyon to Upper Ramsey, a seemingly moderate three miles each way, but with rolling ups and downs and a vertical change of 1,100 feet, some of it in the hot sun.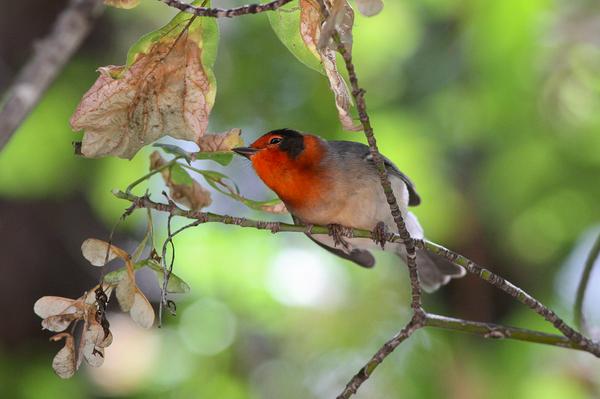 Red-faced Warbler © Michael O'Brien
So, trek we did, with pack lunch and loads of liquids (and plenty of band-aids to deal with blisters!), through some of the most magnificent vistas and beautiful forest in Southeast Arizona. With a focused quest like this, we made sure to coach the group on what to look for and, particularly, what to listen for. The soft "pip" or raspy "turee-turee" were likely to be the best ways to detect this bird, so we made sure those calls were etched in our minds. At this point in our camp we thought we had left the highlands behind us (having already birded Mount Lemmon and the Chiricahuas), so as we hiked, it was a treat to reconnect with many of the highland birds we had already seen, like Red-faced Warbler and Greater Pewee, and test our ears on some obscure calls from the likes of Hutton's and Plumbeous vireos, Brown Creeper, and Hepatic Tanager. And our sharp-eyed campers turned up several very local butterfly species, as well as two very special herps: Sonoran Mountain Kingsnake and Banded Rock Rattlesnake!
Those sightings would have made this magnificent hike worthwhile already, but as we scrutinized the half-mile stretch of canyon where the Tufted Flycatcher had been seen, we couldn't help but think that one more species could really make our day. With pack lunches in our laps, we sat quietly listening, and then finally heard the sound we were waiting for; eyes popped wide open when we heard that raspy whistle, "turee-turee." It only called sporadically, so it took some time to locate, but finally, there it was—Tufted Flycatcher! I've never seen such joy in the faces of a group of teenagers! After lengthy and wonderful studies, we made the long trek back, stopping for breathtaking views of two screaming juvenile Northern Goshawks! Seven hours and fifteen minutes later, we made it back to our parked vehicles at Carr Canyon. What an epic and rewarding hike!
Michael's bio and upcoming tour schedule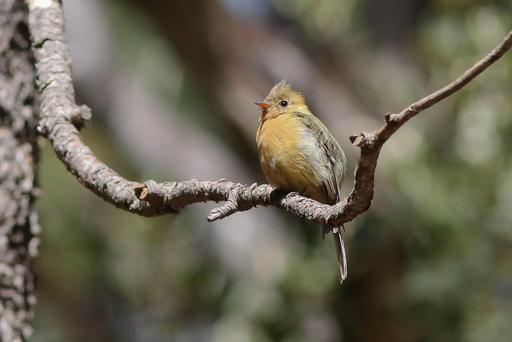 Tufted Flycatcher © Michael O'Brien