May 29, 2020
A VENEZUELAN BIRDER ON THE BOLIVAR PENINSULA
My second week: May 9–15, 2020
By David Ascanio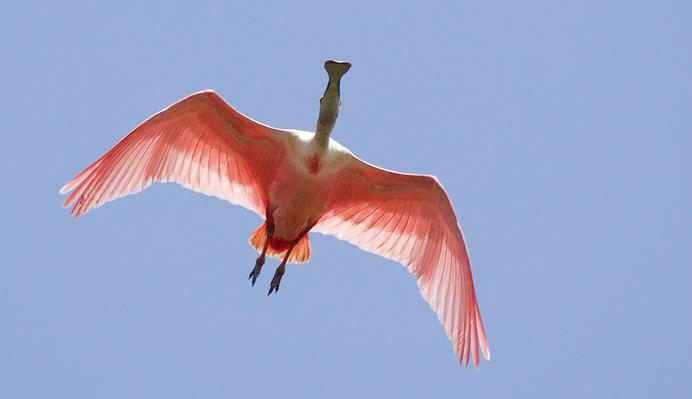 Roseate Spoonbill (Platalea ajaja) © David Ascanio
I recently finished my second week on one of Earth´s "heavens": Bolivar Flats on the Texas coast. Here, Warbler´s Roost has become a territory where I have made, like a migrant bird, a temporary home. On my morning runs I have become acquainted with my neighbors in the natural world. A noisy pair of Killdeer defend their patch of pavement (they probably had nested on the grass a few weeks ago); elegant White Ibis fly overhead in a small group; and a Green Heron gives an alarm call when I pass by the channel where it feeds. As I enter Fort Travis, the grassland is packed with many Short-billed Dowitchers and a few Whimbrels that usually walk away in an elegant manner. Many Laughing Gulls are invariably making sure, with their voices, that I notice their presence, while the well-built Black Tern seems to be on duty, because most of the times I see them, they are flying away and letting me, just for a couple of seconds, admire their beauty.
The sense of community comes not only from the natural world around us and the wildlife sharing our habitat, but also from informed people whose efforts to educate and preserve create a synergy that attracts others. One such champion is Winnie Burkett. Every Monday she starts the day collecting the litter left by the weekend visitors at the entrance of the jetty. You would not believe the amount of garbage found there! This week, I joined the team (neighbors Bob and Jean Warneke got me involved). Needless to say, seeing the amount of trash left on the ground left us saddened and frustrated. We discussed approaches to this problem and ways to reeducate those who still don't make the connection between the current pandemic and our abuse of our planet. This is an ongoing issue of concern for all of us.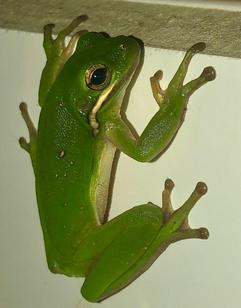 Green Tree Frog (Hyla cinerea) © David Ascanio
As a way to introduce people to nature, last Sunday I participated in the Global Big Day, a world competition to see and report bird sightings, sponsored by the Cornell Lab of Ornithology. The GBD (as we call it) is a great way to meet other birders and to invite the younger audience to go birding. Because of the pandemic, this year's topic was birding from the backyard. All the lists were uploaded in the eBird platform, the world's largest citizen science program to date. If you are not familiar with it, please visit https://ebird.org/home. You will find yourself fascinated and possibly interested in participating in this unparalleled project. I made my observations from Warbler's Roost and compiled lists with a total of 38 bird species seen in a single day, without leaving home! Apart from humans and birds, I have come across other life on this amazing peninsula. I have seen skunks, toads, millipedes, and land slugs. In the nighttime I was visited by the astonishingly beautiful Green Tree Frog (Hyla cinerea), and along the road I have noticed what seems like a movement of Northern Cottonmouths (Agkistrodon piscivorus) from small ponds to the extensive marsh.
Drama has also been a part of my week on the Bolivar Peninsula. There is a raccoon that comes to drink at the Warbler's Roost water drip. When that happens, it creates distress in the area, with a pair of Northern Mockingbirds chasing it away and giving alarm calls (they have a nest) and Loggerhead Shrikes making it clear to the raccoon that it is not welcome here. And when she (or he) walks back to the marsh, the Clapper Rail "calls the police," giving scratchy notes that clearly tell the neighborhood that a predator is coming around. The rails indeed have a reason to be worried: they have three small chicks. During the rest of my time here, I continue to translate my Birds of Venezuela and work on other projects to keep my mind busy. I hope that I can share them with you once I get the go-ahead from my editor.
Nature, or as I call it, Mother Earth, closed my second week with an impressive thunderstorm. It was beautiful and empowering. Lightning lit up the skies, the rain came in waves, and avocets flapped their wings into the marsh in search of shelter. Egrets were white flashes in search of thicker vegetation. Suddenly, the wind blew stronger, and gulls and martins had to accommodate their flight to the changing speed in hopes of finding an insect on the wing. A sudden loud crack of thunder provoked a Clapper Rail to respond. The storm lasted almost all night long. And then, it stopped raining. Mockingbirds and grackles exploded in calls and chirps as they went to find food, because they all knew that a new low pressure was approaching and, yes, another thunderstorm was coming. 
David's bio and upcoming tour schedule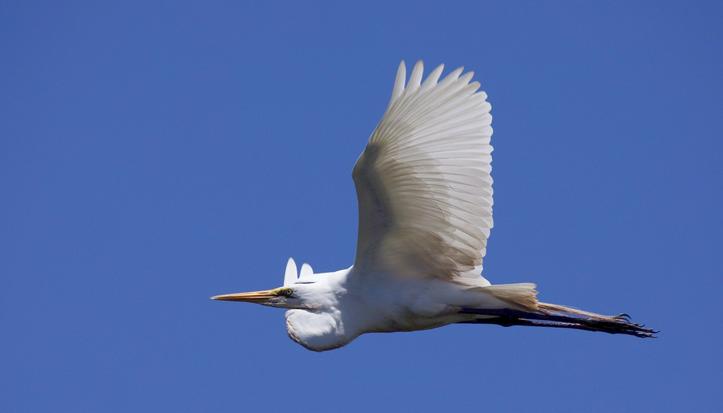 Great Egret (Ardea alba) © David Ascanio