June 5, 2020
A VENEZUELAN BIRDER ON THE BOLIVAR PENINSULA
My third week: May 16–22, 2020
By David Ascanio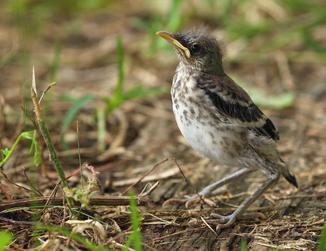 N. Mockingbird, Mimus polyglottos. A chick fallen from the nest © D. Ascanio
My third week at the Bolivar Flats began with great excitement. Victor Emanuel, Barry Lyon, and Barry's wife, Brooke Smith, came for a birding weekend with plans to visit Port Bolivar and other key areas. The weather was perfect for some late migrants, as there was a steady wind blowing from the north. And how about the resident birds? Early in the week, I heard a chirp on the ground on one side of Warbler's Roost and discovered that a Northern Mockingbird chick had fallen out of the nest and was being fed by the adult.
After breakfast we explored some bushes on Port Bolivar and discovered that migrating Empidonax flycatchers had just arrived. What a great experience! To our benefit, we were lucky that Barry Lyon was here. He has an amazing ability to identify these flycatchers. To me, these are the North American equivalent (in terms of field identification complexity) of the Myiarchus flycatchers of South America. We worked on call notes, plumage, length of the wing, color of the throat, and other field marks. The easiest was the Yellow-bellied Flycatcher. With each new individual, we looked for these field marks in order of importance based upon Barry's experience. On my part, I finally understood the astonishment of my fellow birders when they come to South America and we work on identifying members of feeding flocks. I was trying to keep up and learn, and just when I thought I had it all sorted out, a new individual would show up, and we would have to start another identification from scratch. We were all focused on Barry's explanations, and it was fascinating to use his knowledge of these birds to narrow things to the species level. Despite much effort, we had to leave a couple of individuals unidentified, so we called them Alder/Willow flycatchers.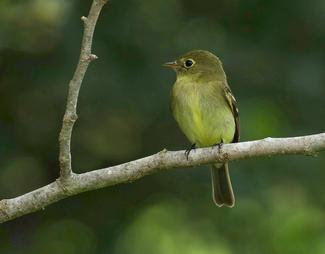 Yellow-bellied Flycatcher, Empidonax flaviventris © D. Ascanio
We noticed that most warblers seemed to be gone. We added a few to our list, including the Canada Warbler (new to Warbler´s Roost list: a female, and later a male). Later, at Smith Oaks (High Island Sanctuaries), we enjoyed seeing other warblers such as Bay-breasted, Chestnut-sided, and more Canada warblers. And to close the warbler beauty pageant, a pretty female Black-and-white Warbler showed up the next morning in Port Bolivar near Winnie's house.
As I have mentioned in previous stories, the sunrises and sunsets here are hard to describe because of their beauty and uniqueness. During my early morning runs, I walk to the jetty first, and from there I admire the sunrise and the way the light projects on the ocean while gulls, terns, and egrets welcome the day, their voices resembling orchestra members rehearsing for a concert. It's a magical moment. At low tide, as the sun illuminates the peninsula, American Avocets parade along the marsh, walking and feeding, all oriented in the same direction, as if they were performing a perfectly synchronized ballet. But the calm is broken when fish are found by a few individuals, and suddenly Snowy Egrets, Roseate Spoonbills, terns, gulls, and stilts join the parade. Eventually, they all turn into a mess, or, as birders call it, a feeding frenzy!
The afternoons are another story. As darkness comes, a Common Nighthawk gives its distinctive call, and Cattle Egrets leave the marshes to roost, along with Neotropic Cormorants and Brown Pelicans. I find it intriguing that the Gull-billed Tern shows up only in the early mornings and the late afternoons. I will have to dig-in to learn more about this.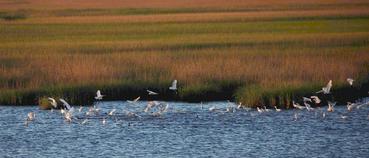 Snowy Egrets come behind the avocets to join the feeding frenzy © D. Ascanio
My great week continued with a morning visit by Steve Gast. For those of you not familiar with Steve, he is another champion of bird conservation. While working in Perú, Steve helped create protected areas for little-known species in both the High Andes and the lowland Amazon rainforest. Also, he was one of the key people, along with other Houston Audubon board members, involved in efforts to expand and consolidate the High Island Initiative. Steve and I went birding on the Port Bolivar jetty, and among several sandpipers (including astonishing Dunlins in breeding plumage), pelicans, and spoonbills, we put together a list of 30+ bird species. As we started our walk back to the vehicle, Steve saw a dark-looking bird floating on the water. We checked with the scope, and bingo—a Surf Scoter! A beautiful male, almost in complete breeding plumage, was swimming close to the beach. We got spectacular views of a bird that was a lifer for me. Thank you Steve!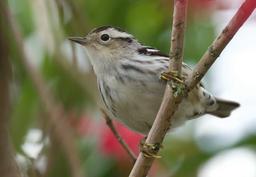 Black-and-white Warbler. Mniotilta varia. Female © D. Ascanio
The remainder of the week was dedicated to work on a hummingbird pamphlet and with the translation of Birds of Venezuela to the Spanish language. It will obviously not be a profitable enterprise, but one that is badly needed to educate those Venezuelans living close to protected areas. This is an extremely relevant task when my country is in such economic, moral, and social crisis. I am so thankful to Victor Emanuel for his continued support and for providing me a place to stay that, in these sad times, helps me to heal and to create.
In closing, I have tried to convey the excitement, happiness, introspection, and sadness I have felt here at Bolivar. Being in such a special place helps me to understand that life is about cycles, and that if one exists, it is because the other may be around the corner. I hope that my stories have brought to mind wonderful memories of your own trips, whether they were in a wetland, in the forest, on a prairie or grassland, or in the cold Arctic or the Antarctic. We are the result of our experiences, and by going birding we probably understand the complexity of this world better than many other people. This imposes responsibility on all of us to protect our birds and their habitats, and to educate those who haven't had the privilege to meet nature in such a close and intimate way.
David's bio and upcoming tour schedule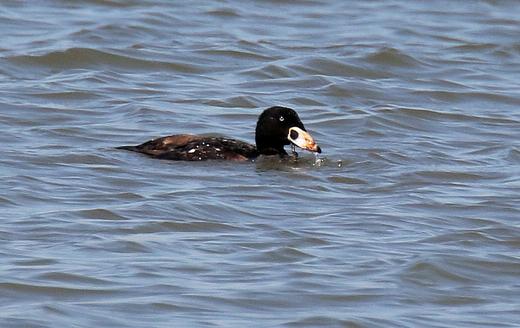 Surf Scoter. Melanitta perspicillata © S. Gast