June 26, 2020
OUR GARDEN
By Louise Zemaitis
My path to becoming a naturalist is rooted in escapism. As a child, I found refuge from life's worries in a nearby woods, exploring nature with my little Golden Guides in hand. Many years have passed, and the places where I have fled to have taken many forms, until now. I have found peace, and sanctuary, at home.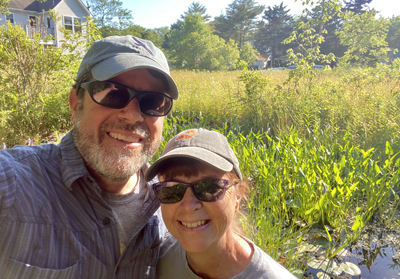 Louise and Michael at home - Michael O'Brien
My husband and fellow VENT leader, Michael O'Brien, and I manage our own little half-acre in one of the most well-known birding locations in the world—Cape May, New Jersey. Those of you who have joined us on a tour here, spring or fall, have visited our garden and shared our little piece of heaven.
In these troubled times, working in the yard has become a sort of therapy for us. When not in my studio, I tend our pollinator garden. It consists mostly of perennial native wildflowers and vines.
This year I have added some annuals, grown from seed, and gifts from fellow gardeners (wildlife gardeners love sharing their bounty). As I work, I play little games of "name that tune" with our local Mockingbird, translating his repertoire as he defends his territory.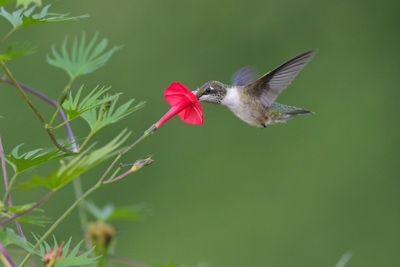 Ruby-throated Hummingbird - Michael O'Brien
I love watching for changes in color as each flower begins its bloom, and am thrilled when I see a butterfly, hummingbird, or bee discover it.
Michael spends his days working at his desk, window open to hear the birds in the yard (taking periodic breaks to walk out on the deck, binoculars in hand, to scan the sky), and afternoons managing our meadow, removing a jungle of invasive plants and encouraging native vegetation. He has become a big fan of iNaturalist, using it and eBird to document all life in the yard.
Though our travels are currently on hold, we think of you often and look forward to hearing about your backyards, and sharing ours with you again.
Louise's bio and upcoming tour schedule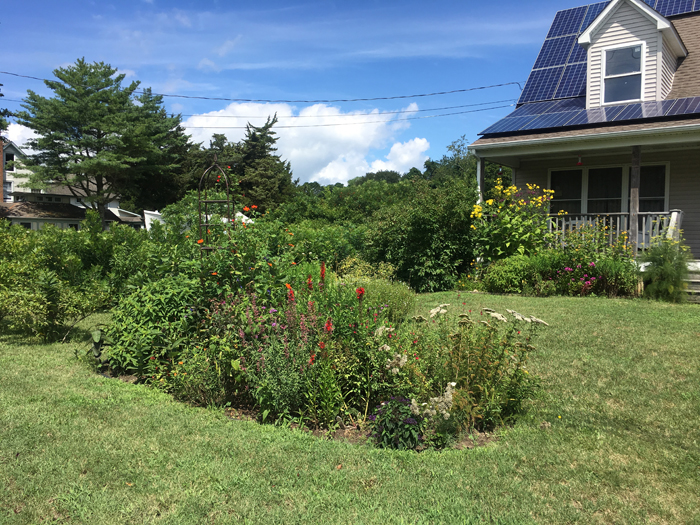 Louise and Michael's garden - Michael O'Brien