VENTFLASH #269
July 9, 2020
Dear friends:
I never cease to be fascinated by the migration of birds. No other creatures perform such amazing journeys. For many birders, the sighting of the first spring migrant of the year is a very special event. In the weeks that follow, many migrants brighten our days until we see the last passing bird of the spring.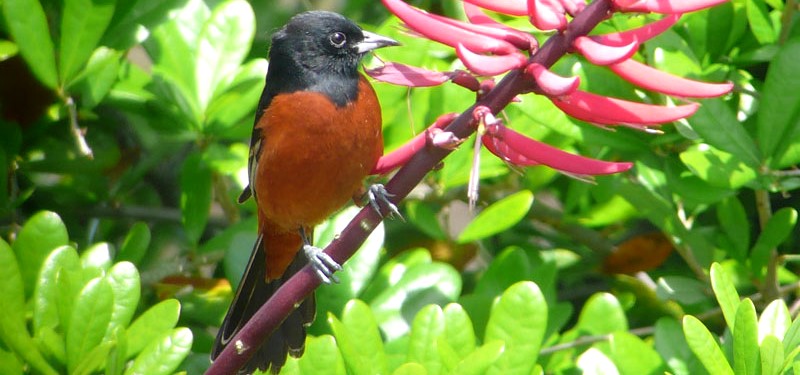 Orchard Oriole - Barry Zimmer
My first migrant landbird of 2020 was a gorgeous male Orchard Oriole that I saw on March 26 while en route to my beach house on the Bolivar Peninsula, near Galveston, Texas. Over the next two months I saw many migrating birds at Bolivar, High Island, and, later, back in Austin. On May 29, I saw my last landbird migrants of the season, a Magnolia Warbler and a Yellow-bellied Flycatcher, near my house in Austin. These sightings marked the end of spring migration for me, but from that time it would be only a little more than a month before I was enjoying my first migrant shorebirds that were already moving south from their breeding grounds to their wintering grounds!
Among the seven species of shorebirds I saw last Friday, July 3, was a single Baird's Sandpiper, a species that breeds near the Arctic Ocean and winters in South America. Some of them winter as far south as Tierra del Fuego. I recalled, from a trip I made to Antarctica many years ago with Peter Matthiessen, seeing a flock of Baird's Sandpipers circle our ship just off Cape Horn at the tip of South America.
In this issue:
2022 TOURS NOW AVAILABLE & EARLY REGISTRATION DISCOUNT OFFER
RISK-FREE TRAVEL INCENTIVE OFFER FOR 2021 AND 2022 TOURS
BELIZE: A CHAN CHICH TRIBUTE TO VENT TOUR LEADER BARRY ZIMMER
VENT DONATES $5,000 FOR RESTORATION OF ST. VINCENT PARROT VIEWING AREA
VENT WEBINAR RECAP AND OUR NEXT PRESENTATION, FEATURING VICTOR EMANUEL
"MESSAGES & MEMORIES" AND OTHER WEBSITE ATTRACTIONS
INTRODUCING "TRAVELER EXPERIENCES": YOUR EXPERIENCES POSTED ON OUR WEBSITE
2022 TOURS NOW AVAILABLE & EARLY REGISTRATION DISCOUNT OFFER
In the last edition of VENTFLASH (#268), I announced that our 2022 tour offerings are now available for viewing on our website. At the same time, I also announced a new early registration discount opportunity on 2022 tours and a new "Risk-Free" travel incentive offer for 2021 and 2022 tours. In case you missed these announcements, I am again sharing this important information.
It goes without saying that everyone is looking forward to that time when we are "post-pandemic," when we can feel comfortable resuming our routines and movements without the fear of becoming ill. Looking ahead to next year, we are optimistic that people will feel more confident about traveling and getting back into nature. By the time we reach 2022, we anticipate the travel industry enjoying a strong rebound. This said, we understand that some of our travelers are not likely to begin traveling again until the second half of next year at the earliest, while others will choose to stay on the sidelines until 2022. For this reason, we have produced our next tour schedule (2022) at an earlier date than ever. While some aren't considering travel anytime soon, we know that many will be ready to venture out by 2022, and we thought you should be aware of your options. By booking a 2022 tour now, you will be locking in future plans at a time when the worst of the pandemic crisis will have long since abated. And you will be giving yourself something wonderful to look forward to as we wait for these difficult times to pass.
To encourage 2022 tour registrations, we are offering a $500 early registration discount for all new bookings. Reserve your space(s) now on any 2022 tour by October 1, 2020 and receive a discount of $500 per person on the published tour. This unprecedented offer allows our travelers to book a tour, or multiple tours, and lock in a significant saving long in advance of the tour departure.
Our 2022 tour year includes departures to many familiar domestic and international destinations, in addition to a slate of brand-new tours and tours that we have not operated in a number of years. At this time, our 2022 schedule is mostly complete, but we continue adding tours here and there as we fill in the final blanks. I encourage you to visit our website and check out our offerings, and to check back regularly. On our website you can peruse our tour offerings generally, or you may seek specific departures by searching for tours by destination, by year, by month, or by tour leader.
I hope you will consider a 2022 tour with VENT and take advantage of this special opportunity for savings, available until October 1, 2020.
RISK-FREE TRAVEL INCENTIVE OFFER FOR 2021 AND 2022 TOURS
We understand the hesitancy most people are feeling about booking future travel at this time. Concern for one's health and safety is paramount, but dealing with travel restrictions and the uncertainty of when the crisis will pass are also major factors in our thinking. As we work through this unprecedented time, one bit of feedback that we've received from some of our travelers is in the form of a question: "Why should I book future travel now when I still might not feel confident about traveling as the departure date approaches?"
This is an excellent question. In response, VENT is temporarily suspending its regular cancellation and change policies in place of a "Risk-Free" cancellation and change policy that grants greater flexibility for our travelers. Here's how it works:
Reserve your space now on any 2021 or 2022 tour by October 1, 2020
Receive the assurance that you have until 150 days prior to departure to either cancel your reservation or transfer your reservation to a future tour without paying cancellation or change fee penalties
We hope that the flexibility provided by this offer gives you confidence and peace of mind as you weigh the decision of whether or not to travel.
BELIZE: A CHAN CHICH TRIBUTE TO VENT TOUR LEADER BARRY ZIMMER
Veteran tour leader Barry Zimmer has led tours for VENT for thirty-five years. In a career that has taken him to many destinations worldwide, no place is as dear to him as Chan Chich Lodge in the small Central American nation of Belize.
Set amid miles of undamaged tropical forest, Chan Chich is a premier destination for experiencing the birds and natural history of the American Tropics. Superior facilities, beautiful habitat replete with birds and wildlife, and an extensive and well-maintained trail system are its key features.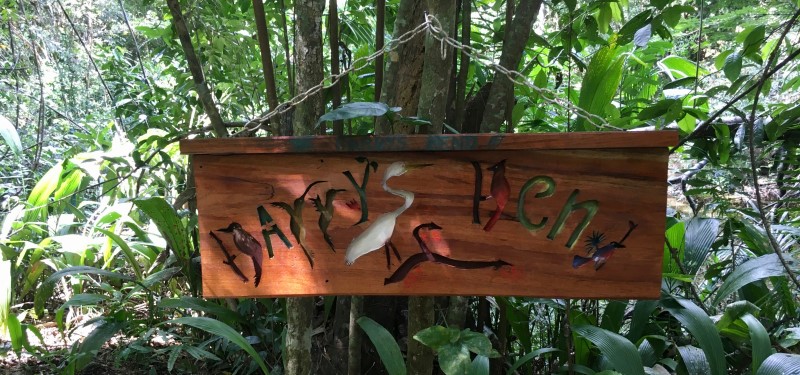 Barry's Bend, Chan Chich, Belize - Barry Zimmer
Over the years, Barry has guided literally dozens of tours to Chan Chich. In the early 1990s, Barry and a former colleague, Rick Bowers, were leading a VENT tour when they discovered a location along Chan Chich Creek where birds come to bathe in the late afternoon. They quickly figured out that with a bit of patience, one could observe at close range a parade of birds coming to drink and bathe before retiring for the night. He learned that the spectacle played out every afternoon and included a parade of resident species and Neotropical migrants alike.
Barry Zimmer
Manakins, ant-tanagers, hermits, Wood Thrushes, and Hooded Warblers are regular visitors, but the highlight event may well be the sight of the dazzling Purple-crowned Fairy hummingbird flicking its emerald wings in the jungle waters, with the forest darkening and night coming on.
Through his many visits, Barry became friends with the lodge's management teams and its longtime staff. On his most recent tour to Chan Chich (March 2020), lodge manager Annabella De La Rosa surprised Barry with the news that the special bathing site had formally been christened "Barry's Bend," a tribute to Barry for his discovery of a marvelous birding spectacle and for his years of tour leading at Chan Chich. A beautiful wooden sign, hand-carved by a member of the lodge staff, commemorates the site.
Congratulations Barry!
VENT DONATES $5,000 FOR RESTORATION OF ST. VINCENT PARROT VIEWING AREA
VENT supports conservation efforts and the birding community in a variety of ways. While we always wish we could do more, we make a point of supporting a variety of projects and organizations annually.
This past March marked our latest effort, a donation of $5,000 to the National Parks, Rivers, and Beaches Authority of St. Vincent and the Grenadines in support of infrastructure repair on behalf of the endangered St. Vincent Parrot. The gift, offered in the spirit of perpetuating access to the parrot for the citizens of St. Vincent and tourists alike, was earmarked for restoration of the parrot-viewing platforms in the St. Vincent Parrot Reserve, which had fallen into decay.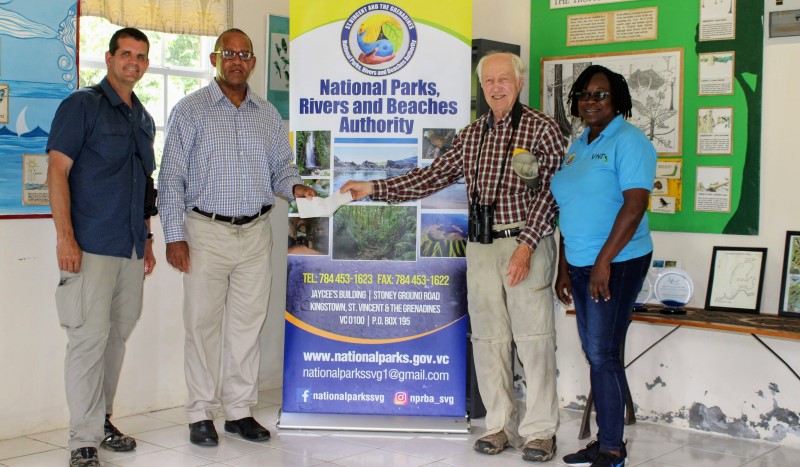 Barry Lyon, Victor Emanuel and friends of National Parks Authority
For years, we have traveled to the island of St. Vincent as part of our birding and natural history cruise, The Lesser Antilles aboard the Sea Cloud. After our visit to the island in 2018, we saw for ourselves the extent of deterioration of the platforms. Given our concern that soon we would be unable to show this beautiful bird to our guests, and that the people of St. Vincent would lose the ability to see their national bird in so accessible an area, VENT chose to get involved. After a period of dialogue, an agreement was reached late in 2019 by which VENT would underwrite the restoration effort.
In March 2020, we again operated our Lesser Antilles cruise. Our visit to St. Vincent occurred on March 12. We learned that the restoration work was completed only days before our arrival. Early that morning we sent several groups of birders to the Vermont Nature Trail to see this specialty bird. Later in the morning, with part of our tour group present, Victor, Barry, and Andrew Wilson, director of the Authority, met to perform the ceremonial check hand-off and photo op. VENT is proud to have played a role in the restoration of the parrot lookouts in the name of continued access—for tourists and locals alike—to the premier area to see this wonderful bird.
Please visit the CONSERVATION page of our website to read the full story.
OUR NEXT VENT WEBINAR: FEATURING VICTOR EMANUEL
Our eagerly anticipated first-ever VENT Webinar, featuring tour leader Rafael Galvez discussing our new tour to the Republic of Georgia, was held on June 18. His presentation attracted more than one hundred people and was a wonderful event. Rafael did a superb job educating the viewers about the cultural and natural history riches of the Republic of Georgia and the Caucasus region, an area of the world poorly known to many of us here in the States. I was equally pleased with the positive response we received. Six people registered for the 2021 tour immediately after the webinar, and another five people called the next day to register for the 2022 departure!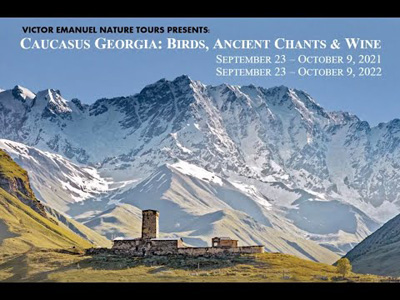 Caucasus Georgia Webinar, June 18, 2020
In case you missed the webinar, you can view it on the Caucasus Georgia tour description page on our website, on our YouTube channel, or by visiting our GoToStage website, which is affiliated with our webinar platform.
From the outset, we had a feeling that our VENT webinar series was a good idea, and this debut effort confirmed it. The subject of our next VENT Webinar will be a topic related to the joy of watching birds. Hosting the webinar will be Victor Emanuel, owner and president of Victor Emanuel Nature Tours.
The title and date of Victor's presentation will be announced soon. Watch for an official announcement and invitation to appear in your email.
"MESSAGES & MEMORIES" AND OTHER WEBSITE ATTRACTIONS
Back in March, when the Coronavirus pandemic emerged as a full-blown crisis here in the States, VENT, along with everyone else in the travel industry, was immediately impacted. With illness running rampant in parts of the country and around the world, it became clear by the start of April that we would not be operating tours for the foreseeable future. With so much suddenly so uncertain, many of our travelers made a point of expressing their concern and support for VENT during an undeniably difficult time, a gesture I will long appreciate.
As we began hunkering down to ride out the storm, it occurred to me that even though we would not be operating tours for a while, our travelers might still enjoy hearing from us regularly. With most in society spending this prolonged period of time at home, I figured everyone had more time on their hands than expected. I thought it would be good for VENT to be in touch with our travelers, and I thought our travelers would enjoy staying connected to VENT. However, rather than taking a "promotional" approach, I simply thought it would be nice for you to hear from us on a more personal level. I shared my idea with our staff, and I was delighted with the response I received, with numbers of tour leaders expressing their desire to participate. The result was Messages & Memories from VENT Tour Leaders, short pieces produced by our tour leaders meant to convey to our travelers joyful memories from past tours, stories about birds and birding, and other experiences related to travel and natural history.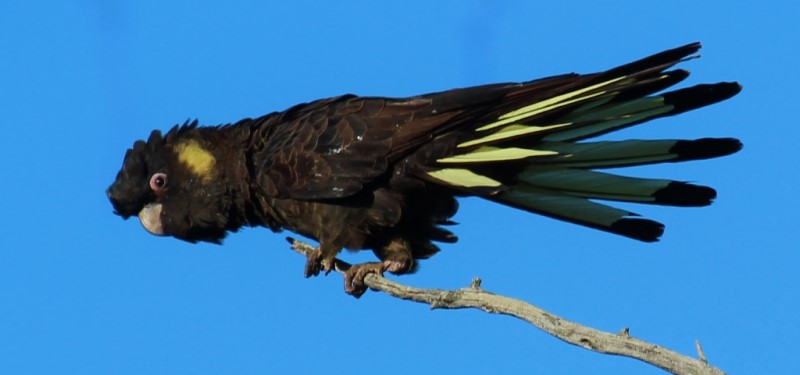 Yellow-tailed Black-Cockatoo - Dion Hobcroft
The first entry was produced on April 6, a very short piece by Dion Hobcroft featuring the Yellow-tailed Black-Cockatoo from Australia. Since that first piece, we have produced an additional 23 others from many of our tour leaders, including Andrew Whittaker, Rick Wright, Barry Zimmer, Kevin Zimmer, David Ascanio, Jeri Langham, Erik Bruhnke, Rafael Galvez, Michael O'Brien, Louise Zemaitis, Steve Hilty, and Paul Greenfield. Most of the entries are fairly short and do not take a lot of time to read, yet each is a symbol of inspiration and hope that we can all get back to enjoying birds and nature as soon as we can, and that there will be better times to come,
I encourage you to read our "Messages & Memories" entries that appear weekly via email blasts, and to visit the Messages & Memories page of our website to catch up on all postings. To find the page on our site, from the Home page, click "Latest News;" on the ensuing drop-down menu click "Leader Messages & Memories." If you are not receiving Messages & Memories and would like to do so, please email us at info@ventbird.com, and let us know that you would like to be added to our "Messages & Memories" mailing list.
Finally, I also want to remind you to check our website for other attractions, such as our:
New Tours page, where you can learn about new trips and new destinations.
Featured Tour Leader page, offering a more in-depth profile of VENT tour leaders than is otherwise available in their bio. Our current featured leader is Bob Sundstrom.
Photo Galleries page, showcasing spectacular images from our tour leaders of birds, wildlife, and landscapes from past VENT tours.
INTRODUCING: "TRAVELER EXPERIENCES": YOUR EXPERIENCES POSTED ON OUR WEBSITE
Many of you have let us know how much you are enjoying the "Messages & Memories" email messages from VENT tour leaders. We would also like to hear from you, our VENT travelers, about your experiences. We are creating a new page on our website called "Traveler Experiences." If you would like to share your most memorable, remarkable, or just plain fun experiences while on a VENT tour:
Write about your experience in 50 to 500 words.
Attach one photo, either related to the experience or a photo of yourself. We can accept jpgs only. If you have other photos related to your experience that you'd like share, please upload them to a photo sharing site, such as Flickr and SmugMug, and we will link your story to that site.
Send your text and photo to TäV Garvin (tav@ventbird.com). She will let you know when your experience has been posted to our website. If you'd like, rather than sharing a particular experience, you can tell us about one of your favorite trips!
Please send any questions you may have to TäV (tav@ventbird.com). We look forward to hearing from you!
Best wishes,
Victor Emanuel