VENTFLASH #271: COVID-19 UPDATE, PRIVATE TRIP OPPORTUNITIES & MORE
November 19, 2020
Dear friends:
As we have dealt with some of the most challenging times in our lives this year, contact with family, friends, and nature has helped enormously. Those of us who love nature are fortunate in many ways. Every day, we are able to see something in nature that brightens our lives: a bird, a butterfly, a beautiful cloud formation, a lovely sunrise, a gorgeous sunset, a starry night sky.
In a normal year, our tour leaders would have spent much of their summer leading tours to places they love. Due to the pandemic, they spent those months at home. Many of our tour leaders have yards that attract many wonderful birds. Barry Zimmer has an amazing yard at his home on the lower slopes of the Franklin Mountains in El Paso, Texas. He has planted flowers and shrubs that attract many birds and butterflies. He also has ten hummingbird feeders and a water feature. Since being at home since mid-March, he has observed a remarkable array of birds and butterflies. His best day was September 27, when he saw 76 species of birds. Since March, he has seen 163 species in his yard (he saw 106 species in all of 2019). The most unusual birds during these months were a Yellow-eyed Junco (only the eighth record for Texas), Flammulated Owl, and Painted Redstart.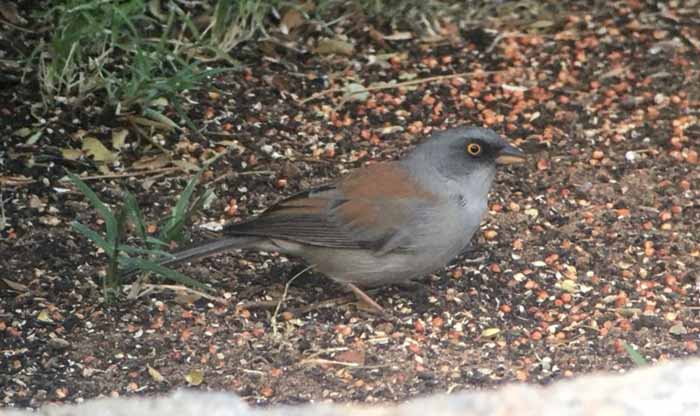 Yellow-eyed Junco, Barry Zimmer's backyard - Barry Zimmer
I have enjoyed spending time in my preferred birding areas here in Austin. My favorite sighting was of five male and three female Hooded Mergansers. Late one afternoon, I watched the male birds engaged in a wild courtship display. They raised and lowered their gorgeous black and white crests, opened and closed their bills exposing the red lining, swam around rapidly, flapped their wings, and raised part of their bodies out of the water—all in anticipation of one of the females choosing them as a mate. I regard the male Hooded Merganser as one of the most beautiful birds in the world.
On October 24 I celebrated my 80th birthday in a neighborhood park across the street from my home. My colleague Barry Lyon organized an event in which 35 of my friends stopped by in small groups for thirty-minute socially distanced visits. We all wore masks and maintained the appropriate six-foot distance. The highlight was when my old friends David Sugeno and Peter English came by with their wives and children. Our mutual friend Kurt Huffman was not able to attend since he has moved to Colorado. I met David, Kurt, and Peter shortly after I moved to Austin in 1978. Peter was 12, and David and Kurt were 13. Birding with them was the inspiration for what would become our program of summer youth birding camps. The first camp—Camp Chiricahua—operated in 1986. Peter and David were staff members.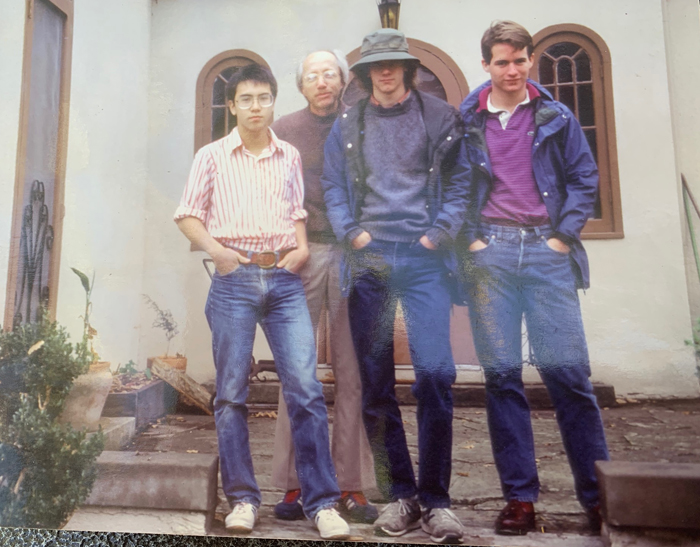 David Sugeno, Victor Emanuel, Peter English, and Kurt Huffman, ca. 1982
As an added surprise, I was flattered to receive an honorary certificate from the City of Austin proclaiming October 24, 2020 as Victor Emanuel Day. The certificate bears the signature of Austin mayor Steve Adler.
IN THIS ISSUE:
VENT AND COVID-19: AN UPDATE
RARE OPPORTUNITY: PRIVATE TRIPS WITH VENT TOUR LEADERS
INTRODUCING "TRAVELER EXPERIENCES": YOUR EXPERIENCES POSTED ON OUR WEBSITE
CLOSING THOUGHTS
Eight months have passed since COVID-19 emerged as a crisis here in the United States. It has also been that long since VENT last operated a tour. With the end of the year in sight, and with the recent good news on the vaccine-development front, I am providing an update on the state of affairs at VENT, starting with a recap of the year that's been and our outlook for the year ahead.
The Year That's Been
It is an understatement to say that 2020 has been a very hard year. It's been a hard year for the world, for our country, for society, and for the economy. For most, the COVID-19 pandemic has been unlike anything we've experienced since WWII in terms of the suffering and loss inflicted on the global citizenry. Most everyone has been affected to one degree or another. Within the business community, perhaps no industry has faced greater challenges than travel. We've not run any tours since March 20 and have cancelled future tours month after month while waiting for signs of improvement that would herald a resumption of our tour operations. We've cut costs to conserve resources, yet deployed funds strategically to position the company for a strong rebound once the crisis truly abates.
Our inability to run tours does not mean we've not been busy. On the contrary, we've stayed very busy. Our Tour Operations team has worked from home since late March, overseeing tour cancellations and rescheduling, customer rebooking and refunds, arranging future tours, and processing new registrations. Simultaneously, we moved with alacrity to establish our 2022 tour schedule, which in turn was followed by publication of a "mini-catalog" of tours promoting our 2021 and 2022 tour schedules and an array of special departures. We also introduced a new electronic communication, Messages & Memories, featuring wonderful written accounts by our tour leaders of memorable tour events and other stories about birds and birding, and debuted an exciting new program of VENT Webinars. Our tour leaders have been critical to the success of both efforts. Fortunately, we've been able to maintain income for our office staff and tour leaders.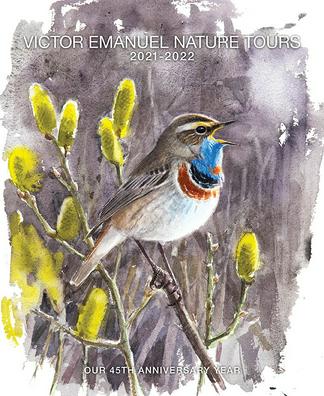 Throughout the year, we've maintained a "COVID-19" page on our website that displays our stated policy regarding the influence of the pandemic on our ability to operate upcoming departures: that we'll wait no later than six weeks before a tour's scheduled departure date before making a decision as to whether it will be cancelled or will operate. Throughout the year, we've worked hard to keep our travelers informed. We prefer not to wait until reaching the six-week mark, but rather try to reach a decision about the fate of a given tour as far in advance as we can.
Our decision process rests on an approach of caution and conservatism. We will not operate a tour unless we feel that we can within reason assure the safety of our travelers and tour leaders. We are aware that some of our competitors are already operating tours. The decision of when to resume operations is one that every organization must make for itself. Taking into account that a vaccine is not yet available; the grim public health trends of the last month; and the fact that many of our travelers and some of our tour leaders are at an age that places them at greater risk should they become infected, VENT is not yet ready to consider resuming running tours in the near term.
The Year Ahead
All along we've felt that our industry will not likely return to something approaching "normal" until a vaccine is developed that is shown to be both safe and widely available. We've felt that a best-case scenario would entail vaccinations beginning in the early months of the new year, while a least optimistic forecast would not see vaccinations begin to be widely available until the summer. The news this week regarding vaccine development is certainly cause for optimism. As you're probably aware, the pharmaceutical companies Pfizer and Moderna have made major announcements that the results of their late-stage vaccine trials revealed their products to be 94–95% effective.
What this means is that vaccinations will likely begin for some of the population within the next couple of months and will be increasingly available as we get deeper into the year. To be clear, we do not view a vaccine alone as an end-all to the crisis; a range of health and safety protocols will still be needed as we transition to a post-pandemic state. Moreover, our ability to operate will also need to take into account other factors including public health trends at home and abroad, resumption of airline travel service, and the relaxation of various travel restrictions currently in place. Regardless, vaccination will be central to our overall effort to begin operating tours. In the months to come, VENT will develop a formal regimen of health and safety protocols as an essential step in readying for a return to business, and which will be provided to tour participants prior to the departure of a tour.
At this time, we are cancelling all of our January and February tours as we feel that it will still be too soon then to resume operations. Our optimism builds with each passing month thereafter. We view March and April tours as possible; May better; June better still; and July best.
With all of this said, there are still some important unknowns. We emphasize that we are continually assessing conditions and will continue to do so. Ultimately, we will only elect to operate our tours if we feel it is safe to do so. In the meantime, please know, again, that caution and conservatism will dictate our approach as we assess the timeline for a return to full operations.
Last Thoughts
With the effects of the pandemic exacting a heavy toll on many businesses, it is natural that some of our travelers would inquire about VENT's financial well-being. I'll take this opportunity to affirm that VENT is stable and strong. Yes, it has been a difficult year and, like most small businesses, we have been under strain; however, insolvency is not a threat, and we will get through this crisis intact.
Finally, with light beginning to appear at the end of the tunnel, I am very pleased to report a significant upswing in bookings for future tours, particularly those tours departing in the second half of 2021 and 2022. For this, I thank you for your continued support and confidence in our company.
Our country still faces difficult days to come, but the future does appear brighter, and we are looking forward to again sharing the joys of birds and nature with our travelers.
Further updates will be provided as conditions warrant.
RARE OPPORTUNITY: PRIVATE TRIPS WITH VENT TOUR LEADERS
Until that much anticipated time arrives when we can resume operating tours, I thought you might be interested to know that several VENT tour leaders are available now to lead private, socially distanced, small-party trips in the areas where they live.
Such trips would not involve our office staff, but rather would be worked out directly between the participant (you) and the tour leader.
Guidelines:
1. You will contact the tour leader directly and arrange the dates for a private trip. The length of a trip will be for you to decide. Trips will be limited to six participants.
2. Participants will travel in their own car or cars, will make and pay for their own accommodations, pay for their own meals, and eat by themselves. The tour leader will use his or her own vehicle and will not eat with the participants.
3. Participants will bring their own spotting scopes, if possible.
4. The fee will be $400 per day for up to two participants, and $200 per day for each additional participant. These fees will be paid in cash or by check directly to the tour leader.
Following is a list of the tour leaders available for private trips, including the areas where they live and their direct email addresses:
Michael O'Brien and Louise Zemaitis; Cape May, (South) New Jersey; tsweet@comcast.net; swallowtailstudio@comcast.net
Rick Wright; Bloomfield, (North) New Jersey; birdaz@gmail.com
Erik Bruhnke; Duluth, Minnesota; birdfedr@gmail.com
Kevin Zimmer; Atascadero, (Central) California; kjzimmer@charter.net
Should you find this offer appealing, you are assured of seeing great birds and other creatures, and benefiting from the expertise of a VENT tour leader while also providing him or her with needed income.
INTRODUCING "TRAVELER EXPERIENCES": YOUR EXPERIENCES POSTED ON OUR WEBSITE
Many of you have let us know how much you've enjoyed the "Messages & Memories" email messages from VENT tour leaders. We would also like to hear from you, our VENT travelers, about your experiences. This summer we introduced a new page on our website called "Traveler Experiences." If you would like to share your most memorable, remarkable, or just plain fun experiences while on a VENT tour:
Write about your experience in 50 to 500 words.
Attach one photo, either related to the experience or a photo of yourself. We can accept jpgs only. If you have other photos related to your experience that you'd like share, please upload them to a photo sharing site, such as Flickr and SmugMug, and we will link your story to that site.
Send your text and photo to TäV Garvin (tav@ventbird.com). She will let you know when your experience has been posted to our website. If you'd like, rather than sharing a particular experience, you can tell us about one of your favorite trips!
Please send any questions you may have to TäV. We look forward to hearing from you!
Throughout my life I have had a special fondness for Thanksgiving. Traditionally a time for friends and family, it is a pleasant time when we can focus on the things that matter most. As I think about the year to date, despite everything that's happened in the world, I wish to express how thankful I am for the things that enrich my life—good friends, caring employees and co-workers, the time I've spent outdoors in nature, and, of course, you, the people who choose to travel with VENT.
Thanksgiving will be different for all of us this year, yet through it all, I do hope you have an enjoyable holiday.
Best wishes,
Victor Emanuel