VENTFLASH #274: THE ROAD AHEAD LOOKS VERY GOOD FOR ALL OF US
March 18, 2021
Dear friends:
On April 21, participants will travel to San Antonio, Texas to begin our Big Bend National Park and the Texas Hill Country tour, which will be the first tour VENT has operated in a year. Our tour leaders and office staff are so delighted that this will happen. The past twelve months have been the most challenging in VENT's 45 years. Thanks to our leaders and staff and your support, we are emerging stronger than ever and are looking forward to many great years ahead. Your support has meant so much to all of us. Many of you have told us that VENT tours have changed your life and that you are looking forward to once again being in great places and seeing wonderful birds with a VENT tour leader. Now you can make plans for that to happen.
From this point on, we will operate most of our 2021 and 2022 U.S. tours. Our ability to operate our international tours this year will depend on a host of variables, not least of which is the matter of which countries are open to visitors. We will decide to either operate or cancel each of our international trips no less than six weeks before each trip's departure date, and all participants will be informed as soon as the decision has been made.
As we resume tour operations, I emphasize that the health and safety of our travelers and tour leaders is paramount. We will take all possible measures to ensure the safety of everyone during a tour. With this in mind, we have instituted a vaccination requirement whereby all tour participants and tour leaders must be fully vaccinated in order to travel with us while we are still in a declared public health emergency. This policy was announced last week in an update of our Coronavirus Travel Update page, which can be viewed in its entirety on our website by clicking here.
Our decision to require vaccination in order to participate on a VENT tour during this time was not made lightly nor arrived at easily. We've reached this point only after a long period of deliberation. At the end, we determined this approach is the best way to keep our customers and employees safe. Our decision and policy is firmly rooted in the latest CDC guidance.  As we move forward, I can assure you that we will continue to follow the latest information from the CDC and will update our policy accordingly.
In the coming days, we will post a formal protocol on our website that provides the general guidance we'll follow in the operation of VENT tours.
Travel has always involved risks. The pandemic elevated those risks to a level where we felt travel was not advisable. Thanks to the vaccines now available, those risks have been greatly reduced. Things will continue to get better around the world.
During these difficult weeks, time in nature has helped me more than anything. Now I am looking forward to much more time in nature in wonderful places. In November, VENT will host a 45th Anniversary Celebration in McAllen, Texas. Participants will see such beautiful birds as Green Jays, Altamira Orioles, and many other great birds. Many of our tour leaders will be in attendance. This event is already half full. We hope you will join us for this very special occasion, where you can share memories with our leaders and people you have met on our tours.
Thank you again for your support.
IN THIS ISSUE:
GREG LASLEY: IN MEMORIAM
UPCOMING SPRING TOURS
BOOKS RECOMMENDED BY OUR TOUR LEADERS
TOUR LEADER NEWS
VICTOR'S RECOMMENDATION
CLOSING THOUGHTS
I was very saddened to learn that Greg Lasley, one of my closest friends, had died on January 30, 2021. I met Greg in November 1978 shortly after I moved to Austin. We soon became close friends. When we met, Greg was a member of the Austin Police Department. A few years later, he started to lead tours for VENT. Over the years Greg played a very important role in Texas birding. For about twenty years, he and his friend Chuck Sexton edited the Texas section of American Birds. For many years he was secretary of the Texas Bird Records Committee and served on the American Birding Association's Checklist Committee. In l977, he began to photograph birds to document his sightings of rare birds. Over the years he became a superb wildlife photographer. In 2000, he and Larry Ditto won first prize in the Valley Land Fund photo contest, an annual event that supports conservation by wildlife photographers taking photos on ranches in South Texas over a six month period. That event raises money for conservation. The prize money for the winners is shared with the rancher. Since all wildlife is the subject for photos, Greg's involvement in that photo contest expanded his interests to include the entire natural world. He became very interested in dragonflies and other insects. Through his involvement in iNaturalist, he has helped thousands of people all over the world identify creatures they had photographed. Greg's detailed records of birds and other animals will play a huge role in conservation by documenting the populations of many species, thus enabling researchers to estimate how much we have lost.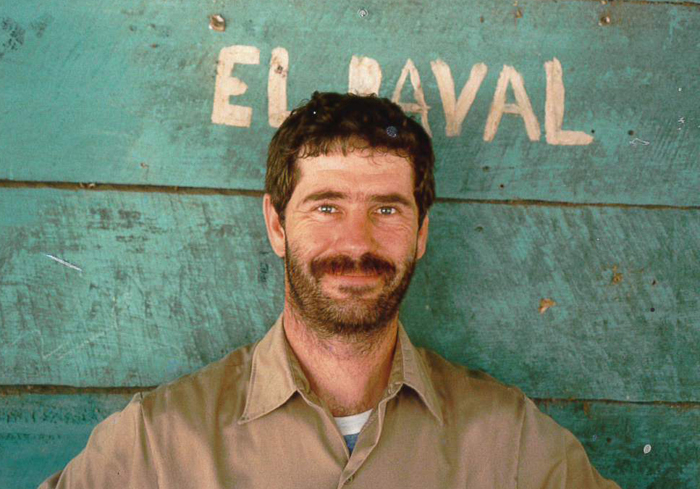 Greg Lasley, El Triunfo, Mexico, 2008
Greg led many VENT tours. I co-led many of those tours with him. I have great memories of sharing many wonderful places with him. We were the leaders on a tour to the Falklands, South Georgia, and the Antarctic Peninsula, as well as a tour from Tasmania to the Ross Sea. Greg led thirteen Antarctica trips for VENT! Some of my favorite trips with Greg were to El Triunfo in southern Mexico, Antarctica, and the Darien of Panama. Greg also led a private trip for Roger Tory Peterson.
Texas A&M Press published a wonderful book entitled Greg Lasley's Wildlife Portraits. In the introduction Greg wrote, "As I looked through the images, memories of my many years in the wilds of Texas came flooding over me. I remembered the cacophony of a chachalaca dawn chorus, the honking of a skein of geese, a coyote howling, the gabbling of quail, the rattle of grasshoppers in the heat of the day, the night chorus of frogs, the buzzy song of Golden-cheeked Warblers, the throbbing sound of cicadas, the wind in the trees, the dancing feet of prairie-chickens on the roof of a photo blind at its lek, and silence. I remembered dew on a spider web at dawn, a roadrunner dueling with a snake, rays of light through a pine forest, lizards basking in the sun, iridescent damselflies in the thousands flitting over the surface of a pond, an April snowstorm in the Panhandle, and rainstorms in the Hill Country so intense that dry stream beds turned into rushing torrents in a matter of minutes. Truly I am a part of Texas, and Texas is a part of me."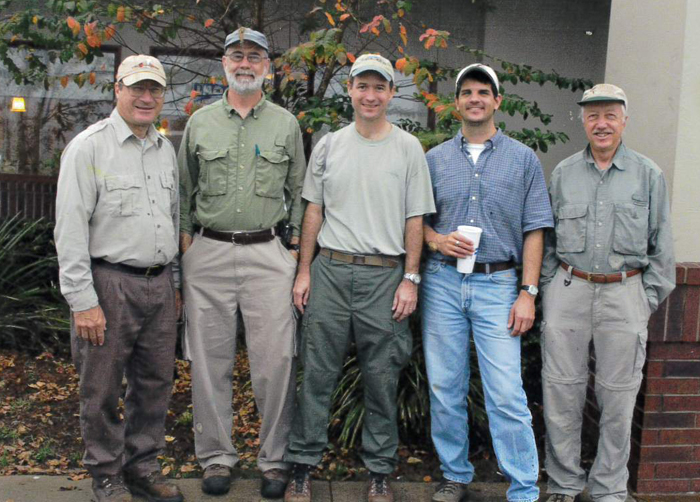 Chuck Sexton, Greg Lasley, Kurt Huffman, Barry Lyon & Victor Emanuel, Freeport CBC, 2010
Years ago Greg gave me a framed piece of porcelain that had written on it, "A friend may well be considered the masterpiece of nature." — Ralph Waldo Emerson.
Greg was such a friend to me. We felt the same way about nature and about friendship. I will always treasure my memories of our times together and our friendship. Losing a close friend leaves a hole in your life, but such a friend is never lost, since when you think about them they are with you. I will think of Greg almost every day and every time I see something wonderful in nature.
Greg Lasley's obituary, Austin American-Statesman, March 5, 2021
As spring unfolds, VENT has some terrific tours that still have space available, including our California Specialties tour, Spring in Cape May, Spring Grand Arizona, and Spring in the Washington Cascades. All of these trips offer wonderful birding opportunities.
California Specialties: April 30-May 9, 2021. Limit: 7. Leader: Jeri Langham. Fee: $3695 from San Diego (ends in Santa Barbara); single supplement: $700. Only two spaces remain available.
Southern California has long been regarded as one of the great birding areas in the country. A wide variety of habitats—including deserts, mountains, shoreline, chaparral, grasslands, and pelagic waters—a moderate climate, and its geographic location guarantee a long and interesting bird list. Our tour is designed in a way that takes participants through all its habitat types, ensuring the broadest introduction possible to its fascinating avifauna.
As a further attraction, California is characterized by a high degree of endemism. Where else in the country could one go to look for Scripps's Murrelet, Allen's Hummingbird, Nuttall's Woodpecker, Island Scrub-Jay, Yellow-billed Magpie, California Gnatcatcher, California Thrasher, California Towhee, and Oak Titmouse? This tour is planned in a manner to give maximum opportunity to see all these endemics or near-endemics.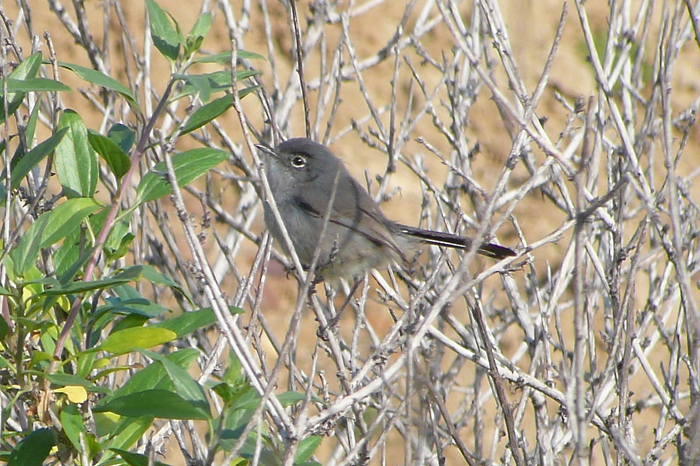 California Gnatcatcher - Barry Zimmer
Other western specialties such as Mountain Quail, White-headed Woodpecker, Pacific-slope Flycatcher, LeConte's Thrasher, and Hutton's Vireo are also breeding birds in Southern California. An occasional Yellow-footed Gull winters at the Salton Sea, giving us the hope of seeing this species, but they are easier to find here during the hot summer months.
Spring in Cape May: A Relaxed & Easy Tour: May 9-15, 2021. Limit: 14. Leaders: Louise Zemaitis and Michael O'Brien. Fee: $2445 from Philadelphia; single supplement: $495.
Cape May, New Jersey is world-famous as a destination for students of bird migration. This tour will visit Cape May's birding hot spots at the peak of spring migration, and when summer residents are at their most active.
Spring is also an excellent time to see a wide diversity of other shorebirds, and our list may reach as many as 20 species including Piping Plover, American Oystercatcher, and White-rumped and Purple sandpipers. In addition to shorebirds, while exploring Cape May's extensive marshlands we should see an abundance of herons, as well as a few secretive species including Clapper Rail and Saltmarsh Sparrow.
One of the greatest highlights of a spring visit to Cape May is the host of colorful songbirds that are to be found. Some of these are passing through while others are local breeders actively defending their territories.
Watch CAPE aMAYzing: The Magic of Spring and Fall Birding in Cape May, a VENT Webinar presented by Michael O'Brien and Louise Zemaitis.
Spring Grand Arizona: May 14-24, 2021. Limit: 12. Leaders: Barry Zimmer and a second leader if needed. Fee: $3650 from Tucson; single supplement: $625.
They have been called the Mexican Mountains and the Sky Islands. The Santa Ritas, Huachucas, and Chiricahua Mountains are islands of cool greenery rising from the deserts and grasslands of Southeastern Arizona. As the northernmost outliers of the Mexican Sierra Madre, these ranges host many Mexican species found nowhere else in the United States. In the lower canyons, the barks of the Elegant Trogon, the rattle of the Arizona Woodpecker, the squeals of the Sulphur-bellied Flycatcher, and the mellow song of the Painted Redstart ring through the oaks and sycamores. Higher up, amidst the conifers and Gambel oaks, roving mixed-species flocks harbor Red-faced, Virginia's, and Olive warblers, Greater Pewee, and Mexican Chickadee. Riparian forests and streamside thickets may yield such highly-sought species as Common Black Hawk, Gray Hawk, Northern Beardless-Tyrannulet, and Thick-billed Kingbird.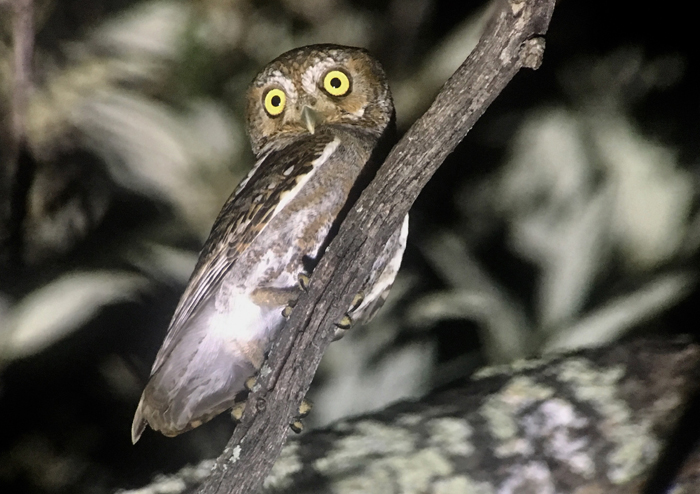 Elf Owl - Barry Zimmer
Nowhere in North America can one find more species of owls in such a small area. Ten species are possible. Fourteen species of hummingbirds have been recorded on this tour with eight or more likely on each trip. 
Spring in the Washington Cascades: A Relaxed & Easy Tour: June 8-14, 2021. Limit: 14. Leaders: Willy Hutcheson and a second leader if needed. Fee: $2995 from Seattle; single supplement: $625.
Leavenworth, Washington is an ideal venue for a late spring nature tour. The picturesque town sits at the foot of Icicle Canyon in the Cascade Mountains, on the north side of Mt. Stuart. Our lodgings are tucked in alongside the rushing Wenatchee River. Every room at the inn has a balcony overlooking the river, where you can sit and watch families of Yellow-bellied Marmots and such birds as Pygmy Nuthatch and Common Merganser. White-headed Woodpeckers often nest nearby. The inn is just a few minutes from Icicle Creek and other fast-flowing streams, where American Dippers bob on the rocks and Harlequin Ducks nest. In late May, wildflowers carpet the forest floor and canyon roadsides.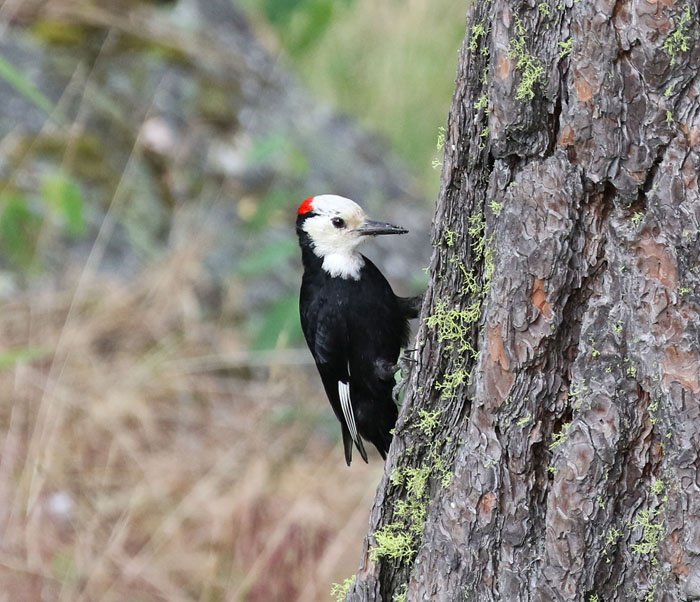 White-headed Woodpecker - Erik Bruhnke
With four nights in Leavenworth, we'll explore a variety of sites within reasonable driving distance, including beautiful Icicle Canyon. Brilliant Lazuli Buntings, noisy Yellow-breasted Chats, and tiny Calliope Hummingbirds are regular sights along the canyon road. We'll watch for such birds as Northern Pygmy-Owl, Red-naped Sapsucker, Say's Phoebe, Black-headed Grosbeak, Bullock's Oriole, and Cassin's Finch. We will explore the back roads of the Wenatchee Mountains, where Williamson's Sapsuckers nest at higher elevations and Hermit Thrushes sing all day. At passes in the Cascades Mountains, we'll search out the lovely Varied Thrush and tiny Pacific Wren.
Another day takes us into the nearby sage country, home to nesting Sagebrush Sparrows, Sage Thrashers, and Brewer's Sparrows, as well as Mountain and Western bluebirds. During the course of the tour, we may see eight woodpecker species and nine flycatchers.
Since many people are eager to travel and see great birds, we expect all of these tours to fill up. We hope you will contact our office and sign up for one of them. 
BOOKS RECOMMENDED BY OUR TOUR LEADERS
Rick Wright recommends Provence and Camargue: France, by Dirk Hilbers, Constant Swinkels, and Albert Vliegenthart. Crossbill Guides Foundation, 2020, 256 pages, softcover, crossbillguides.nl
This is an informative and beautifully illustrated natural history of a breathtaking region's geology, climate, and habitats. This latest in the series of Crossbill Guides is sure to whet the traveling appetite even if you are not already entranced by the thought of Slender-billed Gulls, Greater Flamingos, Squacco Herons, Eurasian Hoopoes, Common Nightingales, European Rollers, Lesser Kestrels, European Bee-eaters, Little Bustards, and Zitting Cisticolas. And lavender, sunflowers, food, and wine, too, of course.
(Full review here: https://www.aba.org/exciting-titles-for-the-birding-literature-of-france/)
We are very excited about the publication of the new Birds of Colombia field guide by Steve Hilty. This anxiously awaited new book, published by Lynx Editions, will be available in late March.
Manakin Nature Tours will conduct a live virtual interview with Steve about his book Saturday morning, March 20, at 10:00 am Bogotá time (10:00 am Central Daylight Time). It will be presented on their Facebook page and YouTube channel.
You can read more about Steve's new book tomorrow in VENT's March 19 "Messages & Memories from VENT Tour Leaders." In Birding Beneath Colombian Skies, Steve will tell us more about his book, as well as some of his upcoming Colombia tours. If you are not currently receiving our "Messages & Memories" emails but would like to do so, please contact the VENT office (info@ventbird.com).
Our webinars have been a great success. The webinar presented by Rafael Galvez last Thursday, March 11, was one of the best webinars we have ever offered. It was designed to let people know about one of our new tours, The Lands of Carmenere & Malbec: Birds & Wines of Chile & Argentina, February 28–March 14, 2022. You can watch this terrific webinar on the VENT Webinars page on our website, on our GoToStage webinars page, or on our YouTube channel.
Every season is special, but for me, spring is the most special. In Central Texas, a couple of weeks after the worst winter storm in my lifetime, the Redbuds across the street from my house started showing bits of red on their bare branches. Now they are in glorious full bloom. Many trees have new leaves. These leaves are a delicate, lovely light green. Butterflies have begun to appear. One day I had excellent looks at a Great Purple Hairstreak, one of the most beautiful butterflies in the world. The first Golden-cheeked Warbler was seen about a week ago. Pectoral Sandpipers, Wilson's Phalaropes, and American Golden-Plovers that wintered in South America have appeared at Hornsby Bend. Today I saw my first Great Crested Flycatcher, a bird that spends the winter in Central America.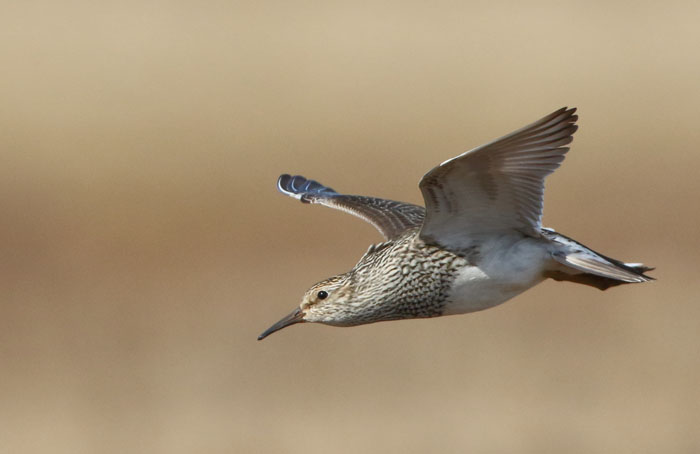 Pectoral Sandpiper - Brian Gibbons
While I am delighting in the appearance of spring birds, I am savoring the winter birds that will soon depart. All of a sudden, most of the Orange-crowned Warblers left. There are fewer sparrows and kinglets. Each time I see one of these winter birds I savor it, because I know I will not see it again until October or November.
It is very hard to pick a favorite group of birds, but long ago I chose the warblers because they are so colorful and so full of life. My second favorite group is the ducks. The plumages of many of them are so striking, such as the Bufflehead or Hooded Merganser, or so colorful, such as the Wood Duck or Green-winged Teal. Best of all, perhaps, are the eiders, but I seldom see them. One of the best gifts my wonderful mentors gave me was an appreciation of every bird, including the common birds. I had a great experience yesterday with one of our most common ducks, the Northern Shoveler.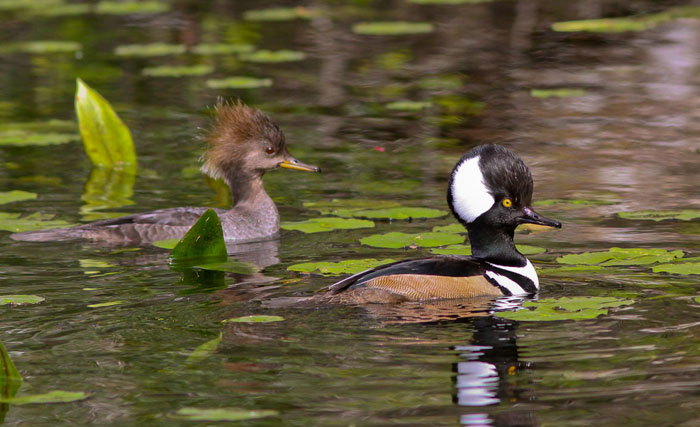 Hooded Merganser - Michael O'Brien
When the shovelers arrive in mid-September, the males are in eclipse plumage. Their heads and necks are dark gray. Over the winter, they begin to acquire their breeding plumage. Now they are about to depart for their breeding grounds. There were about 800 in a large pond at Hornsby Bend. They and their mates were feeding actively, often in groups of 20 or more. The heads and necks of the males were a gorgeous iridescent green. Their sides were deep rufous bordered by striking white. In flight, the wings had a lovely light blue area. I was mesmerized by the beauty of all these shovelers as the late afternoon sun shone on them. Among them were 11 other species of ducks. At one point, in view through my scope I had all three species of teal: Green-winged, Blue-winged, and Cinnamon. There was a group of eight Fulvous Whistling-Ducks, a species I have seen only a few times in the Austin area. There was so much to enjoy, savor, and absorb. Soon all these ducks will be gone, but the warblers, buntings, Scissor-tailed Flycatchers, and orioles will have arrived.  As birders we are so fortunate to see so much and to appreciate what we see.
Best wishes,
Victor Emanuel