VENTFLASH #282: Livestreaming at VENT's 45th Anniversary Celebration!
November 12, 2021
Dear friends:
Our 45th Anniversary Celebration in McAllen, Texas begins Sunday, November 14. This departure sold out months ago. For those who wanted to be there but couldn't, we are excited to announce that the evening presentations will be Livestreamed!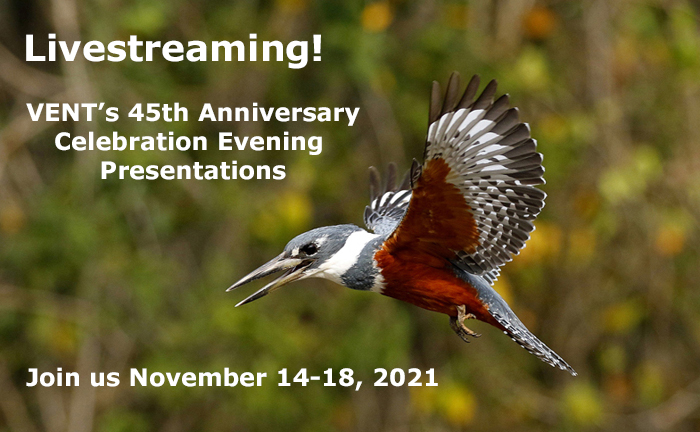 Ringed Kingfisher - Andrew Whittaker
If you would like to join us, albeit from the comfort of your home, CLICK HERE at 7:15 pm CST each evening to watch the festivities live at the Casa de Palmas hotel:
Sunday, November 14: Celebration Welcome and Overview with Victor Emanuel and Barry Lyon
Monday, November 15: Colombia, Then and Now: 50 Years Through the Eyes of an Ornithologist with Steve Hilty
Tuesday, November 16: Greg Lasley and Bob Sundstrom Remembered with Victor Emanuel and Barry Lyon
Wednesday, November 17: Whooping Cranes: Past, Present, Future with George Archibald
Thursday, November 18: The History of VENT with Victor Emanuel
You can also access the Livestream from the home page of our website (ventbird.com) and from the 45th Anniversary Celebration tour page.
If you are unable to watch the Livestream, all of the presentations will be available on VENT's YouTube channel.
I hope you will join us!
Best wishes,
Victor Emanuel
Victor Emanuel Nature Tours  |  2525 Wallingwood Drive, Suite 1003  |  Austin, TX 78746
Phone: 800-328-8368 / 512-328-5221  |  Email: info@ventbird.com
Follow us on
© 2021 Victor Emanuel Nature Tours. All rights reserved.