VENTFLASH #291
October 17, 2022
Dear friends:
Last month I made one of the best trips of my life: a twelve-day birding and wildlife safari to the southern Pantanal of southwest Brazil with the Cornell Lab of Ornithology. In Brazil, a country renowned for its extraordinary biodiversity, the Pantanal stands out. In fact, it is one of the top locations in the world for birding and wildlife viewing.
VENT has operated tours to the northern Pantanal region for decades. Thanks to Dr. Charles Munn and his company, SouthWild, we now operate as many as five trips a year to this amazing area. This particular trip was different in that it visited the southern Pantanal in the state of Mato Grosso do Sul, a region equally rich as the north in birds and wildlife. The trip started in the city of Campo Grande, from which we spent five nights at the Pantanal Jaguar Lodge on the Miranda River in the heart of the Pantanal. Every morning we awakened to a remarkable host of birds at the feeders in front of the lodge, with Muscovy ducks, Toco Toucans, and Hyacinth Macaws vying for space with Purplish and Plush-crested jays and hordes of Yellow-billed and Red-crested cardinals, among many other birds. Nearby was a stunning array of other captivating birds such as Jabiru, Bare-faced Curassow, Chaco Chachalaca, Great Rufous Woodcreeper, Swallow-tailed Hummingbird, and Rufous Hornero. As is the case on our northern Pantanal tours, every boat trip yielded a remarkable series of delights. Sightings of magnificent Southern Screamers, Cocoi Herons, Savanna and Black-collared hawks, Great Black-Hawks, and an array of pigeons, kingfishers, flycatchers, spinetails, swallows, and tanagers delighted our tour group. Of course, it is the opportunity to see the amazing Jaguar that is perhaps of greatest interest to most travelers to the Pantanal, and on that front this trip did not disappoint! We saw three different Jaguars on our boat trips, two of which were spellbinding experiences. We also enjoyed special encounters with Giant Otters and Neotropical River Otters.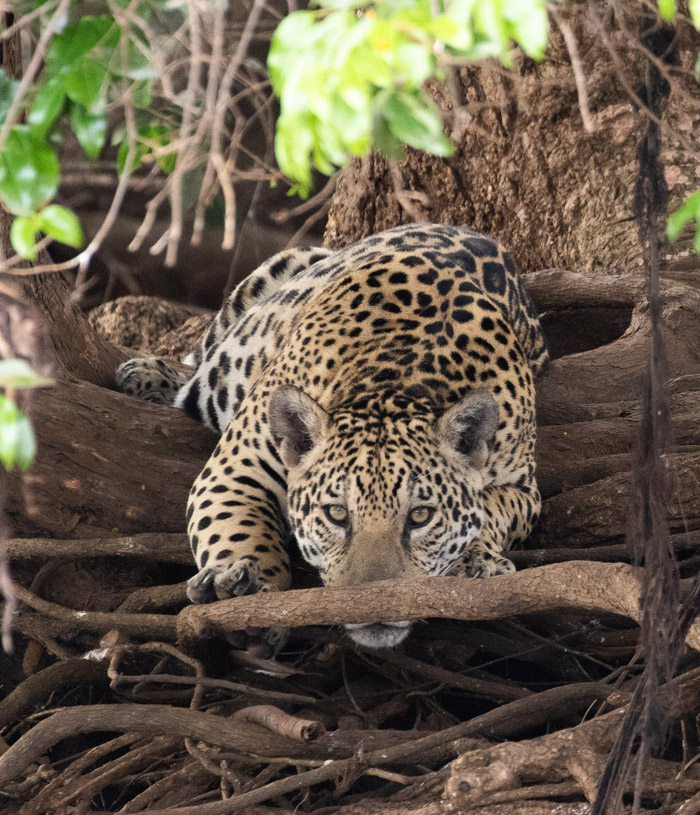 Jaguar - Erik Bruhnke
Our trip concluded in the cerrado region around the town of Bonito, where highlights included sightings of Greater Rhea, Red-legged Seriema, Red-and-green Macaw, Blaze-winged Parakeet, and Helmeted Manakin. Most astoundingly, we encountered fourteen Giant Anteaters on a single afternoon here!
I first visited the Pantanal in 2000 with Dr. Robert Ridgely and Roger Tory Peterson. At that time, there were only two lodges. Neither had bird feeders or offered boat trips on rivers, both longstanding features of our tours. The bridges on the Transpantaneira (highway that traverses the Pantanal from the north) were in terrible shape. In the past twenty years, the Pantanal has become the top destination for birds and wildlife in Brazil, thanks largely to the efforts of Dr. Munn. He has organized VENT's Pantanal trips since 2005. He does a lot to support conservation in the Pantanal and other parts of Brazil. Charlie and I are longtime friends. I am thankful for all he does for the wildlife of the Pantanal and for VENT.
In 2023 VENT will offer four Pantanal Safari tours, all of which still have spaces available:
July 12–24 with Jeri Langham and a local leader; price to be announced in double occupancy from Cuiaba ($8,095 in 2022).
July 25–August 7 with Kevin Zimmer and a local leader; price to be announced in double occupancy from Cuiaba ($8,195 in 2022).
August 12–25 with Erik Bruhnke and a local leader; price to be announced in double occupancy from Cuiaba ($8,195 in 2022).
September 4–17 with David Ascanio and a local leader; price to be announced in double occupancy from Cuiaba ($8,195 in 2022).
On most of these trips there will be optional pre-trips to Iguaçu Falls and extensions to the southern Amazon for Harpy Eagles and other birds and wildlife.
IN THIS ISSUE:
INDIA TRAIN TOUR: FOUR MORE CABINS AVAILABLE & $1,000 DISCOUNT OPPORTUNTITY!
ECUADOR'S AMAZING NAPO WILDLIFE CENTER
BHUTAN: WITH MAX BRECKENRIDGE
FEATURED TOUR LEADER: KEVIN ZIMMER
JANUARY AND FEBRUARY TOURS WITH SPACES STILL AVAILABLE
CLOSING THOUGHTS
INDIA TRAIN TOUR: FOUR MORE CABINS AVAILABLE & $1,000 DISCOUNT OPPORTUNITY!
We have recently learned that four more cabins have been made available to VENT for our upcoming India train tour: India: Birds & Culture on the Maharajas' Express, January 25–February 10, 2023. We are able to offer these cabins at a discount of $1,000 per person in double occupancy for all registrations received by October 31. The fee for this tour is $18,895 in double occupancy accommodation. Register now and pay $17,895!
This tour is one of the most amazing we have ever offered—a superb mix of birding and wildlife and historical and cultural wonders. The centerpiece of this journey, from Mumbai to Delhi, is a five-night stay on the Maharajas' Express, India's greatest luxury train.
Many wonderful events are included on this trip, and every day brings new delights. The birds and mammals are marvelous, particularly at Ranthambore and Keoladeo national parks. The palaces of the princely cities of Udaipur, Jodhpur, and Jaipur are extraordinary. Among the many cultural highlights are a folk dance under the stars amid the sand dunes of the Thar Desert, a luncheon on the veranda of the maharaja's palace of Jaipur, and evening and morning visits to the magnificent Taj Mahal.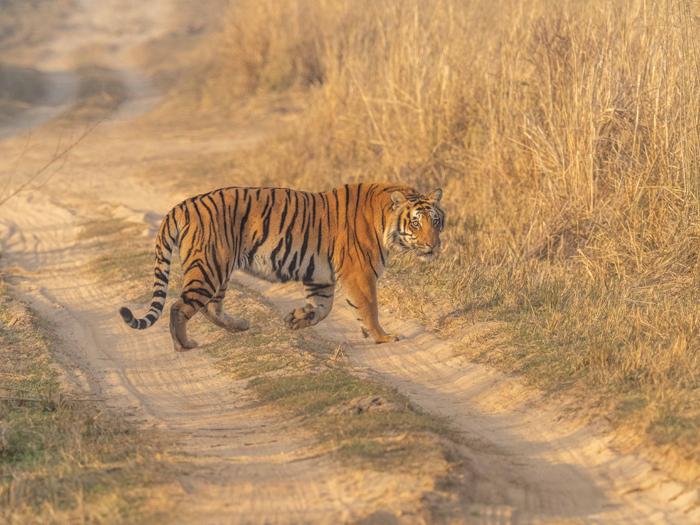 Bengal Tiger - Machiel Valkenburg
As a kid, I read Rudyard Kipling's Jungle Book. One of the main characters in that wonderful book is the tiger named Shere Khan. Throughout my life I had always hoped to see a tiger. When I finally saw my first tiger, many years ago on a trip to India, I said, "Shere Khan, at last." On this trip, we'll spend two days at Ranthambore, where we'll have good chances of seeing a tiger, among an array of other wonderful birds and mammals.
Guiding this trip will be a superb team of VENT leaders: Dion Hobcroft, Max Breckenridge, and Brian Gibbons. They will be joined by Raj Singh, whose company has for years organized VENT's tours to India. Not only a native of India, Raj is a descendant of a maharaja. He is an authority on all facets of his country and will be eager to share his knowledge with our tour group.
In August we produced a webinar featuring this trip. I urge you to watch this presentation, which provides a full overview of the tour from start to finish. In addition to enticing imagery and narration by me and my colleague Barry Lyon, we included a wonderful 11-minute video (which begins at 44 minutes) from the India National Railway that focuses exclusively on the train and experiences to be had while aboard. Please click this link, India: Birds & Culture on the Maharajas' Express, to view this production.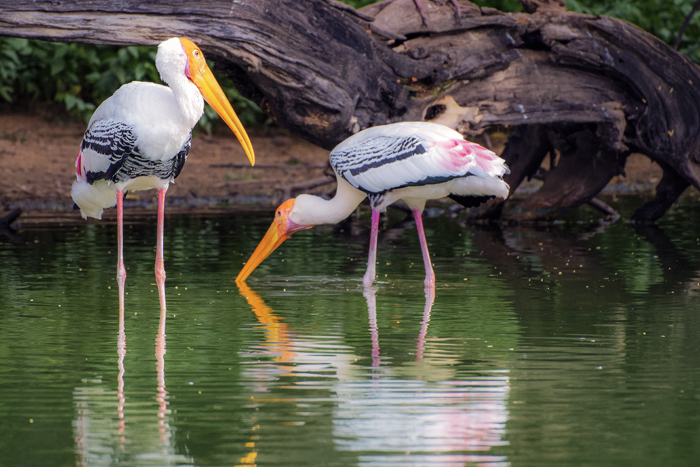 Painted Stork - Wirestock Creators
Over the course of my 46-year career, I have led over 200 tours and have visited all seven continents. This India train trip is one of my five all-time favorite trips. I hope you will reserve one of the remaining cabins. I assure you that this trip will be one of the best experiences of your life.
For more information or to register, please contact Tour Operations Manager Greg Lopez by email (greg@ventbird.com) or phone (512-328-5221).
India: Birds & Culture on the Maharajas' Express, January 25–February 10, 2023 with Dion Hobcroft, Max Breckenridge, Brian Gibbons, and Raj Singh; $18,895 in double occupancy from Mumbai (ends in Delhi). Limit 40. 4 cabins available. Register by October 31 and receive a $1,000 discount per person.
ECUADOR'S AMAZING NAPO WILDLIFE CENTER
This January I made a trip to the Napo Wildlife Center in the Amazonian lowlands of eastern Ecuador. I had been to this location on two previous occasions, but it had been fifteen years since my last visit.
Everything about this lodge is perfect: the setting, the lodge itself, the birds and wildlife, and the service staff. VENT has operated trips to the Napo Wildlife Center for twenty years. It is the centerpiece of our tour Ecuador: The Best of Amazonia Featuring Napo Wildlife Center. This tour operates each year in January and is led by longtime tour leader Paul Greenfield, who co-authored the landmark Birds of Ecuador (2001). This year's tour was co-led by Paul and Brian Gibbons. Recently, I was chatting with Brian about our experiences at Napo, as we were there at almost the same time. Listening to his recollections, I was reminded yet again of the magic that place holds. Brian let me know he had penned some thoughts about his experiences, which I share with you:
"Paddling silently through the forest in a canoe, blackwater sliding past, Paul Greenfield leaned in and said, "This is where the magic starts." Añangu creek was our access to the Añangu-Kichwa community-owned Napo Wildlife Center, a world-class ecolodge with amazing wildlife that's been protected for thirty years. The natural soundtrack was untrammeled by human noise. Undulated Tinamous whistled, unseen in the Amazonian forest. Overhead, screeching flocks of parakeets and parrots streaked past. Entertaining us along the creek were clumsy Hoatzins, an odd and ancient bird that eats leaves and whose fledglings are equipped with claws on their wings to clamber out of the water if they need to evade a predator. And there was a smell, then some excited yipping, some roiled water, but we couldn't see the aquatic mammal we were after. Finally, we rounded a bend in the creek, and a family of six Giant Otters were right in front of us! They popped up to eye us but continued fishing, coming up with a large Armored Catfish that they shared and devoured right in front of us. Watching these charismatic animals several times was definitely the natural history highlight of the trip for me.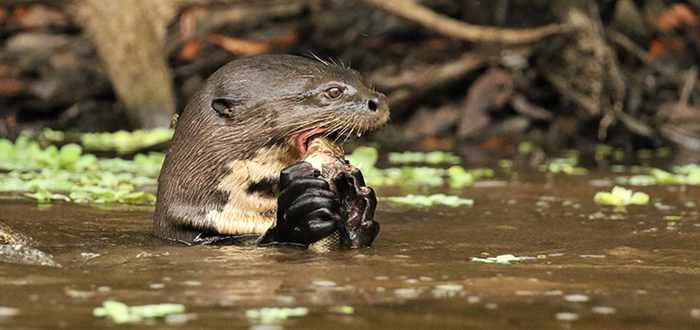 Giant Otter, Ecuador, Napo Wildlife Center - Brian Gibbons
"Each day was an adventure. The canopy tower was a great vantage point from which to look for raptors and macaws. Ornate Hawk-Eagle, Hook-billed Kite, King Vulture, and Blue-and-yellow Macaws all put in appearances. While we never saw them, the muddy trails where tapirs had crossed the creek and the Jaguar prints in the same mud told us of the wildness of this place. We saw ten species of monkeys including the odd, woolly Monk Saki Monkey—an excellent indicator of well-protected rainforest. The enormous Anaconda resting at the edge of the lake, along with many large caimans, reminded us that the "No Swimming" signs were to be heeded. Zigzag Heron, Black-necked Red-Cotinga, and Amazonian Umbrellabirds were just a few of the sightings that underscored the uniqueness of this place. I can't wait to return."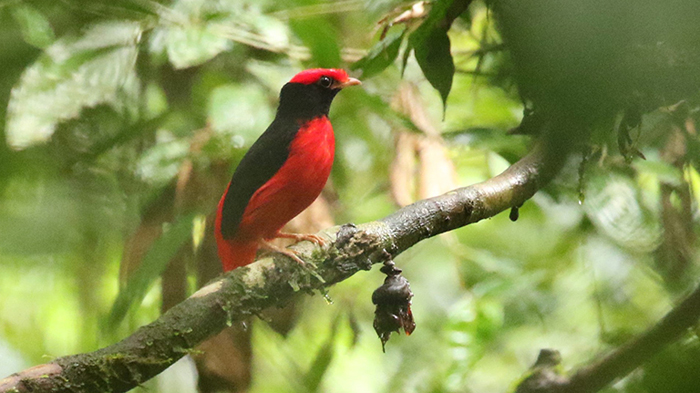 Black-necked Red-Cotinga, Ecuador, Napo Wildlife Center - Brian Gibbons
David O. Wilbur was a participant on this tour. Upon returning home, he compiled his photographs into a video montage that he placed on YouTube. Through his many photos of birds, mammals, the lodge, and the general setting, his imagery captures the essence of the Napo Wildlife Center. At forty-five minutes, the piece is lengthy, but certainly captivating all the way through. I encourage you to view the video, which you can access here. We thank David for this production and his generosity in sharing this piece. I also encourage you to watch our webinar, Ecuador: The Best of Amazonia Featuring Napo Wildlife Center, that debuted on August 6, 2021. Presented by Paul Greenfield and Brian Gibbons, this production provides a wonderful overview of the trip, complete with narration by Paul and an array of accompanying maps and photo imagery.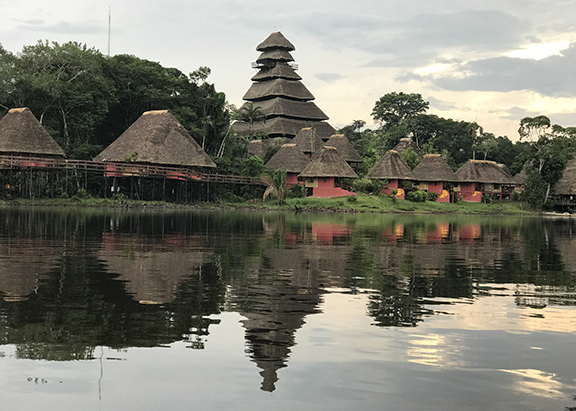 Napo Wildlife Center, Ecuador - Brian Gibbons
Our Ecuador: The Best of Amazonia Featuring Napo Wildlife Center tour is one of our premier South American departures. Our trip spends five nights at the Napo Wildlife Center, located on a beautiful oxbow lake on the south bank of the Napo River. Although other lodges in the area are better known, Napo is far superior to any of them, and for these reasons: 1) the south side of the river is much richer in birdlife than the seasonally flooded north bank; 2) two fabulous "parrot licks" are located nearby; 3) it has the best canopy tower in Amazonia; 4) other area lodges accommodate 40–50 guests; the NWC has only 16 cabañas; 5)  it is located amid 100 square miles of protected rainforest; and 6) it is owned and operated by the indigenous Añangu community and has received many awards as a model for sustainable and responsible tourism.
VENT will offer tours to this amazing destination in January of each of the next two years. I hope you will come to the Napo Wildlife Center and experience its wonders for yourself.
Ecuador: The Best of Amazonia Featuring Napo Wildlife Center
January 17–26, 2023 with Paul Greenfield and a local leader; $5,595 in double occupancy from Quito.
January 16–25, 2024 with Paul Greenfield and a local leader; price to be announced in double occupancy from Quito.
Looking ahead to the spring, I want you to know that our upcoming March/April tour to the Himalayan kingdom of Bhutan still has space available.
I have long considered our Bhutan tour one of the greatest adventures of all VENT tours. Over a period of almost three weeks, participants on this tour receive an in-depth look at one of the world's least known but most extraordinary cultures. Situated in the mountains between India and Nepal, Bhutan is a Buddhist enclave nestled among the magical forests and valleys of the mighty Himalayas. Our tours annually record over 400 species of Indian and Himalayan birds and a dazzling assortment of mammals. Our Bhutan tour will be led by Max Breckenridge, a highly skilled birder and a personable young man with an expertise on Asian birds and wildlife.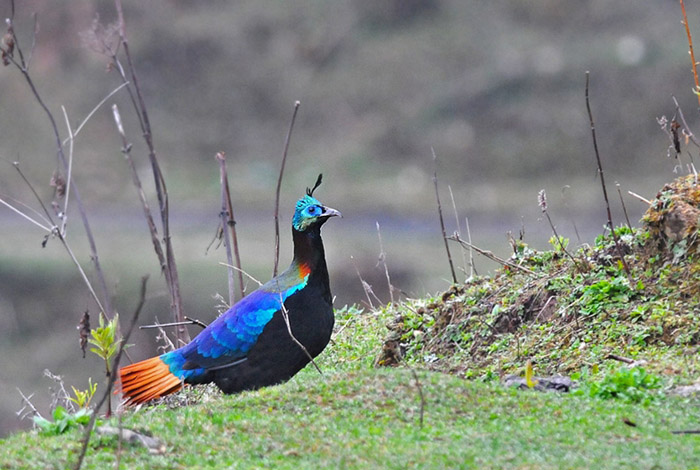 Himalayan Monal, Bhutan - Ansar Khan
If you are intrigued by the thought of visiting a unique and exotic destination of which comparatively few are aware, and where even fewer have been, I strongly urge you to consider a trip to Bhutan.
Bhutan, March 26–April 14, 2023 with Max Breckenridge and a local leader; $12,995 in double occupancy from New Delhi. Limit 10.
FEATURED TOUR LEADER: KEVIN ZIMMER
To many of our travelers, the name Kevin Zimmer is a familiar one. Through a career now in its 38th year, Kevin is among VENT's longest serving tour leaders. He has for many years anchored our programs of tours to Alaska, Brazil, and Tanzania while leading a great many other tours throughout the southwestern United States and Central and South America. From his coming of age in North Dakota and Alaska to international traveler and tour leader, Kevin has spent a life with birds. An ornithologist by training, Kevin is a recognized authority on South American birds, particularly suboscine passerines. A popular tour leader renowned for regaling participants with his story-telling prowess, Kevin is at once extremely knowledgeable and entertaining. To learn more about Kevin—his life and his career, please check out the current Featured Tour Leader page on our website.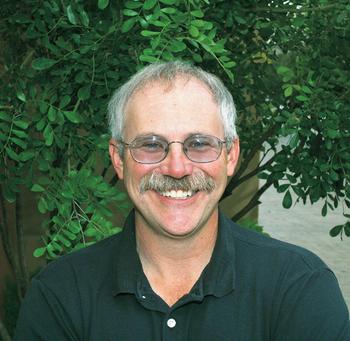 Kevin Zimmer
JANUARY AND FEBRUARY TOURS WITH SPACES STILL AVAILABLE
With the end of the year gradually coming into view, now is a good time to be thinking about travel in the new year. January and February are a prime time to get away from home, as the year-end holidays are behind us, and the winter weather encourages a getaway.
If you have not yet made travel plans for the new year, I thought you would be interested to know about a selection of departures in the January–February period with spaces still available. Many of these trips are traditional favorites, such as our tours to California and the Southwest, Hawaii, Minnesota, and Texas, while those who don't mind traveling farther afield may enjoy a trip to the tropics, where our tours to Colombia, Ecuador, and Panama offer profusions of amazing birds, great lodges, and beautiful surroundings.
Winter New Mexico, January 3–9, 2023 with Barry Zimmer and a second leader to be announced; $2,795 in double occupancy from El Paso (ends in Albuquerque). Limit 14.
Undiscovered Eastern Colombia: Birding Secrets of the White Sands of Inirida, January 7–15, 2023 with David Ascanio and a local leader; $5,095 in double occupancy from Bogotá. Limit 8; 1 space available.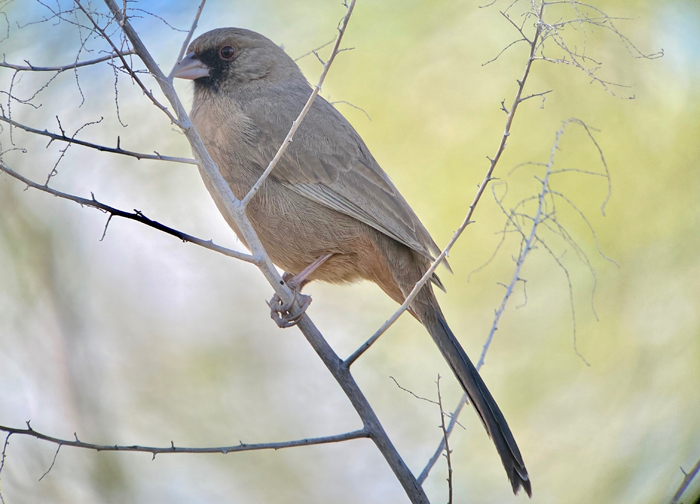 Abert's Towhee, Arizona - Barry Zimmer
Winter Southern Arizona, January 16–22, 2023 with Barry Zimmer and Brennan Mulrooney; $2,995 in double occupancy from Tucson. Limit 14.
Winter Southern California, January 22–28, 2023 with Brennan Mulrooney and a second leader to be announced; $3,195 in double occupancy from San Diego. Limit 12.
Ecuador: Eastern Slope of the Andes, January 24–February 3, 2023 with Paul Greenfield and a local leader; $3,995 in double occupancy from Quito. Limit 14.
Amazon River Cruise: Birding & Natural History Odyssey Aboard Zafiro, January 26–February 5, 2023 with David Ascanio, Andrew Whittaker, and Doris Valencia; cabins begin at $9,760 per person in double occupancy from Lima. Limit 29; 5 spaces available.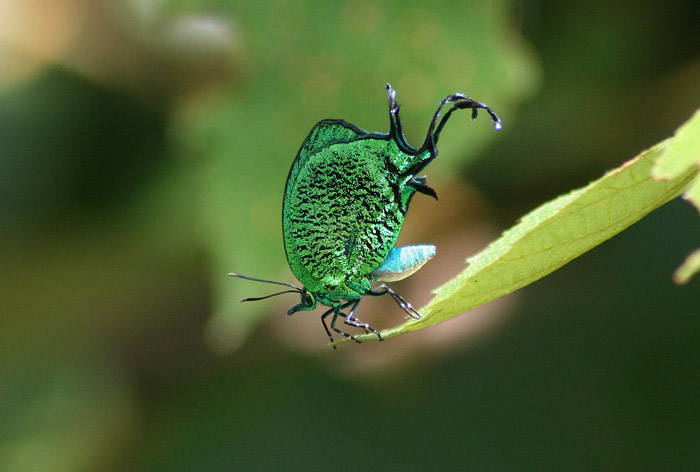 Imperial Sunstreak, Panama - Michael O'Brien
Panama's Canopy Tower: Birds & Butterflies, January 28–February 4, 2023 with Michael O'Brien and Louise Zemaitis; $4,595 in double occupancy from Panama City. Limit 12; 3 spaces available.
Northern Minnesota Winter Weekend, February 2–6, 2023 with Erik Bruhnke and Willy Hutcheson; $2,395 in double occupancy from Duluth. Limit 14.
Rockport, Texas: A Bonanza of Wintering Birds, February 16–20, 2023 with Brad McKinney and a second leader to be announced; $1,995 in double occupancy from Corpus Christi. Limit 14
Spring Hawaii, February 23–March 4, 2023 with Brennan Mulrooney and Erik Bruhnke; $7,995 in double occupancy from Honolulu (ends in Hilo). Limit 12.
I am presently traveling in Massachusetts, visiting friends and enjoying a little birding in the areas of Cape Cod, Martha's Vineyard, and Boston. A couple of days ago, I discovered a wonderful group of Blackpoll Warblers on Martha's Vineyard. These birds had come down from the boreal forest and were briefly stopped en route to their distant wintering grounds in northern South America. In Texas, where I live, this species appears as a low-density migrant on the upper coast in the spring. It is readily recognized by its striking black and white plumage, particularly its white face and black cap or "poll" that gives this bird its name. Here, however, I encountered the birds in their vastly different fall plumage, when they are dressed with a yellow-green wash on the head and breast and thin streaks on the back and sides.
Seeing these birds was yet another reminder of the wonder of bird migration, when an organism that weighs a mere few ounces can fly thousands of miles across continents and hemispheres with the changing of the seasons.
I hope you are enjoying fall migration where you live. We hope to see you on a VENT tour soon!
Best wishes,
Victor Emanuel