VENTFLASH #294
January 25, 2023
Dear friends:
Following the huge challenges of the previous two years, last year was the best year in VENT's history. The New Year has already started out even better. Of the 31 tours we are offering in January, February, and March, many are sold out, including all of our Panama and Costa Rica tours. We are especially pleased that our Tanzania tour in February is full. Our cruise aboard the Sea Cloud to the Lesser Antilles, February 16–24, has only three cabins available. Our tour to the Lands of Carmenere and Malbec in Chile and Argentina, February 27–March 13, has only two spaces available.
I greatly enjoy the wonderful tour evaluations we receive after a tour concludes. To me, these evaluations are treasures because they are affirmation of the hard work and careful planning by our superb tour leaders, office staff, and agents. It is also exciting to read the reports our tour leaders send from the tours they are leading. Here is a sampling of the wonderful sightings and experiences from the past six months:
A Snow Leopard in Mongolia in September on our Snow Leopards of Mongolia tour with Rafael Galvez.
1,122 Ross's Gulls in Barrow, Alaska in October on our Alaskan Fall Magic tour with Kevin Zimmer.
David Ascanio had 100 days of wonderful tour leading last fall including four trips to Colombia, three trips in southern Brazil, and two trips in Guyana. All were terrific.

Blue-throated Macaw, a Bolivian endemic - Andrew Whittaker

Andy Whittaker's two-part Bolivia tour saw 650 species of birds.
I wholeheartedly agree with what Jeri Langham wrote after returning from another trip to the Pantanal and other areas of southern Brazil: "I can't imagine any other country in the Neotropics that can offer views of Jaguars, Ocelots, Tapirs, Giant Otters, Giant Anteaters, a Puma, and a tremendous assortment of wonderful birds."
In 2023 VENT will offer four tours to the Pantanal, perhaps more than any other tour organization. One of them is almost full, and the others are filling up quickly. We have superb leaders for these tours, and we work with an outstanding operator and local guides.
As I write, our Winter Japan tour is doing very well with four species of cranes and amazing views of Snow Monkeys. I will never forget my tour to Hokkaido years ago with my dear friend Peter Matthiessen. He wrote a wonderful article about our experiences there for Audubon magazine. Rafael Galvez is co-leading this fabulous tour. Most recently he wrote that two participants were in tears when they saw a very rare Siberian Crane.
Finally, I was especially moved by these comments from Dion Hobcroft:
"The most fortunate thing about working for VENT is that we work with fantastic local guides and ground agents. It has been a highlight for me over the past eight months to help get money flowing to local guides in Thailand, Uganda, Indonesia, and Malawi after two very rough years for them." 
One of VENT's hallmarks is to treat our leaders, office staff, and local guides very well.
IN THIS ISSUE:
UPDATE: COVID-19 AND VENT
GALAPAGOS ISLANDS CRUISE WITH MICHAEL O'BRIEN & LOUISE ZEMAITIS
CENTRAL ASIA: BIRDING THE SILK ROAD
TEXAS SOLAR ECLIPSE TOUR IN 2024
UPCOMING WEBINARS
SPRING DOMESTIC TOURS WITH SPACES STILL AVAILABLE
CLOSING THOUGHTS
While we are still early in the new year, I thought it important to update our travelers regarding COVID-19 and VENT. I will say up-front that our outlook for the year ahead is good, with conditions continuing on the same trajectory of slow but steady improvement. The numerous subvariants in circulation at any one time are continued cause for concern, but not alarm. For anyone registered on a tour, or considering a tour, we strongly recommend following the procedures and protocols described in our COVID-19 Protocols document, available on our website, particularly mask-wearing.

When we published our last update, five months ago, we announced we had rolled back most of our pandemic-era protocols but with two important exceptions: 1) Mask-wearing is still required when riding in enclosed space vehicles; and 2) everyone on a tour (including tour leaders and participants) is required to test for COVID-19 on the first and third nights of the tour using Rapid Antigen self-tests. Most people have been supportive of our preventative approach. We generally feel we have done very well in operating our tours COVID-free, and in instances where COVID has been detected, we have been effective in mitigating its spread to other members of the tour group.

Our two-stage approach to testing has proved effective. It has also produced some very interesting results. Since the testing policy went into effect on August 1, 2022, approximately two dozen cases of COVID have been confirmed on VENT tours (the big majority of these between August and October). Of these, exactly zero cases were detected with the first round of testing. Strikingly, all confirmed cases have occurred on or around the second round of testing. Given that symptoms of illness are known to show 3–5 days after infection occurs (and possibly as early as two days with some of the variants and subvariants), our feeling is that some people are contracting the virus that causes COVID while traveling to a tour. We want to be clear in stating that we realize our methods are not scientifically rigorous per se; yet, we feel the anecdotal evidence supports this conclusion. Moreover, it is also clear that most people in society—whether from immunity, exhaustion, or indifference—are no longer wearing masks in indoor settings in public. One need only go into an airport these days to understand this point. However, this is exactly why we emphasize the need to wear masks when traveling. After vaccination, wearing a mask is the best way to protect oneself from acquiring the virus that causes COVID-19.

On January 19, 2023, the federal government renewed its Public Health Emergency declaration, in place since January 2020, which now remains in effect to April 10. The reasoning behind this decision is due in part to the ongoing appearance of new subvariants. At this time, it is not clear to us how much longer we will maintain our COVID-prevention protocols, but we will do so for at least a while longer.

As always, the safety and well-being of our travelers is paramount. We appreciate your continued cooperation and patience.
GALAPAGOS ISLANDS CRUISE WITH MICHAEL O'BRIEN & LOUISE ZEMAITIS
After a multi-year hiatus, VENT will return to the Galapagos Islands this spring with another outstanding birding and natural history cruise. This departure will operate May 27-June 5, 2023 and will be led by Michael O'Brien and Louise Zemaitis aboard the 20-passenger Coral II.

For anyone with an interest in birds and nature, the Galapagos Islands are as enticing a destination as any in the world. For many a traveler, a trip to the venerable archipelago is practically a requirement. Stoked by the forever legacy of Charles Darwin and his voyage of science and discovery in the 1830s, the Galapagos remain an irresistible draw for those seeking to see what he saw: myriad finches and mockingbirds in their radiated forms; wildlife that is totally unafraid; strange creatures of all sizes and appearance, from Giant Tortoises to diminutive Lava Lizards, to sea-going iguanas; wild volcanic landscapes; and more.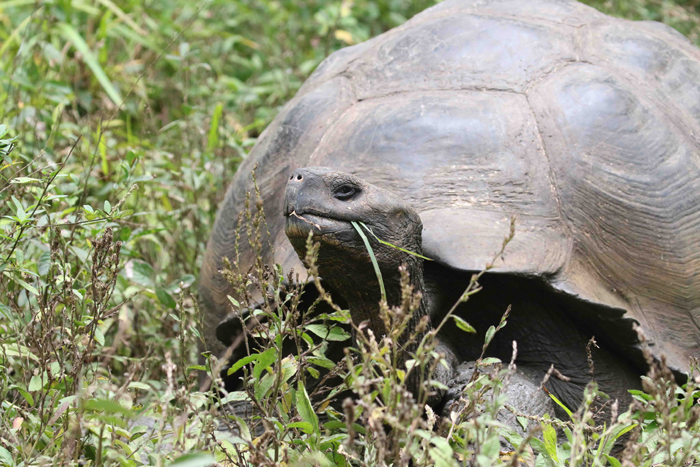 Giant Tortoise, Galapagos Islands - Michael O'Brien
We understand that many of our travelers have already been to the Galapagos, but whether you've never been, or have been but would consider a return trip, I point to the benefits of traveling with VENT.

The program: The most comprehensive means for experiencing the Galapagos is by ship, but travel among the islands is tightly controlled by the government of Ecuador and the Galapagos National Park. To maintain orderliness due to the many vessels that cruise these waters, the ships must run on pre-established itineraries authorized by the aforementioned authorities. Some of the cruise routes offered by the various providers are more desirable to us than others, and the route along which we will operate this year is an excellent one. Our trip will focus on a large section of the archipelago that includes the central, eastern, and southern islands. We will visit Santa Cruz, home to the Charles Darwin Research Station and the highlands where Giant Tortoises roam; San Cristobal, oldest of the islands and a place to see a rich botanical community, an endemic mockingbird, boobies, sea lions, and other sights; Española, incomparable for its nesting seabirds, especially its Red-billed Tropicbirds, Nazca Boobies, and Waved Albatross; Floreana and Champion with Galapagos Penguins, another endemic mockingbird, beautiful American Flamingoes, and a green-sand beach; and a collection of smaller islands and islets such as Baltra, North Seymour, and South Plaza, with their respective populations of boobies, frigatebirds, land iguanas, Lava and Swallow-tailed gulls, and more.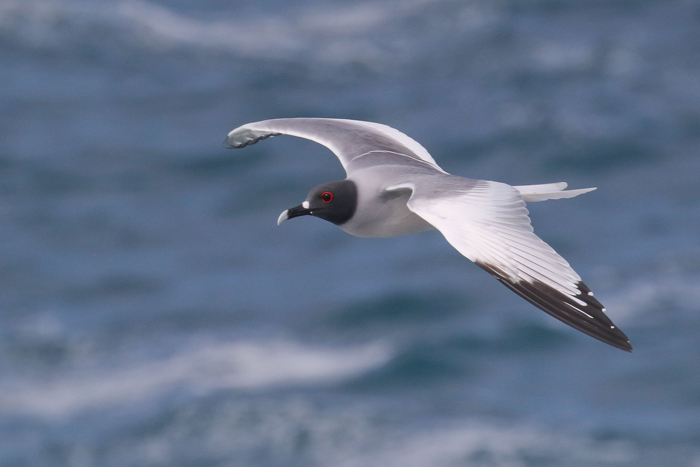 Swallow-tailed Gull, Galapagos Islands - Michael O'Brien
The leaders: The husband and wife duo of Michael O'Brien and Louise Zemaitis forms as strong a tour leading team as any in the business. Both are sharp birders to be sure, but more important, both are excellent naturalists, which is exactly what you would want of your guides on a trip to the Galapagos. Any trip here is about far more than birds, as special as they are. A trip here should be viewed as an all-around natural history experience that also emphasizes marine mammals, a fascinating botany evolved in perfect isolation over millennia, and spectacular volcanic landscapes. Michael and Louise have led many of VENT's Galapagos trips and together bring massive experience to their tours here. I always say that any trip with Michael and Louise will be exceptional, and this certainly holds true for the Galapagos.

The ship: The Coral II is a beautiful vessel offering high quality accommodations and food and spacious public areas inside the vessel and out. Some of our competitors prefer catamarans for their voyages. We prefer the yacht-style vessel, like the Coral II, because they guarantee a smoother ride than smaller and lighter craft. Unusually rough water is not common in the Galapagos, but you'll be glad to be aboard a larger vessel in the event it occurs. The Coral II accommodates 18 guests plus your tour leaders. This leader to participant ratio maintains that intimacy of experience.

Optional mainland extension: For those who wish to combine their Galapagos experience with time on the mainland, we present an optional extension to the Tandayapa Valley amid the cloud forests of the Andes northwest of Quito. Participants on this trip will see an extraordinary collection of hummingbirds, tanagers, and other forest birds.
Our most recent webinar, Exploring the Galapagos Islands, with Michael O'Brien, can be viewed on our YouTube channel or on our website.

I have been to the Galapagos Islands half a dozen times over my long career. Many of the finest experiences I've had in nature occurred on these trips. I hope you will consider joining us this year.

Galapagos Islands Cruise, May 27-June 5, 2023 with Michael O'Brien and Louise Zemaitis; cabins start at $9,970 per person in double occupancy from Quito. Limit 18. 3 spaces available.

Tandayapa Extension, June 4-8, 2023 with Paul Greenfield and a local leader; $2,045 in double occupancy from Quito. Limit 18.
CENTRAL ASIA: BIRDING THE SILK ROAD
This spring we will return to Central Asia with VENT leader Machiel Valkenburg. Our journey takes us to three "stans" of the ancient Silk Road: Uzbekistan, Kazakhstan, and Kyrgyzstan, each with unique birds, cultures, and peoples.
Machiel's tour-leading experience in Central Asia is unsurpassed. He lived in the region for about 15 years and developed a grand interest in former USSR countries during his early adolescence—a lifelong passion. The beauty of the local nature lured him to stay and create his own birding business. 
Our itinerary is packed with natural history, culture, and historical offerings. While visiting the region's best national parks and reserves in style, we will be part of the enormous spectacle of bird migration. The spring migration in Central Asia is extraordinary, as it is an extensive highway north along the western ranges of the Himalayas' massif. Species wintering in Africa and India move northwards to their northern breeding grounds using the deserts and wetlands of Uzbekistan and Kazakhstan as a stopover. Other highlights include searching for White-browed Tit-Warblers and White-tailed Rubythroats in the massive Tien-Shan Mountains, walking through glorious fields of poppies and tulips on the vast steppes of Kazakhstan, waking up to the calls of thousands of larks in the Taukum Desert, and finding near-mythical species like Pallas's Sandgrouse, Black Larks, and Turkestan Ground-Jays.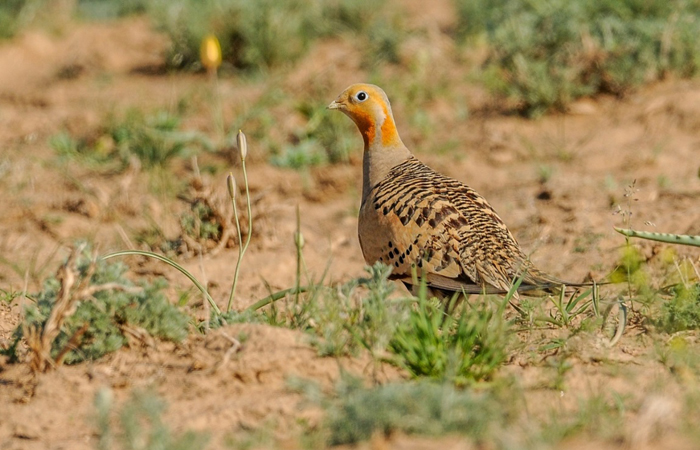 Pallas's Sandgrouse (rare), Sogety Plains, Kazakhstan - Machiel Valkenburg
Our interaction with the people of the Silk Road is pleasant and open. Most are very curious about the new explorers of this well-traveled route. The stans we visit are among the safest places for Americans in the Old World. These countries are rapidly developing, meeting modern society's standards. An exciting book written by the wife of a former ambassador to Kazakhstan, Bentleys in the Steppe, summarizes modern Central Asia/Kazakhstan perfectly. This oil-rich country is making bold steps on the world stage, reflected in the daily lives of the local people.
Our journey along the Silk Road promises to be another epic tour full of highlights and beautiful meetings, all during lovely spring weather. I hope you will consider joining Machiel to follow in the footsteps of the famous explorer Marco Polo.
To learn more about this fascinating region and our tour there, please join Machiel when he presents our next webinar, Central Asia: Birding the Silk Road, on February 2, 2023. Click here to register.
Central Asia: Birding the Silk Road: Uzbekistan, Kazakhstan & Kyrgyzstan, May 2-24, 2023 with Machiel Valkenburg and a local leader; $8,995 from Tashkent (ends in Nur-Sultan). Limit 12.
TEXAS SOLAR ECLIPSE TOUR IN 2024
The first time VENT operated a tour around a celestial event was in 2017 when we visited the Grand Tetons in Wyoming to experience a total solar eclipse. I co-led that tour with Brian Gibbons and it was wonderful. The eclipse did not disappoint, but to experience it amid beautiful surroundings in the company of wonderful birds and nature made the whole experience unforgettable.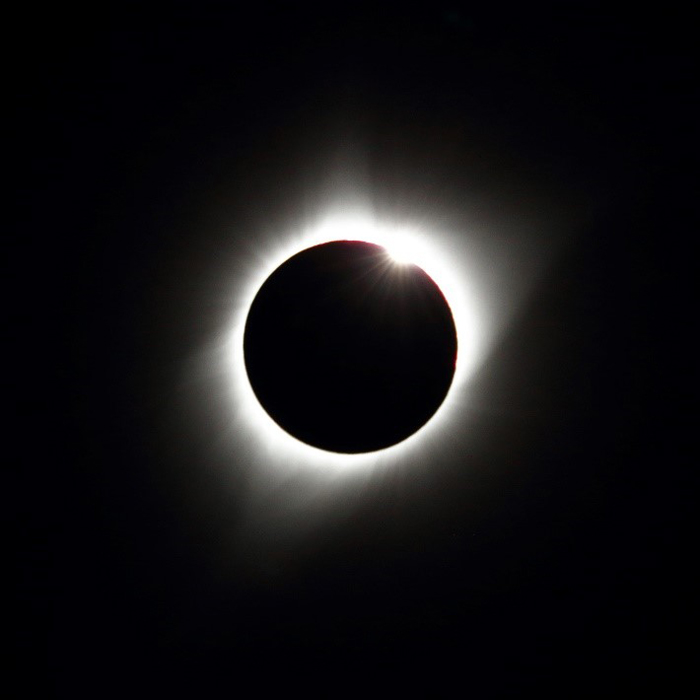 Total Solar Eclipse - Brian Gibbons
The idea of an eclipse tour was Brian's, and you can imagine my delight when he approached me with the idea of another eclipse tour next year in Texas! That's right. On April 8, 2024, a swath of west-central Texas will be graced by a TOTAL solar eclipse. More specifically, this event will occur over the famed Hill Country region to the west of Austin and San Antonio. As you likely know, a total solar eclipse is a rare event, and to have one right here in our home state of Texas presents a one-of-a-kind opportunity for travelers of VENT.
I am delighted to announce our second-ever solar eclipse tour: Totally Texas Solar Eclipse: Hill Country Birds, Nature, and an Amazing Celestial Event, April 5-11, 2024. In attendance will be 7 VENT tour leaders including Victor Emanuel, Barry Zimmer, Brian Gibbons, Barry Lyon, Willy Hutcheson, and other tour leaders to be announced. Also joining us will be a professional astronomer who will provide interpretation and perhaps an evening presentation or two. This event will be limited to 42 people.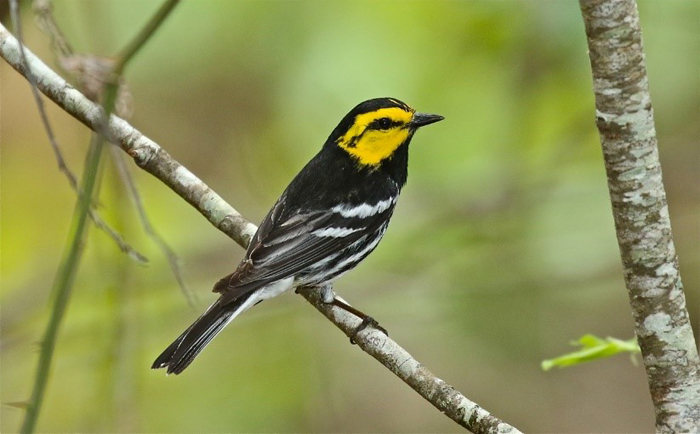 Golden-cheeked Warbler, Texas - Kevin Zimmer
To many Texans, the Hill Country is among the most beautiful places in the state. It is a region of rolling limestone hills and table-top escarpments laced with shallow river-ways lined with cypress, oaks, hackberries, and elms. It is home to a marvelous avifauna, where East Texas, West Texas, and South Texas come together, bringing attendant bird life. Among the many prizes of the region, Black-capped Vireo and Golden-cheeked Warbler stand out. But here too are Zone-tailed Hawk, Golden-fronted Woodpecker, Scissor-tailed Flycatcher, Long-billed Thrasher, Yellow-throated Warbler, Olive Sparrow, Scott's and Hooded orioles, and an array of other birds including hawks, hummingbirds, flycatchers, grosbeaks, buntings, tanagers and more.
We will spend four nights at Neal's Lodges in the small community of Concan, perfectly situated for exploring a variety of areas in the southern Hill Country. Beyond witnessing the eclipse, other highlights include a visit to the Frio Bat Cave, home to nine million Brazilian Free-tailed Bats, and being in the Hill Country during the peak of the wildflower season.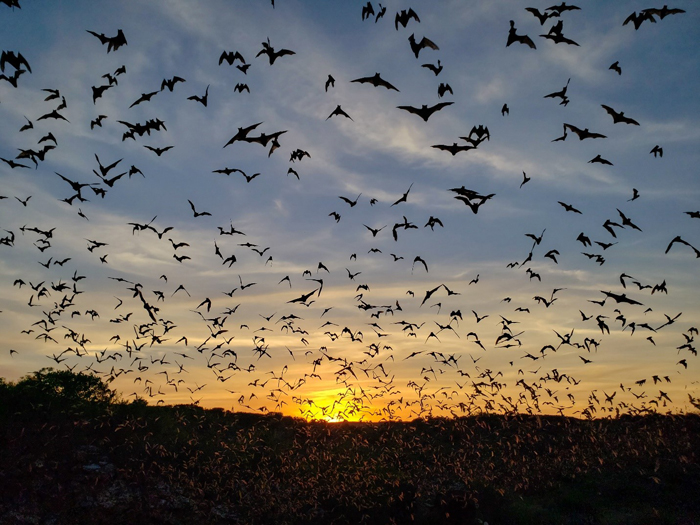 Brazilian Free-tailed Bats, Frio Bat Cave, Texas Hill Country - Erik Bruhnke
We are just beginning to promote this unique event, but the word is already out, and we are actively taking registrations. In fact, we have already sold a quarter of the space available. We feel this event is almost certain to sell out. Please visit our website for more information, or contact Tour Operations Manager Patrick Swaggerty with questions or to reserve your space. Patrick can be reached by email (patrick@ventbird.com) or by phone (800.328.8368 or 512.328.5221). A full itinerary with pricing will be available in March.
Totally Texas Solar Eclipse: Hill Country Birds, Nature, and an Amazing Celestial Event, April 5-11, 2024 with Victor Emanuel, Barry Zimmer, Brian Gibbons, Barry Lyon, Willy Hutcheson, and other tour leaders to be announced; price to be announced in double occupancy from San Antonio.
I am very much looking forward to our next two webinars. To further entice you to join Machiel in Central Asia, he will showcase this region in a webinar on February 2. Then, on February 9, Barry Lyon and I will share our experiences in Brazil's Pantanal, one of the world's greatest wildlife and birding destinations. Our webinars begin at 1:00 pm CST. Click on the links below to register. If you are not able to join us on those days, you may view these, and all of VENT's webinars, on our YouTube channel approximately 24 hours after the day of presentation.
Central Asia: Birding the Silk Road, Thursday, February 2, 2023
Brazil: Pantanal Wildlife Safari into the Heart of Jaguarland, Thursday, February 9, 2023
SPRING DOMESTIC TOURS WITH SPACES STILL AVAILABLE
As we enter the fourth week of January, the start of the spring travel season is practically upon us. The timeframe from April through mid-June is one of the busiest times of the year at VENT, as this period marks the height of our domestic departures in terms of number of tours we operate and the diversity of destinations we visit.
Many people prefer not to leave their home area, or at least the country, in the spring, because this is when the birding is good locally and when some people prefer to be home with their gardens. If you are willing to travel in the spring but prefer to stay in the country at this time of the year, I thought you might like to know that spaces are still available on a fine selection of spring domestic departures. From Hawaii to New Jersey, from Florida to Minnesota, and to areas in between, VENT's domestic tours offer superb birding at the most beautiful time of the year. Perhaps I can entice you to join one of these upcoming departures: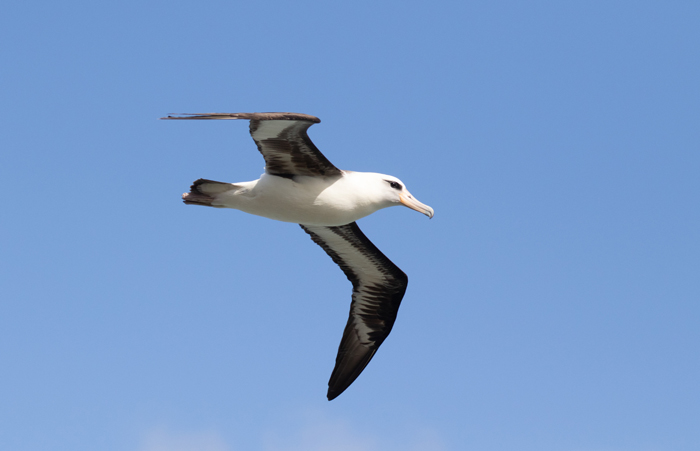 Laysan Albatross, Hawaii - Erik Bruhnke
Spring Hawaii, February 23-March 4, 2023, with Brennan Mulrooney and Erik Bruhnke; $7,995 in double occupancy from Honolulu (ends in Hilo). Limit 12; 4 spaces available. Technically a late-winter tour, spring comes very early to Hawaii!
Colorado Grouse, April 1-11, 2023, with Brian Gibbons and Erik Bruhnke; $4,995 in double occupancy from Denver. Limit 14; 2 spaces available.
Spring in South Texas, April 3-12, 2023, with Barry Zimmer and Willy Hutcheson; $4,195 in double occupancy from Corpus Christi (ends in Laredo). Limit 14; 7 spaces available.
Spring in South Texas: Hill Country Extension, April 12-16, 2023, with Barry Zimmer and Willy Hutcheson; $2,295 in double occupancy from Laredo (ends in San Antonio). Limit 14; 9 spaces available.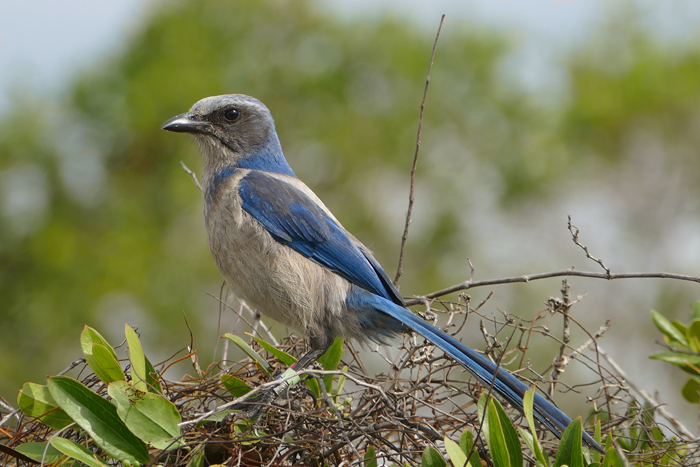 Florida Scrub-Jay - Rafael Galvez
South Florida & The Keys, April 23-29, 2023 with Rafael Galvez and a second leader to be announced; $3,695 in double occupancy from Key West. Limit 14; 7 spaces available.
Spring in Cape May: A Relaxed & Easy Tour, May 7-13, 2023 with Louise Zemaitis and Michael O'Brien; $2,895 in double occupancy from Philadelphia. Limit 14; 12 spaces available.
Midwest Warblers: Magee Marsh & Kirtland's Warbler, May 14-22, 2023 with Michael O'Brien and Louise Zemaitis; $3,695 in double occupancy from Cleveland (ends in Detroit). Limit 14; 2 spaces available.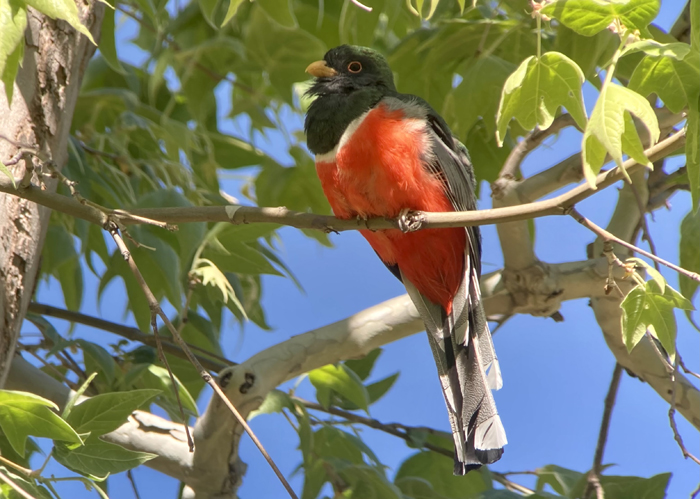 Elegant Trogon, Madera Canyon, Arizona - Barry Zimmer
Spring Grand Arizona, May 17-27, 2023 with Barry Zimmer and a second leader to be announced; $4,375 in double occupancy from Tucson. Limit 10; 5 spaces available.
Minnesota's Northwoods, May 28-June 2, 2023 with Erik Bruhnke and a second leader to be announced; $3,195 in double occupancy from Duluth. Limit 14; 11 spaces available.
Spring in the Washington Cascades: A Relaxed & Easy Tour, June 4-10, 2023 with Willy Hutcheson and a second leader to be announced; $3,195 in double occupancy from Seattle. Limit 14; 12 spaces available.
This has been a difficult winter for many parts of the country. We hope you have not suffered. Central Texas has not had exceptionally bad weather to speak of. The birding has been excellent with good numbers of sparrows and waterfowl around, along with a smattering of rarities, but as always, I look forward to the birds we will see in the spring, especially the warblers.
Although we are only in the fourth week of January, my mind is already jumping ahead to the spring. One of my favorite books is Burnt House to Paw Paw, by Merrill Gilfillan, and two particular passages capture the way I feel about warblers and what I hope to see in April on the Texas coast:
 —"Warblers on the retina work like honeysuckle on the nose. During migration, when the stream valleys are full of them, it is total immersion. To be under the right tree on the right morning of May is to partake of one of the greatest biomagnetic fields, a rush of such delicate beauty and intensity that it is best described as tidal, as a wave—a wave by Hokusai."
—"And then one morning they are there in force, as they are here now in Appalachia. A Black-and-white in the elm, then a Canada, and higher up a flurry of Chestnut-sideds. Parula, Cerulean, Magnolia—a Blackburnian in the box elder. And for hours and days they will be there, flowing through, small things at large on a dangerous planet, birds of exquisite color and miraculous design, half a continent quick with them, brightened and gladdened before your very eyes.
"To visualize the flock as perennial tumbling Möbian front is to catch the tidal inscape and all the watercycle beauty of its species-drive and myriad particulate summonings. It is bio-electric event on the scale of sunrise and whales breaching.
"How long has the Chestnut-sided Warbler looked the way it does this mountain morning? Forever is a close enough guess. Inscape it on that buckeye blossom against eight- or nine-hundred dewy Mays. A formal eye-of-the-beholder, urgent sun-struck wave. A wave by Hokusai."
Whether it is the birds of winter or the birds of spring that excite you the most, on behalf of all of us at VENT, I wish you a wonderful, bird-filled year ahead.
Best wishes,
Victor Emanuel