VENTFLASH #296
April 27, 2023
Dear friends:
Near the end of February, I suffered a fall that resulted in an injury to my back. No surgery was required, but I have had to wear a brace for the last two months while recuperating and undergoing physical therapy. At this point, I am walking well and generally feeling much better. It won't be long now before I can dispense with the brace entirely.
Prior to my accident, I had planned on spending the first half of spring at my beach house on the Upper Texas Coast, just north of Galveston. As anyone who knows me is aware, the spring season is my favorite time of the year, and for birders, there is no better place to be in April than the Upper Coast. Centering on the community of High Island, the Upper Coast is one of the world's premier locations for witnessing spring migration, when millions of wading birds, shorebirds, and songbirds pass through en route to breeding grounds farther north. My injury delayed my departure by a month or so, but I was able to make it down to my place last week. All through my recovery, I was sustained by thoughts of seeing warblers and the other wonderful birds of the season.
For more than eight days I reveled in the joys of migration. This year will not be remembered as a major "fallout" year, when birds are grounded by the hundreds, even thousands, in the face of a strong northerly weather front, but it has still been a spring to remember for all the birds I did get to see and the people with whom I shared them.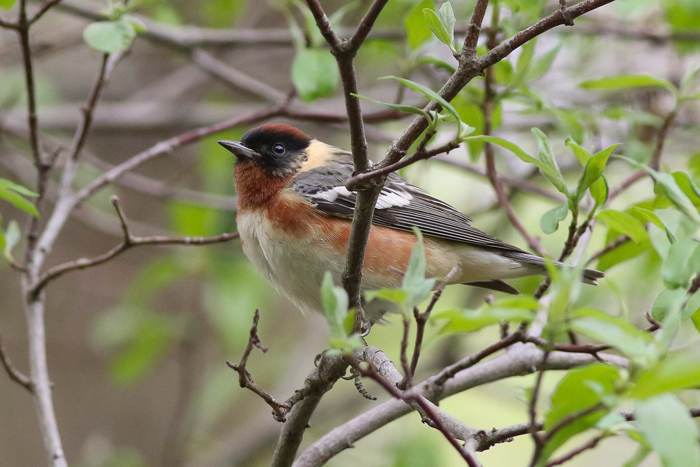 Bay-breasted Warbler - Michael O'Brien
Houston Audubon's High Island Sanctuaries are the standout places to be in that area. VENT has operated tours to this region since the inception of our company. Each spring when I return, I am again reminded why birders love this area so much. On the afternoon of April 21, I was at Smith Oaks (part of the sanctuary) on a day that was solid for migration but not spectacular. Regardless, birds were all around. The highlight of that day may well have been the male Cerulean Warbler I spotted that was feeding at low level over the entrance gate, but just listening to the talk around me of birds being seen was special. Among the discussions from a group of nearby birders came exclamations of delight. "I heard there's a Bay-breasted here. Have you seen it?" "I've got another Black-and-white, this one a female." "Has anyone seen the Canada lately?" "Ahhh, look, another male Scarlet Tanager!" I saw most of those birds on that afternoon, but not all of them. The birds were too numerous and too flighty to lay eyes on them all, although I did catch up with each of these birds and many others over the weekend.
I have always felt that nature is the greatest healer for the things that bother us, whether they be physical or mental. Being at my house and surrounded by birds has left me feeling physically improved and mentally restored.
For those who live farther north, the same effect that plays out on the Texas coast in April will replay in different ways in May, in places like Magee Marsh in Ohio and Cape May, New Jersey. VENT offers migration-based trips to all of these destinations. Please visit our website to learn more about these trips both this year and next.
I hope spring is unfolding with lots of birds wherever you live.
IN THIS ISSUE:
THE WAR IN EASTERN EUROPE AND FALL TOURS TO MONGOLIA & REPUBLIC OF GEORGIA
ESCAPE TO AMAZONIAN COLOMBIA: A NEW TOUR WITH STEVE HILTY
SPRING AND SUMMER TOURS WITH REMAINING SPACES
CLOSING THOUGHTS
THE WAR IN EASTERN EUROPE AND FALL TOURS TO MONGOLIA & REPUBLIC OF GEORGIA
The war in Ukraine has been the dominant geopolitical event of the last year. With the conflict grinding on, the world watches with some apprehension whether other countries will eventually get pulled into the fray. Although this has not happened, the war casts a long shadow over other parts of Europe and even parts of Asia. We take this opportunity to address the situation in Eastern Europe as it relates to the operation of VENT tours on those continents, namely our upcoming fall tours to Mongolia and the Republic of Georgia.
Wars are catastrophic, and the one in Eastern Europe is no exception. In Ukraine, the costs in human life, ruined cities, and economic stability alone are almost inestimable. It has been difficult to watch events unfold without feeling horror and revulsion over the devastation wrought. Against the backdrop of such suffering, writing about the joys of a birding and natural history vacation stands in stark relief; yet, it is a fact we have tours scheduled to operate in Mongolia and Georgia this September. Our decision to offer these tours during this time has elicited occasional comments and questions among our travelers, like the following: "Why would you travel to that part of the world with Russia, the instigator of the war in Ukraine, as a huge neighbor to those countries?"; and this one: "Going to that part of the world is dangerous. That's not for me."
So, clearly, perceptions exist that travel to Eastern Europe and parts of Asia at this time is unwise, even dangerous. With that in mind, we remind our travelers that VENT operates tours all over the world, and we emphasize again that the safety and security of our tour groups remains paramount, as it always has. We minimize risk by simply avoiding those places we don't feel 100% comfortable visiting. The fact is that the war in Ukraine, as horrific as it is, has not produced dangerous conditions in the countries surrounding Russia, especially Mongolia and Georgia, and that both countries are situated a long way from the war zone.
Veteran tour leader Rafael Galvez guides our Snow Leopards of Mongolia and Caucasus Georgia tours, departures renowned for amazing landscapes, birds and other wildlife, and cultural highlights. Rafael possesses extensive experience in both countries and has developed a network of critical contacts that enable VENT to stay closely connected to real-time conditions in both locations. For some time, we have discussed with Rafael and our agents the concerns among some of our travelers about visiting that general region of the world. We want to reassure people that in both Mongolia and Georgia, life goes on uninterrupted by the war, and tourism is booming. Recently, Rafael produced statements that address the state of affairs in both countries to assuage concerns anyone considering visiting either country might have. We hope that after reading these short pieces you will feel better about joining a trip with VENT to either destination. These tours offer amazing experiences in the natural world and represent wonderful opportunities for a fall getaway.
Mongolia Keeps Rising as a Peaceful Wildlife Destination, by Rafael Galvez
Mongolia is a distant 3,250 miles away from Ukraine, yet the conflict with Russia has been a cause of concern. We have continued operating our Snow Leopards of Mongolia tour safely by coordinating closely with our ground operator and a local conservation team. Mongolia is one of the few democracies in Central Asia and has established stability, embracing a neutral stance between two giant neighbors, China and Russia. After the fall of the Iron Curtain, Mongolia transitioned to a multiparty democracy and did this modestly and quietly, without violent revolts, and continues as a peaceful nation. The massive mountains that huddle around Mongolia and its vast territory have allowed its people to express their own identity and create ties with strategic partners across hemispheres, including the U.S. Some people are under the impression that travel to Mongolia requires going through China. This is not correct. Flights to Ulaanbaatar can be made through Istanbul and Seoul.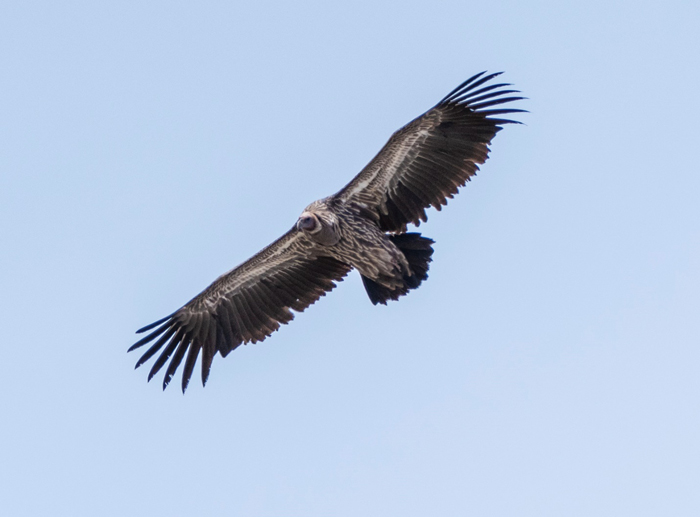 Himalayan Griffon - Rafael Galvez
The vast landscapes that characterize Mongolia serve as refuge for abundant wildlife. The nation is closing in on a lofty conservation goal, and it has protected nearly one-third of its territory. This initiative has resulted in the second largest global population of Snow Leopards, and the only one that is not declining. Mongolia is also a great place to find a host of rare and/or rarely seen animals including Saiga Antelope, huge herds of Mongolian Gazelle, Altai Ibex, Large-horned Argali, Przewalski's Horse, and the Pallas's Cat.
It is a well-kept secret that it is easier to see Snow Leopards in Mongolia than in India–or anywhere else in the world, so wildlife tourism in the country is growing. We find Snow Leopards there at lower altitudes and without strenuous conditions. In fact, our tour has a 100% success rate in finding Snow Leopards to date.
Snow Leopard - Zoonar GmbH Alamy Stock Photo
eBird has recently reported that Mongolia has had a 200% growth in the number of submitted bird lists over the last year. The country is at the crossroads of migratory flyways from East and West, and the fall season is excellent for warblers, buntings, waterfowl such as Bar-headed Goose and Baikal Teal, and specialties such as Altai Snowcock and White-naped Crane. The word is getting out about Mongolia's biodiversity–and it is no surprise that 500 bird species have been documented, and two new field guides to the birds of this spectacular nation were published last year.
I hope you will consider joining me in Mongolia this fall, or, if not, perhaps in 2024.
Our next Snow Leopards of Mongolia: Birds & Rare Mammals of the Mongolian Wilderness tour will operate September 1–15, 2023, with Attila Steiner and Rafael Galvez; $11,645 in double occupancy from Ulaanbaatar. Limit 10.
Snow Leopards of Mongolia: Birds & Rare Mammals of the Mongolian Wilderness, September 1–15, 2024, with Rafael Galvez and Attila Steiner; price to be announced in double occupancy from Ulaanbaatar. Limit 10.
For an in-depth look at this tour, please view our webinar, produced last year, featuring Rafael Galvez.
Caucasus Georgia Rises as a Top Birding Destination, by Rafael Galvez
Tourism in the country of Georgia, in the Caucasus, has never been better. VENT's 2022 Caucasus Georgia: Birds, Ancient Chants & Wine tour was a great success. The streets of the capital, Tbilisi, and other major cities were bustling with visitors from Europe, Asia, and the Middle East. Our group traveled safely throughout this dynamic country, using the populous hubs as springboards to access six distinct regions, from desert to alpine tundra. We experienced a variety of nature encounters, including thousands of migratory raptors and songbirds along the coast, and endemics such as Caucasian Snowcock and Caucasian Grouse.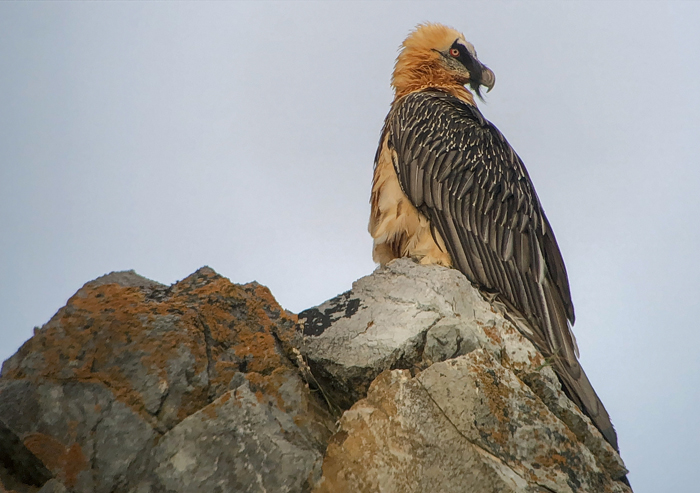 Lammergeier - Rafael Galvez
The historic settlements of Georgia are full of winding cobblestone streets and small shops and restaurants, as well as many public museums, churches, synagogues, and mosques that underscore the diversity of this unique country. Despite the booming tourism, we found intimate places to experience the ancient chanting and feasting traditions that make Georgia world renowned.
While the conflict between Russia and Ukraine is a looming concern, Georgia is more than 1,000 miles away. The Georgian hospitality tradition is strong, welcoming those fleeing the conflict to find peace and refuge in Georgia. Everywhere we went we heard voices from throughout the world, not only the native Georgian languages, but also Russian, Turkish, Armenian, French, Swedish, and much more.
Caucasus Georgia awaits you, with its ancient tradition of hospitality, chanting, and artisanal wines. It is no surprise that this region has risen as one of the foremost birding hotspots in the world, where more than a million migratory birds are counted each fall.
Our next Caucasus Georgia: Birds, Ancient Chants & Wine tour will operate September 23–October 9, 2023, with Rafael Galvez and Attila Steiner; $8,795 in double occupancy from Tbilisi. Limit 14.
Caucasus Georgia: Birds, Ancient Chants & Wine, September 23–October 9, 2024, with Rafael Galvez and Attila Steiner; price to be announced in double occupancy from Tbilisi. Limit 14.
For an in-depth look at this tour, please view our webinar, produced last year, featuring Rafael Galvez.
ESCAPE TO AMAZONIAN COLOMBIA: A NEW TOUR WITH STEVE HILTY
Our tradition of breaking new ground in Colombia continues with a brand-new tour to Amazonia. This tour, Escape to Amazonian Colombia, will visit the Mitú area of eastern Colombia and will be led by longtime VENT tour leader Steve Hilty.
This departure is the latest in the line of tours developed by VENT following our return to Colombia in 2009. Steve Hilty is a legend in tropical ornithology and the author of the monumental A Guide to the Birds of Colombia (1986). Prior to its release, there were no first-class books on the birds of any South American country, a continent where over one-third of the world's birds occur. A Guide to the Birds of Colombia changed all that. It is a superb book, in fact, one of the finest field guides ever published for any region of the world—a feat made all the more impressive given that Colombia's bird list is the largest of any country in the world. Steve's long-awaited revision, Birds of Colombia, was published by Lynx Edicions in 2021.
We recently asked Steve to discuss his new tour. I hope you enjoy learning a bit about this fascinating area.
Mitú, Vaupés Department, Colombia, by Steve Hilty
If these words (above) with little accents at the end seem unfamiliar to you, you are not alone. The Mitú area (pronounced Me-TO) of Eastern Colombia is just being discovered by birders and naturalists. In fact, until a few years ago, this little town had received few birders at all, but that is changing rapidly.
The first sentence in Beckers and Flores book (Birdwatching in Colombia, 2013) under the section "Vaupés Department" says it as well as any . . .
"Mitú—capital of the Vaupés department—is an ornithological goldmine. Excellent trails fan out from the village in all directions, and you can walk as far as you want. However, there is no real need to go far, as there is good primary forest close to town."
They could also have added, "…and there are plenty of birds close to town." The avifauna of Mitú is Amazonian, but with a twist. First, it is a mix of white-sandy soil forest and more typically Amazonian lateritic (red clay) soil forest. Then layer on both terra firme (non-flooded) and várzea (floodplain) forest, and a location that lies close to the juxtaposition of Guianan and Amazonian avifaunas, and you have a really potent and biologically rich mixture of birds not quite like any other.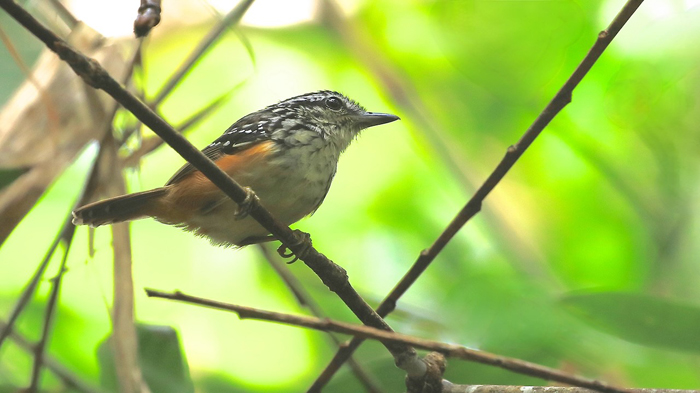 Imeri Warbling-Antbird, Colombia - Steve Hilty
Will there be new birds here, even if I've been elsewhere in the Amazon?
Yes! There are a lot of white-sandy soil forest specialties here—Fiery Topaz, Black-bellied Thorntail, Orinoco Piculet, Tawny-tufted Toucanet (a WOW! bird), Brown-banded Puffbird, Bar-bellied Woodcreeper, Point-tailed Palmcreeper (also local elsewhere), Yellow-throated Antwren, Spot-backed Antwren, Gray-bellied Antbird, Chestnut-crested Antbird (one of those exotic "goggle-eyed" army any followers), Imeri Warbling-Antbird, Citron-bellied Attila, some cool manakins like Yellow-crowned, and Saffron-crested Tyrant-Manakin.
But that's not all. Add in some gorgeous color with Guianan Cock-of-the-rock, several fancy cotingas (Purple-breasted and Pompadour), and Azure-naped Jay. And yes, there are some less distinguished but range-restricted greenlets, and the unusual White-naped Seedeater, which got demoted to the genus Sporophila but simultaneously elevated in status to that of a tanager, the result of a little taxonomic wizardry at work.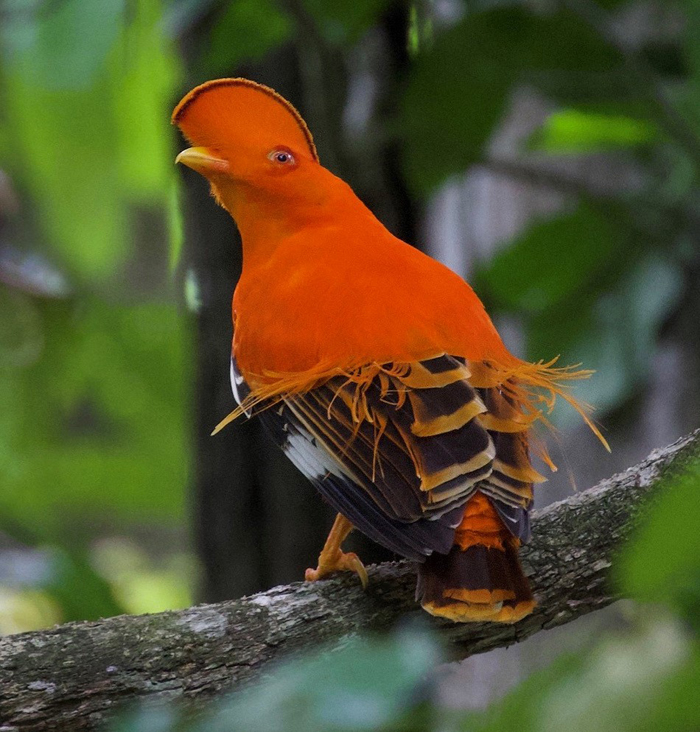 Guianan Cock-of-the-rock - David Ascanio
When I visited here in the late 1970s—before birders began arming themselves with cassette tapes, iPods, or more recently mobile phones brimming with prerecorded songs and calls of almost every bird on the planet—I spent two weeks walking around on trails mostly close to town. I managed, even without a decent bird field guide, to identify 44 species of antbirds. At that time most of those antbirds were new to me. Just imagine how much better prepared we will be today! The point being, this place really has a lot to offer, even to a relative novice visitor, as I certainly was in those days.
Will it be hot?
Yes, at midday, of course, because Mitú is a lowland Amazonian site. No high mountains here, although there are a few elevated rock outcrops. But now there are some moderately comfortable hotels with air-conditioning for those midday breaks.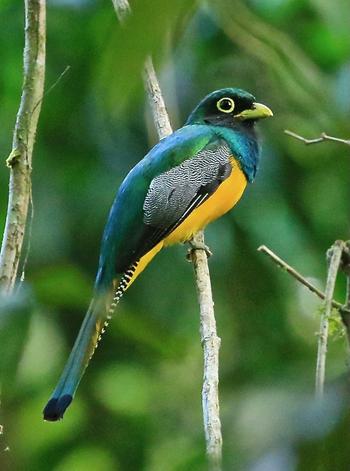 Black-throated Trogon - Steve Hilty
What about rain?
We will be visiting during a transition from a wet to dry period, so there may be a welcome chance of a cooling rain shower or two. A little rain is usually good for bird activity. In addition, we will be spending a fair amount of time on forest trails, and always accompanied by a native Amerindian guide. These guys grew up in these jungles and have superb eyesight and hearing, a big asset for birders like ourselves arriving from metropolitan jungles where we see more concrete and asphalt than birds. And besides, following them, we can be assured of not getting lost!
What's not to like?
Actually, I can't think of much. The town consisted of maybe a couple hundred people and one short dirt road when I visited in the 1970s. Now it has grown considerably. There are little buzzing motorcycles (or 3-wheeled equivalents) and a few actual vehicles, but this is still a chance to immerse yourself in a frontier community—an experience all too rare today. Some 20 different Amerindian communities are present in the area, all or most with different languages or dialects and customs. And we will certainly have contact with some of them. To me this has considerable appeal, especially when I look in the mirror and imagine I still see an explorer or pioneer looking back.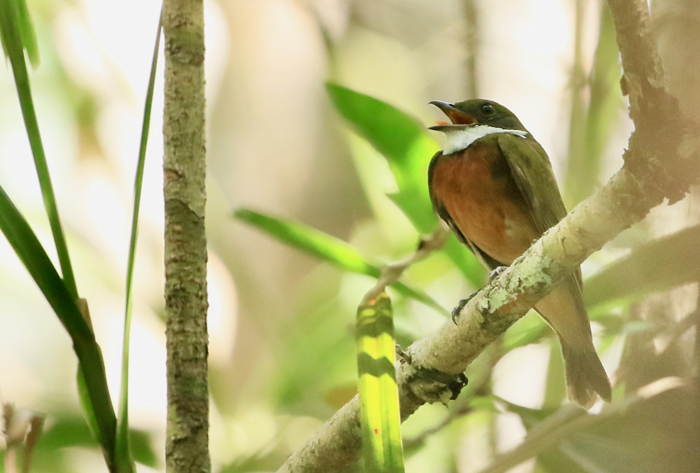 Yellow-crowned Manakin, Colombia - Steve Hilty
Join me for this new trip! I think we are going to have a lot of fun, and see quite a few new and interesting birds. If you are unable to travel this fall, a second departure is available in March 2024.
Escape to Amazonian Colombia: Mitú, October 11–20, 2023 with Steve Hilty and a local leader; $6,095 in double occupancy from Bogotá. Limit 8.
Escape to Amazonian Colombia: Mitú, March 13–22, 2024 with Steve Hilty and a local leader; price to be announced in double occupancy from Bogotá. Limit 8.
SPRING AND SUMMER TOURS WITH REMAINING SPACES
By this time in the year, most people have already made travel arrangements for the spring and summer. If you are someone who has not yet decided on travel plans in the coming months, or if you are able to travel on shorter notice, we thought you might like to know about some opportunities for travel in the late spring and summer seasons. All of these tours offer wonderful experiences with birds and nature. All still have spaces available:
Spring in Cape May: A Relaxed & Easy Tour, May 7–13, 2023 with Louise Zemaitis and Michael O'Brien; $2,895 in double occupancy from Philadelphia. Limit 14.
Minnesota's Northwoods, May 28–June 2, 2023 with Erik Bruhnke and a second leader to be announced; $3,195 in double occupancy from Duluth. Limit 14.
Spring in the Washington Cascades: A Relaxed & Easy Tour, June 4–10, 2023 with Willy Hutcheson and a second leader to be announced; $3,195 in double occupancy from Seattle. Limit 14.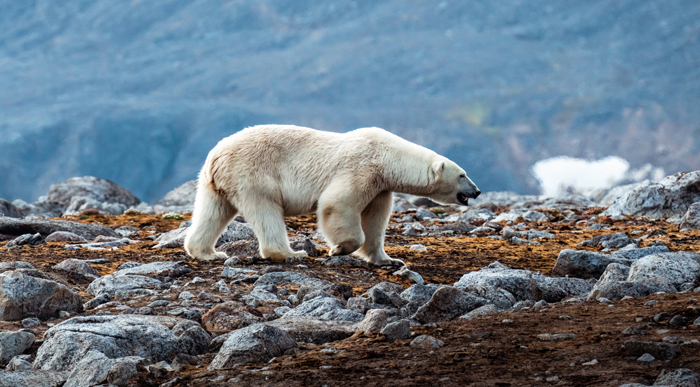 Polar Bear - Tyson Mayr
Svalbard Odyssey aboard the Greg Mortimer, June 7–19, 2023 with David Ascanio; cabins start at $13,295 per person in double occupancy from Longyearbyen. Limit 16.
Colombia: Magdalena River Valley & Western Andes: A Relaxed & Easy Tour, July 1–9, 2023 with David Ascanio and a local leader; $4,995 in double occupancy from Medellin. Limit 10.
Avian Jewels of Arizona: Hummingbirds, Trogons, Warblers & More, July 17–25, 2023 with Barry Zimmer and a second leader to be announced; $3,895 in double occupancy from Tucson. Limit 11.
Colombia: Bogotá, Eastern Andes & the Magdalena Valley, July 27–August 11, 2023 with Steve Hilty and a local leader; $7,345 in double occupancy from Bogotá. Limit 8.
Magical Kenya: Exotic Birds & Big Game Galore!, August 7–24, 2023 with Andrew Whittaker and a local leader; $15,495 in double occupancy from Nairobi. Limit 8. 2 spaces available.
Southern Ecuador Hummingbird and Tanager Extravaganza, August 20–31, 2023 with Paul Greenfield and Remi Grefa; $4,695 in double occupancy from Guayaquil. Limit 8. 4 spaces available.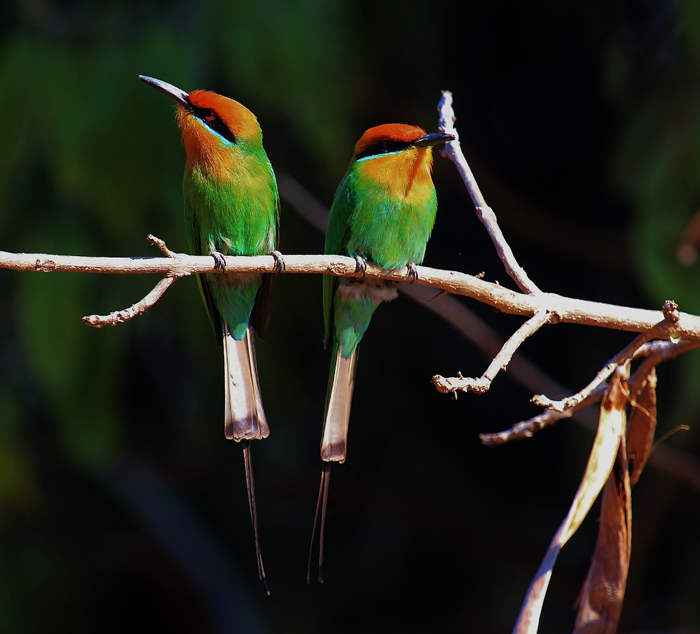 Bohm's Bee-eater, Malawi - Dion Hobcroft
Malawi: Miombo Magic, September 1–18, 2023 with Dion Hobcroft; $9,795 in double occupancy from Lilongwe (ends in Blantyre). Limit 8.
Autumn Grand Manan: Birds & Whales, September 4–10, 2023 with Barry Zimmer and a second leader to be announced; $3,895 in double occupancy from Bangor. Limit 12.
During the recovery from my fall in February, I have been touched by all the help I have received. In my book One More Warbler, I wrote that creating a program of youth summer camps is the best thing I have ever done. Two former campers with whom I am in touch are Cullen Hanks and Brian O'Shea. They were in Texas this spring and drove me to my house on the coast on April 16. I met Cullen and Brian at Camp Chiricahua in Southeast Arizona in 1991, where they also met. They have been close friends ever since, even best men at each other's weddings. Birding brings people together and enriches their lives. I spent more than two days with them, birding the woodlots and oak groves around High Island, forever on the prowl seeking one more warbler.
Best wishes,
Victor Emanuel