VENTFLASH #300
July 20, 2023
Dear friends:
Over the past fifty years, I have led tours all over the world. My favorite trip of all is our Birds & Culture tour in India aboard the Maharajas' Express, one of the most beautiful passenger trains in the world.
India is a fascinating country with great birds and mammals, gorgeous palaces, fine museums, and other cultural sites. To learn about our tour, India: Birds & Culture on the Maharajas' Express—what it is, where it goes, and what you can expect to see—I strongly encourage you to click here to watch a superb thirteen-minute video about this trip. After you watch it, I am confident you will want to sign up for this wonderful trip. Our next departure will operate January 31–February 16, 2024.
Over the years, we have operated around ten train tours in India. All have been very successful. This upcoming departure will be our third trip on the Maharajas' Express. We will not offer it again for at least the next three years. Besides many great birds, we will have a good chance to see a Tiger as well as other mammals, including Leopard, two species of primates, and several types of deer and antelope.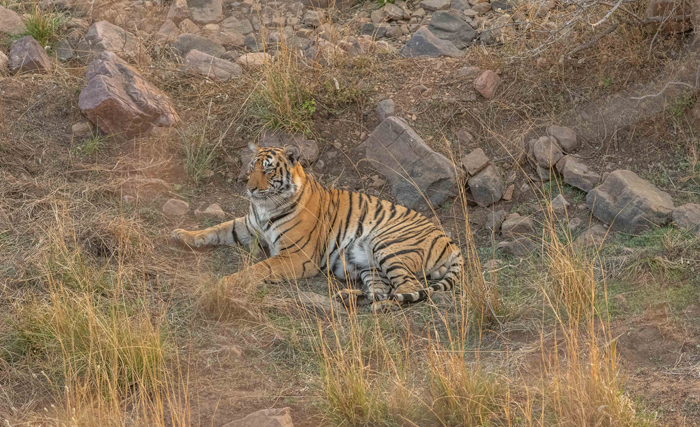 Bengal Tiger, Ranthambore National Park - Machiel Valkenburg
The multi-themed design of this trip makes it a perfect choice for couples where only one person is interested in birds and nature and the other has interests more oriented toward culture. There will be opportunities on most days to visit important landmarks and attractions, such as the palaces and fortresses of the princely cities of Udaipur, Jodhpur, and Jaipur—each containing architectural wonders and priceless art and furnishings. In Jaipur, we'll eat lunch on the outdoor deck of a palace where you'll look onto a garden with elephants walking around!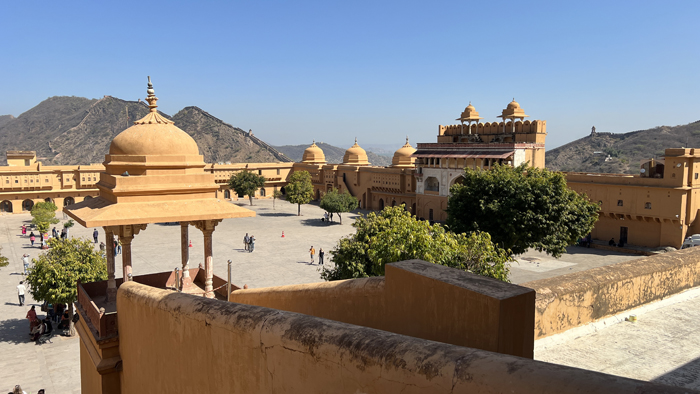 Amer Fort, Jaipur - Brian Gibbons
After five nights on the train, we will disembark and spend two nights in the superb Oberoi Vanyavilas hotel, adjacent to Ranthambore National Park, one of the best places to look for Tigers. We will travel to Bharatpur (Keoladeo National Park), home to some of the greatest birding India offers, where you will see cranes, storks, egrets, herons, many gorgeous waterfowl, and other birds.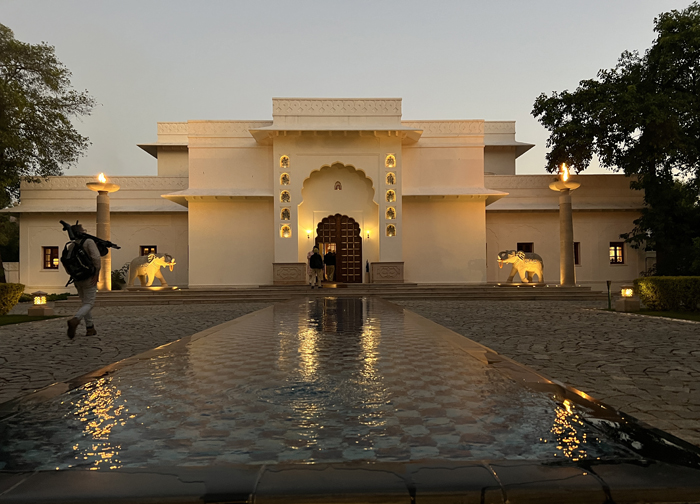 Oberoi Vanyavilas, Ranthambore - Brian Gibbons
Years ago, the Canadian wildlife artist Robert Bateman joined one of our train trips with his wife, Birgit. In his book, Robert Bateman Birds (2002), Bob wrote, "Birgit and I were traveling down the main trail to Bharatpur. A slight breeze ruffled the leaves of the babul trees, and the waters of the jheel shimmered in the evening light. Pure white water lilies dotted the surrounding marshlands...Flocks of pelicans, cormorants, spoonbills, and Painted Storks were settling in for the night…Anhingas (Indian Darters) were posing like pterodactyls on dead branches, and there would be a blue flash and a jewel-like Eurasian (Common) Kingfisher would perch there too. Our guides pointed out two different kinds of diminutive owls…as we traveled through this avian Eden."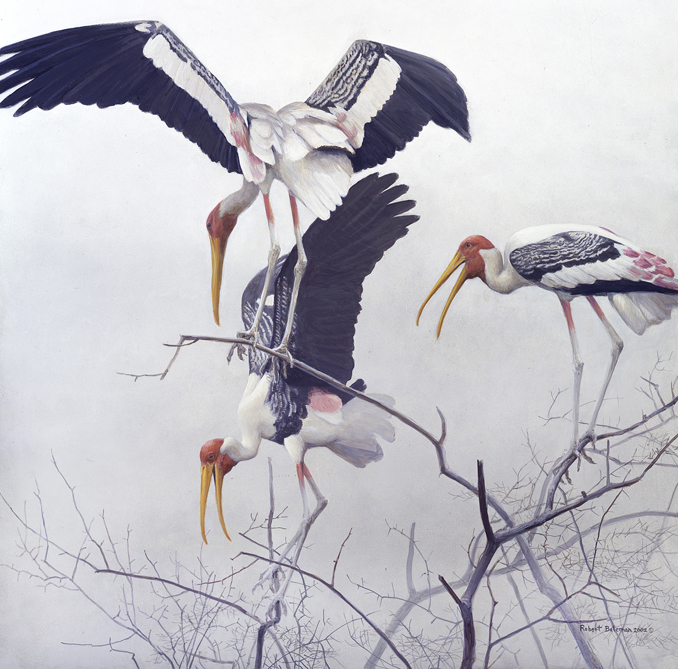 Painted Storks - painting by Robert Bateman
Near the end of the trip, we will spend another night at the Oberoi Amar Vilas in Agra, where we will see the world-famous Taj Mahal while eating breakfast on your porch! Later, you will tour the Taj.
A wonderful cast of tour leaders will join me in leading this trip, including Max Breckenridge, Brian Gibbons, Barry Lyon, Michael O'Brien, Louise Zemaitis, and my old friend, Raj Singh, a descendant of a maharaja and the owner of the company that manages our internal services in India.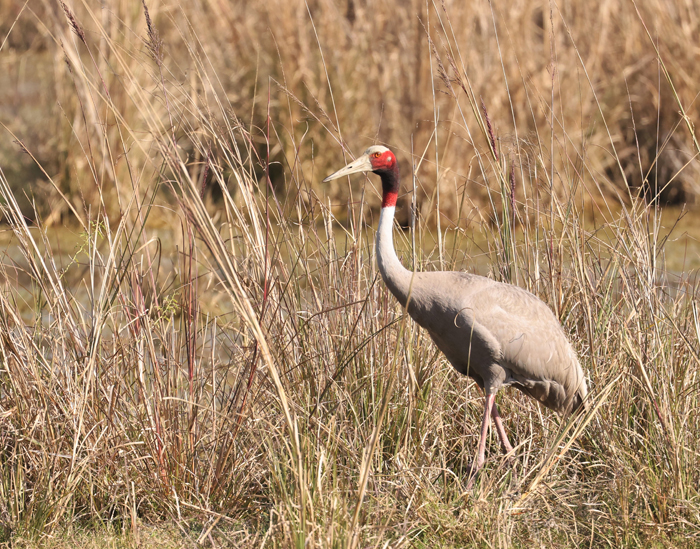 Sarus Crane, Bharatpur - Brian Gibbons
When considering India, people occasionally express concerns about air quality and heavy rain. I can tell you that air quality tends to be at its best in the January/February period, and the annual summer monsoon season does not generally start until May or June. In fact, our India tours are scheduled for the early part of the year as that is when the weather is at its best.
If you want to register for this outstanding trip, you will need to do so by September 29 as that is the date we will release all unsold spaces. For more information or to register, please contact Tour Operations Manager Greg Lopez by email (greg@ventbird.com) or phone (800.328.8368 or 512.328.5221).
India: Birds & Culture on the Maharajas' Express, January 31–February 16, 2024 with Victor Emanuel, Max Breckenridge, Brian Gibbons, Barry Lyon, Michael O'Brien, Louise Zemaitis, and Raj Singh; $22,575 in double occupancy from Mumbai (ends in Delhi). Limit 40.
I urge you to watch our webinar, which provides a full overview of the tour from start to finish. Click this link, India: Birds & Culture on the Maharajas' Express, to view this production.
CLOSING THOUGHTS
More and more I have learned to appreciate the positive. Despite the problems in some parts of the world, travel remains one of the greatest joys of my life. I am looking forward very much to co-leading our India train trip in 2024. In August I will go to Panama for two weeks with close friends. I will enjoy the birds, butterflies, and tropical plants. I am looking forward to spending time with Raúl and Denise Arias, who created the two wonderful lodges and tented camp that are today the Canopy Family of lodges. They are some of my closest friends. I will have a lot of time immersed in birds and nature.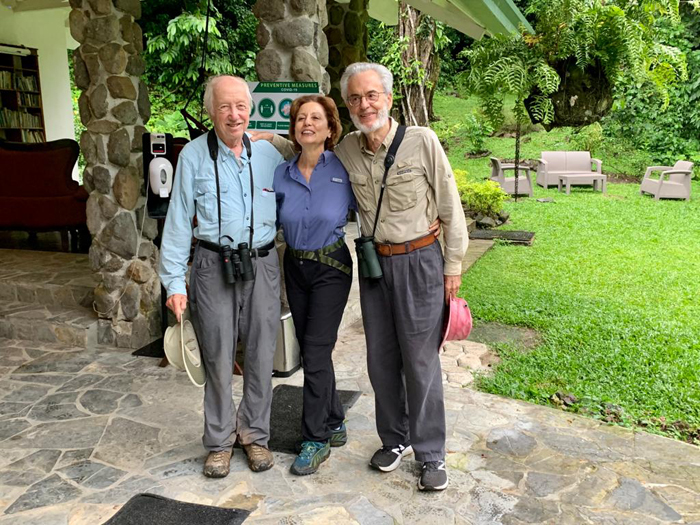 Victor with Denise and Raúl Arias, Panama's Canopy Tower, October 2021 - Canopy Tower
This summer I have attended five performances of classical music at the Round Top Festival Institute in Round Top, Texas. Listening to live performances of classical music is a wonderful experience.
While leading tours, I have met so many fine people. One year, while driving back to Seattle with a tour group, I turned the van radio on to a classical music station. That evening at dinner, one of the participants asked me if I had ever heard The Lark Ascending by Ralph Vaughan Williams. I told her I had not heard it. After hearing it for the first time, it became one of my favorite pieces of music. There is always so much beauty to experience in the world from friendships, nature, and music.
The English poet Robert Browning wrote, "The wonder of the world, the beauty and the power, the shapes of things, their colors, lights and shades, these I saw. Look ye also while life lasts."
Finally, I point out that my longtime friend Rose Styron has written a wonderful memoir, Beyond This Harbor: Adventurous Tales of the Heart. In recounting events from her extraordinary life, she writes about some of the twelve VENT tours she took with me and says they made her a birder.
Best wishes,
Victor Emanuel