March 19, 2021
BIRDING BENEATH COLOMBIAN SKIES
By Steve Hilty
For the past year international travel has been largely suspended—and like almost everyone, I've spent the year at home, or close to it. Maybe it was just as well. Lynx Editions, the prodigious Spanish publisher of some of the handsomest bird and mammal books anywhere, including the incomparable 16-volume Birds of the World, set an ambitious deadline for the completion of my manuscript for the new Birds of Colombia. To meet this deadline, the phrase "working from home" took on new meaning, but by mid-January of this year, with herculean effort and superb support from Lynx, we met the deadline. 
Of course, thinking about birds in Colombia every waking hour of every day for the past year, as well as a steady diet of US covid news updates, prompted me to reflect on how the covid pandemic was affecting people elsewhere, especially in Colombia—the many guides, friends, and owners and staff at lodges that are the linchpin of our VENT tours there. Standard US news bites rarely concern themselves with things beyond our borders, and sometimes we forget that everyone else on the planet is also dealing with these same issues in their own way—travel restrictions, lockdowns, mask-wearing—mostly the same precautions that have been recommended here. In some cases, restrictions and curfews were much more severe than we encountered and were endured with far less resistance to loss of "personal freedom" than has been voiced here in the US.
Like everyone in the travel business, Victor Emanuel Nature Tours, Inc. was forced to make drastic changes—tours were cancelled, employees worked from home, guides were abruptly out of work. To keep in touch, periodic "Messages and Memories" like this one were posted, and webinars and Zoom meetings became standard protocol. But VENT, like other travel agencies, does not operate in a vacuum, especially overseas. We depend upon local agencies for logistics, transportation, drivers, guides, and a host of lodging services. And what about all of those hummingbird feeders and antpitta feeding sites that we enjoy, and which have been so laboriously nurtured and maintained over the years? Can someone just tell those birds not to come for a year? Maintenance of lodges and feeding sites has to continue. I wondered about local birding guides, too. Many of them have years of accumulated knowledge about regional birdlife, and suddenly they were out of work just like the rest of us. Most, if not all of them, however, would not have had the safety nets that were available to those of us here in the States.
So now, a year into this covid plague, there is a trickle of international travel again in Colombia and elsewhere in Latin America, and it is gaining speed rapidly. Already, visitors are returning to numerous destinations in Colombia. And so will we, but space is being booked far in advance. Our summer trip, Colombia: Bogotá, Eastern Andes and the Magdalena Valley, is scheduled for July 30–August 14. And in early December we are offering three trips focusing on the Central and Western Andes; two are short Relaxed & Easy trips guided by David Ascanio; the third is the longer more inclusive trip that I've guided for several years, and I will again be guiding with a Colombian co-leader, December 2–17, 2021.
After a year-long hiatus, what changes can we expect? For one, there will be a new book on Colombian birds. Yes, it is the one that kept me busy at home during this past covid-besieged year. The new Birds of Colombia published by Lynx Editions will be available in late March, and you can check it out below and see some pages at this link: https://www.lynxeds.com/product/birds-of-colombia/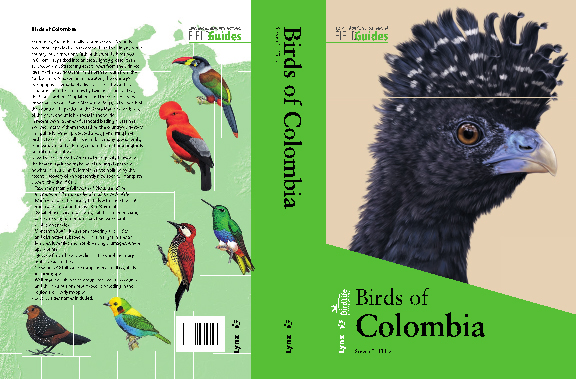 This book, with the endangered female Blue-billed Curassow on the cover, features forward-looking taxonomy, over 2,000 maps that will include every subspecies, and embedded QR codes for each species. For those codes, bring your mobile phone. Colombia is the most "wired" country in Latin America, and using these codes, you should be able to listen to vocalizations, view photos, and read additional text for every species, all from the Cornell Laboratory of Ornithology's magnificent website Birds of the World and the associated Macaulay Library of sounds. We're excited about this feature—almost like a built-in App in your book.
One of the most exciting areas we'll visit on our upcoming 15-day Central and Western Andes tour is the Montezuma Lodge located at the edge of Tatamá National Park. Here, fruit feeders, hummingbird feeders, and a road transect from 1,400 to 2,400 m offer a stunning array of cloud forest birds.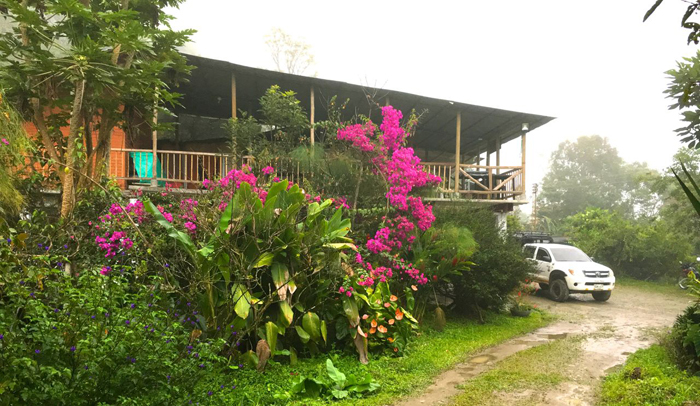 Montezuma Lodge, Tatamá National Park, Western Colombia - Steve Hilty
And, now there are more options and more new sites on this trip. For the December 2–17 trip this year, we are including a relatively new country lodge and some new destinations. I am particularly excited about visiting these areas. For a peek at one of them, check out the following link (narrated in Spanish, but the birds are the same!).
https://www.facebook.com/birdscolombia/videos/birds-colombia-en-hacienda-el-bosque/364936187888232/
In the past I've summarized aspects of this Central and Western Andes Colombia trip (here paraphrased in part) "…as a region of curvy roads, landslides, and road construction…but more important, enchanting cloud forests, spectacular mountain scenery, hummingbirds, antpittas, colorful tanagers, and friendly people everywhere. Of course, this could apply to many areas in the Andes, but what now sets Colombia apart is the number of young birders in this country and their passion and enthusiasm for birds. They seem to be out everywhere, discovering new birding locations, adding new species to the country list (already the largest in the world), organizing bird fairs, exchanging photos on Facebook, uploading lists and photos to eBird, and making contributions to ornithology. Just a couple of years ago, a young Colombian biologist discovered a new antpitta late one afternoon while walking home from a research area. She was just a short distance from Cali, a city of some 2.8 million people! And it is, in many cases, due to the motivation of so many young birders in this vibrant country that we have access to so many wonderful birding sites on tours like this one.
This trip also holds special interest for me because we'll spend two days in the remote Anchicayá Valley located far down on the wet Pacific slope.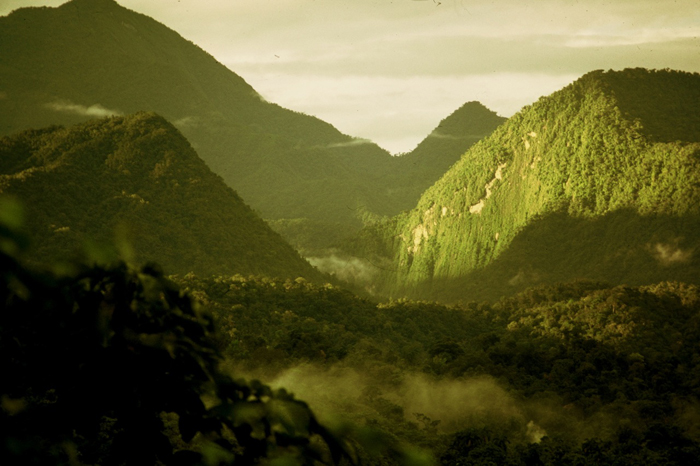 Anchicayá Valley, Western Colombia - Steve Hilty
It is an impressive region, renowned as one of the world's best birding roads. But once it was hardly known at all. Some fifty years ago I began my graduate dissertation work studying tanager foraging behavior and plant flowering and fruiting cycles on a high ridge overlooking this lovely valley. The site was far from any road, and my wife and I used pack mules for the 4–5-hour trek to reach this spectacular site. The birds of this region were scarcely known then. It was an exciting time in our lives.
Remarkably, this region has changed relatively little over the years, still retaining much of its original beauty. Nowadays there are a few more people living along the old gravel road that provides the only access into this valley, but deforestation in this foothill and lower montane region is still minimal. Much of the valley remains forested, even along the roadside where waterfalls tumble from steep slopes at almost every curve. Daily cycles of sunny mornings, afternoon clouds creeping up misty valleys, and mixed species flocks frantically rushing to feed ahead of rain showers seem as eternal as ever. And may it always be so.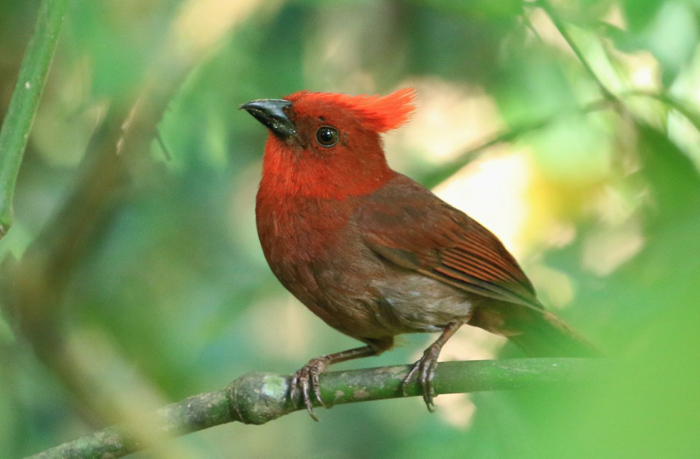 Crested Ant-Tanager, Western Andes, Colombia - Steve Hilty
For a list of birds and some plants you might expect on this trip, check the VENT website and select the Colombia: The Central & Western Andes trip (dates now moved from November 7–22 to December 2–17). Then, on the right-hand side look for the 2017 and 2018 field reports. They will provide a pretty good idea of both birds and plants on this trip. And, we have even more surprises in store for this next trip. However, if you are looking for a shorter trip with a more relaxed schedule, David Ascanio is offering two short, easy, slower-paced trips at about the same time. There is some overlap (although not extensively so) with my longer trip.
Steve's bio and upcoming tour schedule