May 22, 2020
A PATAGONIAN SCOUTING ADVENTURE: WHITE-BELLIED SEEDSNIPE IN CHILE
By Andrew Whittaker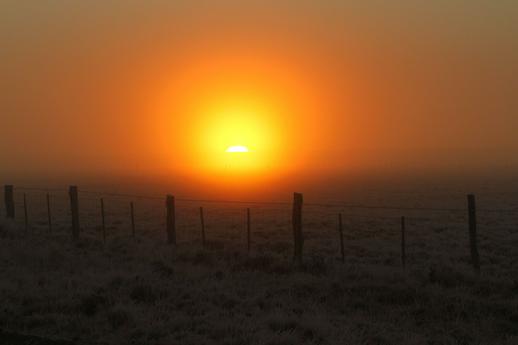 Sunrise over the wild Patagonia Steppe © Andrew Whittaker
A fact probably not very well known by many is that VENT takes the time and expense to scout areas for our new trips. This involves leaders planning the best routes, checking road conditions, locating bathrooms en route, checking trail conditions, working out traveling times, locating the best hotels and restaurants, finding the best birding sites, and, of course, getting recordings and images for use during the trip and to help with trip promotion. Returning armed with all this information results in the compilation of an exciting day to day itinerary and, most important, assurance of a well-run and successful trip.
On a beautiful clear, windless fall morning in Patagonian Chile, Fernando Diaz and I were scouting a remote but spectacular dirt road dissecting the breathtaking Patagonian Steppes. Thankfully, the 4x4 car we had rented had a heater, because to say it was cold was a gross understatement. At dawn we noted Guanaco with frost on their backs, and an incredible white frost could be seen on the horizon. 
Very soon, however, following a stunning sunrise, we warmed up as we enjoyed our first birds. These included such greats as Tawny-throated Dotterel, Short-billed Miner, and the stunning White-bridled Finch. Fernando had suggested a possible lifer for me, so my eyes were peeled. Having had no breakfast, after a couple of hours we stopped. I leaned over to our birder's back seat (we all know what that can sometimes look like), which was not a pretty sight—full of fast food, bottles of Coke and water, and, of course, some trash. Energy was required, so I grabbed a sizable new Toblerone bar; however, to my horror, I noticed a huge bite out of it. "Fernando, what the heck has happened here," I said. Getting out of the car, I grabbed my scope, which was wrapped up in a homemade woolly cover. To my horror, I found a huge gaping hole in the side of the cover. Detective work was necessary, and soon we had discovered the culprit. We had a very happy and cozy stowaway aboard—a darn mouse! Obviously, he was a chocoholic. His nesting hole was in the backseat cushion, lined with my scope cover material, all nicely chewed up into tiny pieces. It looked very homey. During the next week we found out that he was also a better escape artist than Houdini—an incredibly talented mouse indeed!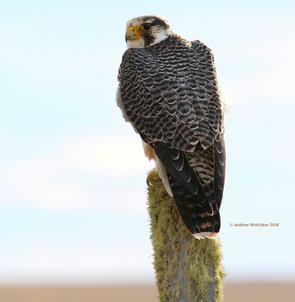 Peregrine (Pallid) Falcon © Andrew Whittaker
After a quick fast food hit, we got our scopes fixed onto our tripods and put into our now even less tidy backseat, and we headed off again. Within minutes our brakes were screeching, and we skidded to a halt as a dust cloud engulfed the car; we had spotted a flight of seedsnipe! After scanning, we confirmed a distant flock of White-bellied Seedsnipe, a cool lifer for me. As we drove on, we came across more and more of these neat birds and got some excellent scope views; however, most were flighty. Soon we noted a distant raptor perched on a fence post. As we got closer, it turned out to be a real prize and something I had always wanted to see: a Peregrine, but a magnificent pale morph cassini. This is a beautiful rare resident form and very poorly-known, so much so that for a long time it was considered a full species, the "Pallid Falcon." Obviously, this was why the seedsnipe were nervous. I certainly would have been too! 
Driving along, we were both amazed as we continued to see more and more seedsnipe. Encountering a closer flock of about fifteen birds, we decided to try to get closer to study them. We crawled very cautiously on all fours for several hundred meters across this rocky barren landscape for the next ten minutes. Soon we were on our bellies, acting like slugs—incredibly, within 20 feet of the flock; they had accepted us and now ignored us. It was utterly outstanding! For the next 30 minutes we were in avian heaven; we were part of a White-bellied Seedsnipe flock—unbelievable! Birds were feeding all around us, quietly calling to each other, completely confiding while feeding, preening, and fighting. Some birds were so close we could have touched them. We marveled over their stunning beauty and cryptically perfect camouflage; they reminded me of Rock Ptarmigan.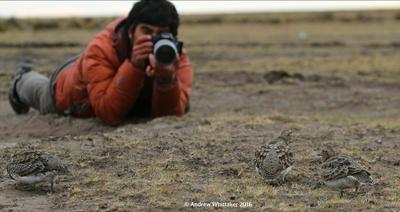 Fernando with White-bellied Seedsnipe © Andrew Whittaker
The enigmatic seedsnipe have been a taxonomic fascination, once thought to be closely allied to the Sheathbill and the odd Magellanic Plover. However, recent phylogenetic studies confirmed that their closest relative is found in Australia: the monotypic Plains-wanderer. By the end of the morning, as we left the steppe, we had tallied a remarkable total of 232 White-bellied Seedsnipe. More important, we had stumbled upon and discovered one of their major feeding/wintering grounds. This scarce species breeds at high altitudes in remote bleak, stony valleys above the timberline in the Andes, and we are sure we were the first people the flock had ever seen!
Although the mouse may have enjoyed his private five-star tour of Patagonia in Punta Arenas with two leaders all to himself and great junk food, Fernando and I will certainly never forget our incredible seedsnipe encounter on our most eventful scouting trip ever! 
Andrew's bio and upcoming tour schedule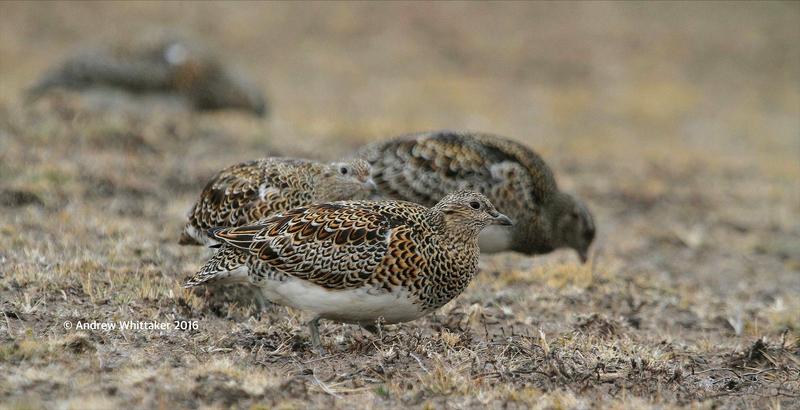 White-bellied Seedsnipe tight flock © Andrew Whittaker