October 30, 2020
RIGHT BACK ON THAT HORSE
By Rick Wright
In all the confusion and uncertainty of these past six months, one question has gone mostly unasked: How will we know when it is safe to go birding again? Birding—the way we used to do it, in small groups of friends, around the neighborhood and around the world.
It still sometimes feels as if there were no answer. But at least in some parts of the country, the question is being posed, tentatively and with a somber view to our responsibilities to others. Here in New Jersey, as I write, the number of new cases of Covid-19 reported has fallen, finally, to below 500 a day; most surviving businesses have started serving the public again; and parks, beaches, and wildlife refuges are open to all. We know that those gains are hard-won, and that only vigilance and a strong sense of civic relationship can keep us moving, slowly, in the right direction.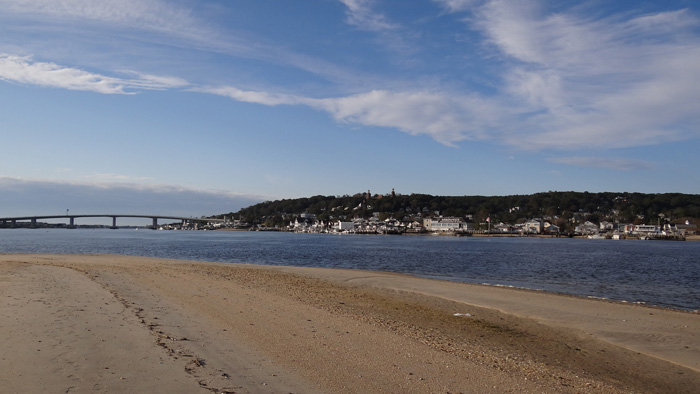 Looking back to the mainland from Sandy Hook - Rick Wright
But at least here in the mid-Atlantic, and at least for now, we are moving. Birders too. Two weeks ago, I emerged from my tight "covid pod" to lead a half-day field trip at Sandy Hook, New Jersey, for the Linnaean Society of New York. It had been on the schedule for the better part of a year, and especially after having had to cancel the annual long-distance trip I lead for LSNY (this time, it was to have been April in San Diego), I was eager—we all were eager—to be together again outdoors. We dithered, we wavered, we hemmed, we hawed. But at length we decided to go through with it. I'm glad we did.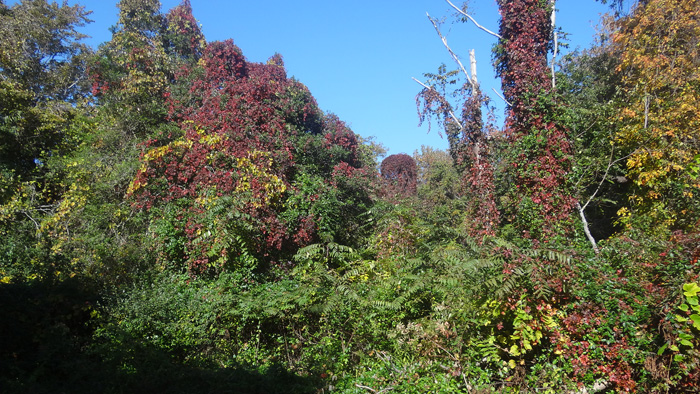 Autumn vegetation at Sandy Hook - Rick Wright
Sandy Hook, an eight-mile-long north-south spit separating the waters of Raritan and Sandy Hook Bays from the open Atlantic, is one of New Jersey's prime birding sites at any season. Especially in fall, from August through December, a good day at the Hook is rivaled only by the experiences to be had on that other peninsula at the other end of the state (Cape May, I think they call it). The morning of our field trip dawned bright and cool, with light northwest winds—the most promising conditions for a fine day afield. As the crow flies, it is a scant 22 miles from my door to Sandy Hook, but this being coastal north Jersey, a great deal of water and a greater deal of traffic lie between me and my destination. The excitement of seeing old friends and meeting new ones made rising early easy, and I reached our meeting point, the northernmost parking lot on the Hook, an hour and a half before the scheduled time.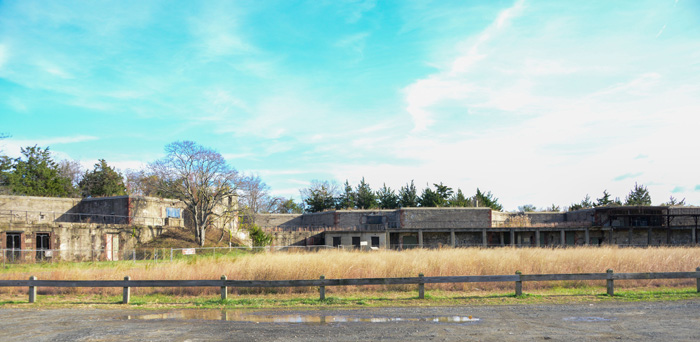 Ruins of Fort Hancock, Sandy Hook - Sanford Sorkin
On so fine a Saturday morning, the lot was filled with fishermen, maskless and loud. My annoyance passed quickly (quickly, for me) when I saw just how many birds there were on the brushy edges, far outnumbering the noisy humans who finally trundled off the trail to the water. I'd meant to scout out a few spots before my fellow Linnaeans arrived, but ninety minutes later I was still in the parking lot, where migration was taking place before my very eyes as robins, Red-breasted Nuthatches, Swamp Sparrows, Blackpoll Warblers, kinglets, creepers, and the whole October gang dropped out of the sky to begin feeding in the sunlit treetops. It would be a good day.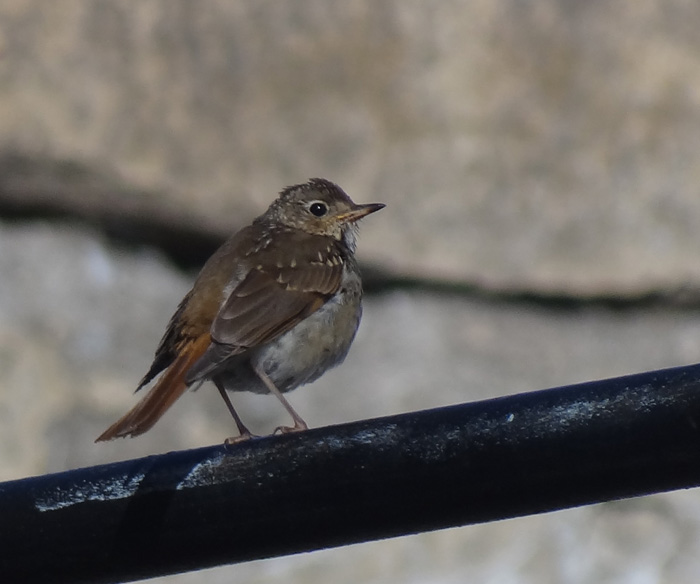 Hermit Thrush - Rick Wright
Right on time, my fellow birders pulled up. We were a group of ten, a number that had given me pause; but with all of us scrupulous about masks and the standard social distances, we soon forgot our worries and could simply enjoy the birds and one other's company.    
And there were birds. A spot-breasted Northern Mockingbird perched above the cars was a chance to talk about plumages and molts in general—or it would have been a chance, had we not been constantly interrupted by the arrival of more migrants. Ruby-crowned and Golden-crowned kinglets darted past just above our heads, landing abruptly to make their nervous, twitching way to the insect eggs and larvae tucked beneath the leaves. The mix of sparrows in the trees and on the ground ranged from tiny, slender, long-tailed Chipping Sparrows to hulking White-throateds; Lincoln Sparrows, never more than scarce in a New Jersey autumn, gave the kind of outstanding views this classically skulking species seldom permits here in the east. Savannah Sparrows and Song Sparrows perched side by side.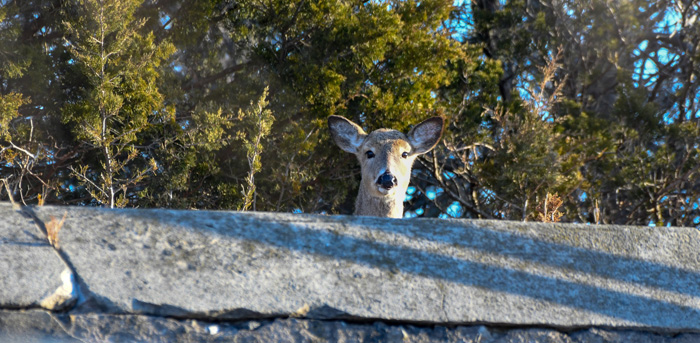 White-tailed Deer at Sandy Hook - Sanford Sorkin
It was not a big warbler day, not by Sandy Hook standards, at least, but birds of a dozen species moved past us through the trees and low shrubs. Warblers are delightful at any season, but fall is when many of the typical treetop species give up their high-elevation habit to feed at more obliging heights. Instead of straining our necks to catch a fleeting glimpse of Blackpolls high in the leaves, we watched them at our leisure as they hopped on orange feet up and down the sidewalks in front of us. Palm Warblers, Magnolia Warblers, Common Yellowthroats, and the vanguard of the autumn and winter horde of Myrtle Warblers were just as obliging.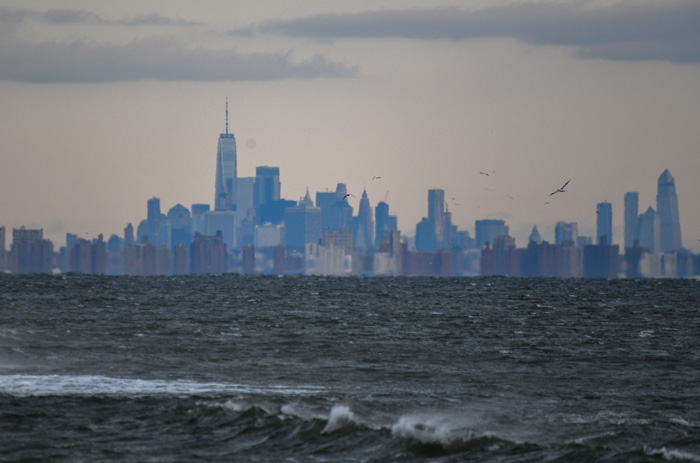 Gannets over New York's outer harbor - Sanford Sorkin
Perhaps, I thought, we should think about moving to another spot. I looked at my watch to find that three hours had passed while we stood together in the parking lot. Birding time can be like that. Three hours? And we had not so much as cast a glance at the ocean on the other side of the dune.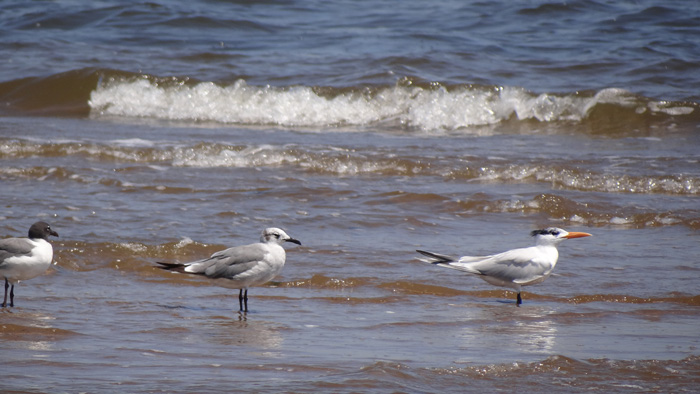 Royal Tern with Laughing Gulls - Rick Wright
t was close to lunchtime, and we decided that we would walk down to the next beach, where an observation platform offered picnic tables, restrooms, and a spectacular view north to Manhattan and east to Portugal. The anxiety meter ticked up a notch when we realized that eating was likely to be much more comfortable without our masks on. But the benches and tables, scattered, intentionally or not, at convenient intervals atop the platform, made it easy for us to spread out and enjoy our lunches in safety and in earshot of one another, while Royal Terns and Double-crested Cormorants flew up and down the surf in front of us.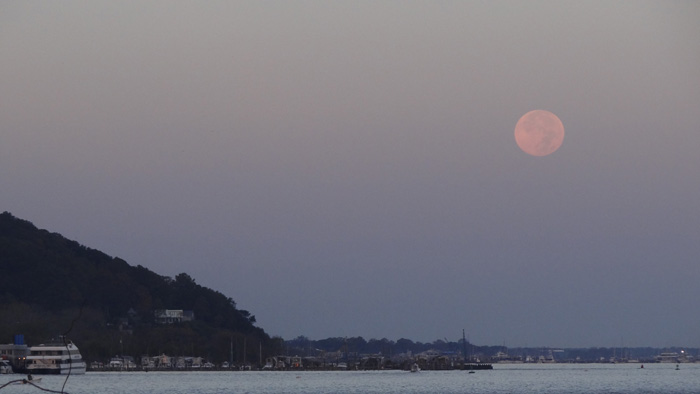 Moonset over Sandy Hook Bay - Rick Wright
When it came time to declare an end to our trip, there were no hugs, no handshakes, no hearty high-fives. But kind words and kind smiles expressed what the scrupulously masked lower halves of our faces could not: we were happy to see each other after these long months. More than that, we had discovered that we could bird together the way we used to, safely and enjoyably, learning and talking and sharing a fine day in the field.
I'm going to do it again. And I hope you do too.
Rick's bio and upcoming tour schedule