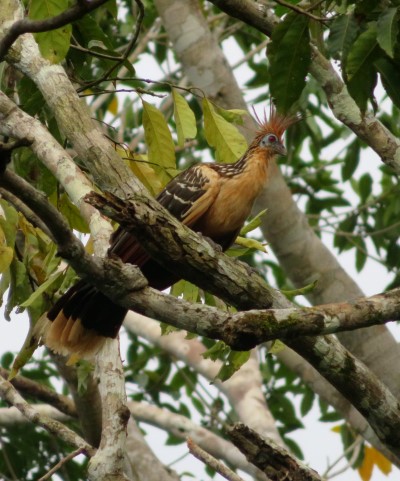 Hoatzin by Sherry Rhodes
July 10, 2020
Hoatzins on the Amazon River Cruise
By Sherry Rhodes, Sarasota, Florida
My husband and I retired and moved to Florida in May 2019. It was a hectic time with our daughter graduating from college, selling our home, and moving to a new state. Shortly after moving into our new place, we received a postcard mailing from VENT about the Amazon River Cruise scheduled for February 2020. I had always wanted to do a trip like that, but with all the upheaval of moving and selling our home, I thought it just wasn't the right time. However, I kept that large, colorful mailing on my bedside table and found myself looking at it multiple times a day. My husband noticed this, and after a couple of weeks, he said, "I think we should go." I was so excited, and we immediately signed up and began to anticipate this wonderful experience. Another bonus was that one of the guides for the trip was Andy Whittaker, who had guided another excellent VENT adventure we took in Scotland in 2018.
One bird that I really wanted to see on this trip was the Hoatzin. This is just such an unusual and exotic bird, and I thought seeing a bird like that in a setting like the Amazon would be an incredible memory. When the day came that we arrived in the area where the Hoatzins live, we all got into our skiffs in the late afternoon and approached a very quiet and placid lagoon-like lake off the river. The light was incredible as the guides cut the motors and we glided toward the tree where the Hoatzins liked to congregate. We all stayed very quiet as we approached the tree…and there they were! Several of these unique-looking birds were perched in full view, and we were able to view them for a prolonged period. I will never forget that sight, surrounded by the sounds of the Amazon rainforest and the water lapping the shore. I'm even more glad now that we went ahead and took that trip, since it is the last trip we took before travel shut down due to the pandemic. My new mantra is: Take trips when you have the chance, because we never know when we'll get another opportunity. 
VENT's next Amazon River Cruise will operate January 27-February 5, 2022.