VENTFLASH #304
November 14, 2023
Dear friends:
I appreciate more and more the joy that birding and time in nature bring to my life.
Recently, I spent a few days at my beach house on the upper Texas coast, on the Bolivar Peninsula and at the Anahuac National Wildlife Refuge. It was wonderful to be there to welcome the return of American Avocets to their coastal wintering ground. I could see a flock of a hundred from the porch of my house. I watched them walking in a line, throwing their bills from side to side. I knew that over the winter there would be more than a thousand of them.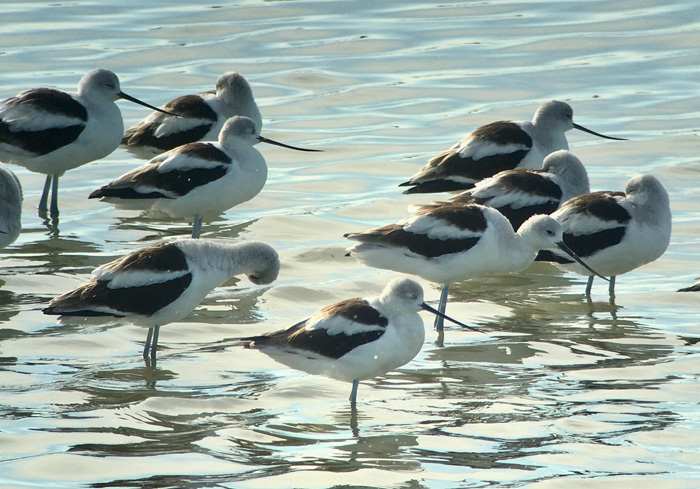 American Avocet - Barry Zimmer
At the wonderful Anahuac NWR, I saw several flocks of migrating Broad-winged Hawks. There were also beautiful stands of Goldenrod, a plant so indicative of the fall season. The manager of the visitor center showed me amazing photos of Bobcats that he had taken with his cell phone as he sat on a bench next to a water drip! The highlight of my trip was driving along a beach and counting 42 Piping Plovers, the most I have ever seen at one time. It was a thrill to see so many at once, especially because certain populations of this species are endangered due to habitat loss and human infringement on their nesting sites. 
Back in Austin, I attended the Victor Emanuel Conservation Award Dinner, hosted by our local Audubon chapter, where I saw many wonderful old friends. A week later, I attended a conservation dinner in Dallas, hosted by my dear friend Garrett Boone. Later, Garrett and I walked in the woodland of a park near his house. As we moved along, I remembered what VENT tour leader Kevin Zimmer said to me years ago: "Walking through woods and nature is my cathedral." There is always so much to see and enjoy in nature. When you're in nature, you are in your own world, and any worries or concerns you have drop away. 
IN THIS ISSUE:
INTRODUCING NEW TOUR LEADER MARK BRAZIL
JAPAN AND BULGARIA: VENT TOURS WITH MARK BRAZIL IN 2024–2025
DOMESTIC WINTER TRAVEL OPPORTUNITIES
INTERNATIONAL WINTER TRAVEL OPPORTUNITIES
E-BIRD BIG YEARS FOR DION HOBCROFT & DAVID ASCANIO
CLOSING THOUGHTS
INTRODUCING NEW TOUR LEADER MARK BRAZIL
This summer, I announced the addition of a number of new tour leaders to the VENT community. The first of the new leaders we profiled was Remy Grefa, of Ecuador, and the second was Kevin Burke of North Carolina. In this edition of VENTFLASH, I am delighted to introduce Mark Brazil.
Within the arena of international birding and ecotourism, the name Mark Brazil stands out. As a longtime birding guide, author, and lecturer, Mark is as widely respected a figure as I know of. A native of England, Mark has lived in a variety of places but has resided for decades in Japan with his wife, Mayumi.
I first met Mark in 2014 on a voyage in the Bering Sea that I co-led with Barry Lyon. That trip was operated by Zegrahm Expeditions, and Mark was a member of the expedition staff. I had certainly known Mark's name long before that voyage, but I had not previously met him personally. Over the course of that two-week trip, I came to understand why Mark is held in such high regard by those who work and travel with him. Mark is an ornithologist with encyclopedic knowledge about birds and their life cycles. His lectures were well organized and informative, while in the field his considerable birding skills were on full display. Beyond these attributes, I was also struck by Mark's engaging personality and "people skills." Mark has a gentlemanly bearing to him and a welcoming, affable demeanor.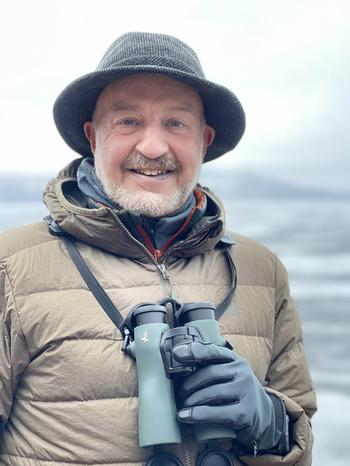 Mark Brazil
On that Bering Sea cruise, Mark and I spoke about the possibility of our collaborating on a few trips with VENT. Though intriguing, our discussion did not progress beyond that point primarily because Mark's schedule was already chock-full, as he was guiding natural history trips primarily for Zegrahm. However, I did not forget about Mark and made a mental note to check back with him down the road.
Early this year, the longtime tour leader of our Japan tours, Kaz Shinoda, announced his retirement from tour leading. Although we had not spoken with Mark in more than seven years, our thoughts immediately returned to him as a potential successor to Kaz. Given that Mark has lived in Japan for many years, I thought it couldn't hurt to reconnect with him and inquire as to his availability. Upon emailing Mark, we were delighted to learn that his situation had changed. With Zegrahm ceasing operations two years ago, Mark now had more time available for leading tours and welcomed the opportunity to begin working with VENT.
Right out of the gate, Mark assumed leadership of our Japan in Winter tour, a fabulous trip that focuses on the great wintertime birding and nature spectacles of Japan, including gatherings of cranes, waterfowl, sea-eagles, and the famous Snow Monkeys. Thereafter, Mark presented a brand-new Japan: Summer Hokkaido tour that combines the best of birding in northern Japan with important elements of sightseeing and exploration of the distinct Ainu culture. With a nod to his native Europe, Mark also brought a wonderful Bulgaria program to VENT. Each of these fine tours is described in greater depth in the next section.
Mark Brazil is the author of a number of important field guides and nature guides. He is perhaps best known for the Helm Field Guide to the Birds of East Asia (2019) and Helm Field Guide to the Birds of Japan (2018), but his most recent productions, Japan: The Natural History of an Asian Archipelago (2022) and Wild Hokkaido: A Guidebook to the National Parks and other Wild Places of Eastern Hokkaido (2021), have also received acclaim. Please read his full bio here.
In the time since Mark joined us, I have received a number of highly supportive comments from some our travelers who know Mark through their travels with Zegrahm Expeditions. As the saying goes, Mark is the "real deal," and we are so pleased to welcome him to our community.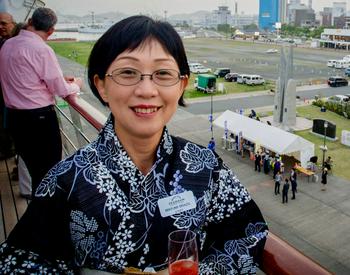 Mayumi Brazil
In introducing Mark to our travelers, I would be remiss if I didn't also shine the spotlight on his wife, Mayumi. Mayumi Brazil is a National Government Licensed Interpretive Guide with an expertise on culture, especially Japanese, but also other cultures as well. Like Mark, Mayumi has traveled extensively as a guide and lecturer. Mark and Mayumi typically work together, and as a part of VENT's arrangement with Mark, he will be joined by Mayumi on the tours he leads for us. For our travelers, this is a double win. Not only will our tour participants benefit from Mark's massive knowledge of birds, they will also gain from Mayumi's expertise on history and culture.
Please read her full bio here.
JAPAN AND BULGARIA: VENT TOURS WITH MARK BRAZIL IN 2024–2025
In welcoming Mark Brazil—ornithologist, guide, and longtime Japan resident—to VENT, I make clear that Mark will not lead a full slate of tours; rather, he will lead a selection of trips that play to his strengths as an expert on Asian and European birds. Given Mark's many years in Japan, we are delighted to have him at the helm of our program of Japan tours in 2024 and 2025: Japan in Winter and our brand-new Japan: Summer Hokkaido. Further afield, Mark also brings to VENT a new tour to Bulgaria in 2025, a destination VENT has not offered in fifteen years, and which combines birding in one of Eastern Europe's choicest birding countries with some excellent historical and cultural highlights.
Japan in Winter
Until 2013, few birding and nature tour companies offered wintertime trips to Japan that focused on attractions other than the famous Snow Monkeys. In that year, VENT offered its first-ever Japan in Winter tour that capitalized on the astounding birding spectacles just waiting for discovery by the birding world. That trip quickly became one of VENT's most popular tours, showcasing four to six species of cranes; extraordinary concentrations of waterfowl of up to two dozen species, including Whooper Swan, Falcated and Mandarin ducks, and Baikal Teal; gatherings of awesome Steller's Sea-Eagles and White-tailed Eagles; the world's largest owl, Blakiston's Fish-Owl; and the incredibly photogenic Snow Monkeys (Japanese Macaque).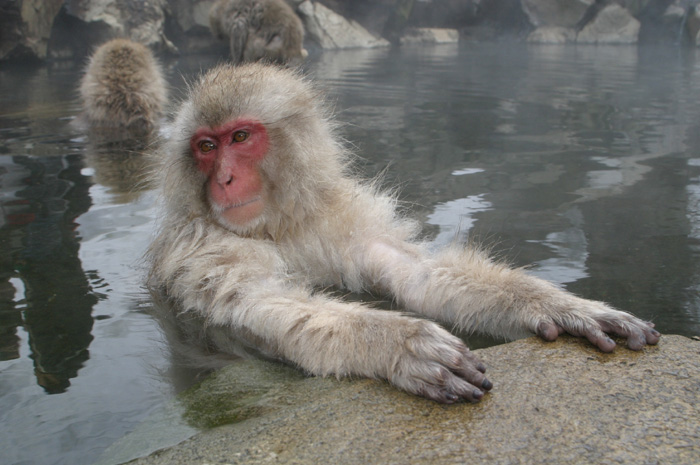 Japanese Macaque ("Snow Monkey") - Mark Brazil
Once the "secret" was out, our tour has since been copied by many other companies, yet the VENT tour has remained a durable attraction among our travelers, and, to this day, remains an exceptional wintertime tour offering. With Mark Brazil and his wife, Mayumi Brazil, in charge, this tour is poised to reach new heights in the coming years. In addition to the aforementioned highlights, our program includes opportunities to see a large variety of other birds including endemic landbirds and a profusion of seabirds and waterbirds. Meanwhile, Mayumi is a National Government Licensed Interpretive Guide, ensuring that our natural history pursuits will be complemented by Mayumi's insights and interpretation of Japanese people, history, and culture. Our 2024 tour has been sold out for months, but our 2025 tour still has spaces available.
Japan in Winter: A Crane, Sea-Eagle & Snow Monkey Spectacular!, January 14–27, 2024, with Mark Brazil and Mayumi Brazil; $8,695 in double occupancy from Tokyo. Limit 9. Sold out!
Japan in Winter: A Crane, Sea-Eagle & Snow Monkey Spectacular!, January 12–25, 2025, with Mark Brazil and Mayumi Brazil; price to be announced in double occupancy from Tokyo. Limit 9; 5 spaces available.
Japan: Summer Hokkaido
With our Japan in Winter tours firmly established under Mark's leadership, we next asked him to design a new type of Japan tour that provides exposure to the natural history riches of that country at a different time of the year. For this new tour, we had in mind a trip during a warmer month, when our travelers could visit Japan at its most visually appealing, at a time that coincided with the peak of the breeding season, all the while capitalizing on some of Japan's historical and cultural highlights. From our discussion emerged Japan: Summer Hokkaido: Birds, Wildlife & Culture in the Land of the Ainu. This brand-new tour centers entirely on Hokkaido, the northernmost of the main islands of Japan, and presents a broad-based approach to this unusual place—one so very much a part of the Japanese nation, yet also a place distinct unto itself. Here, forested mountains, volcanic peaks, crater lakes, wetlands, and rugged coastlines speak to Hokkaido's varied habitats and spectacular scenery.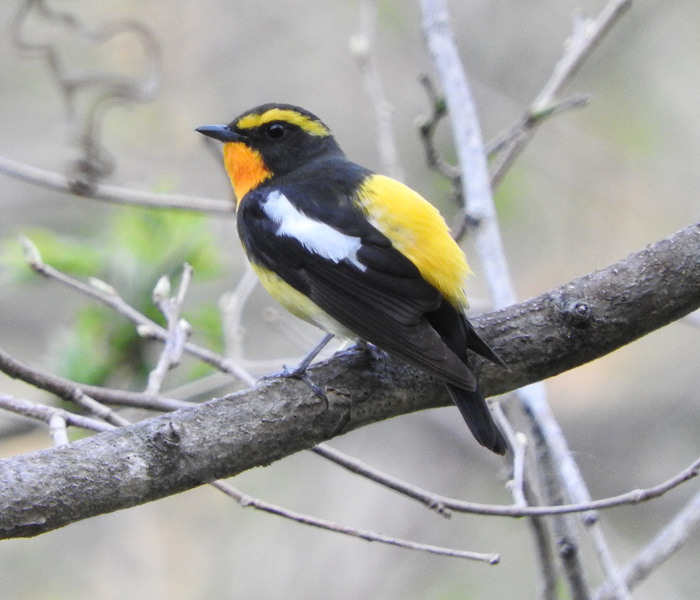 Narcissus Flycatcher - Mark Brazil
Over the course of this two-and-a-half-week trip, participants will visit four national parks seeking remarkable birds and mammals like Red-crowned Crane, Blakiston's Fish-Owl, Narcissus Flycatcher, a range of alcids, woodpeckers, flycatchers, warblers, buntings, Brown Bears, and Orcas. On the cultural front, Mayumi Brazil will lead us in exploration of the island's rich Ainu and Japanese culture. This tour was added to our 2024 and 2025 schedules relatively recently, and many of our travelers might not yet know about it. We have received our first three registrations, but undoubtedly this exciting new trip will sell out. Join us!
Japan: Summer Hokkaido: Birds, Wildlife & Culture in the Land of the Ainu, June 4–20, 2024 with Mark Brazil and Mayumi Brazil; $10,595 in double occupancy from Kushiro (ends in Haneda). Limit 9; 6 spaces available.
Japan: Summer Hokkaido: Birds, Wildlife & Culture in the Land of the Ainu, May 28–June 13, 2025 with Mark Brazil and Mayumi Brazil; price to be announced in double occupancy from Kushiro (ends in Haneda). Limit 9.
Birding in Ancient Bulgaria
"Bulgaria?" you might ask? YES! This small to mid-size country on the eastern flank of the European continent is a superb destination for birding and natural history. Situated between Romania, Greece, and Turkey, Bulgaria faces the Black Sea, right on the migration route for many birds that nest in northeastern Europe and western Asia. On this new trip, we'll travel from the Rhodope Mountains in western Bulgaria to the Danube River Delta, seeking birds in an array of settings, from treeline to grassland, and from wetlands to the Black Sea.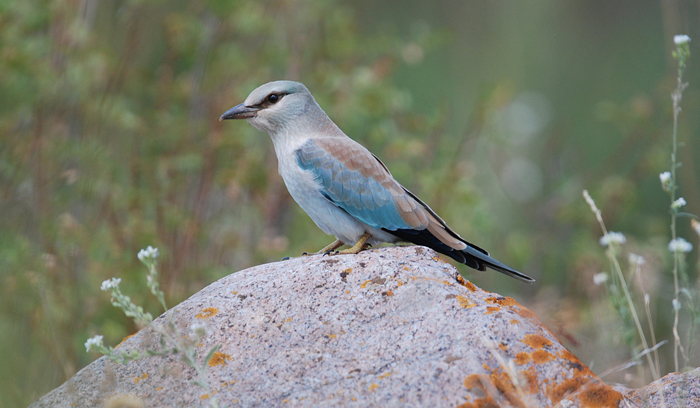 European Roller - Machiel Valkenburg
Excellent birding is assured, with opportunities to see some of Europe's most special birds including Ferruginous Duck, Black Stork, Dalmatian and Great White pelicans, European Roller, European Bee-eater, European Golden Oriole, Wallcreeper, and a wonderful collection of woodpeckers, warblers, buntings and more. Along the way we will have the opportunity to learn a little about Bulgaria's more than 8,000-year-long history during a walking tour through old Sofia, visits to two ancient Thracian sites including Perperikon, and tours of the impressive museums of Sofia and Varna. 
Birding in Ancient Bulgaria, May 3–20, 2025 with Mark Brazil, Mayumi Brazil, and a local leader; price to be announced in double occupancy from Sofia. Limit: 10.
DOMESTIC WINTER TRAVEL OPPORTUNITIES
Beyond our fabulous new tours to Japan and Bulgaria in the years ahead, VENT will operate a number of domestic tours in the first three months of the new year that offer short wintertime getaways and that still have spaces available. With the holidays just around the corner, now is an excellent time to make winter travel plans, before we all get too busy!
Perhaps you will be interested in one of the following trips that will operate in the January–March period: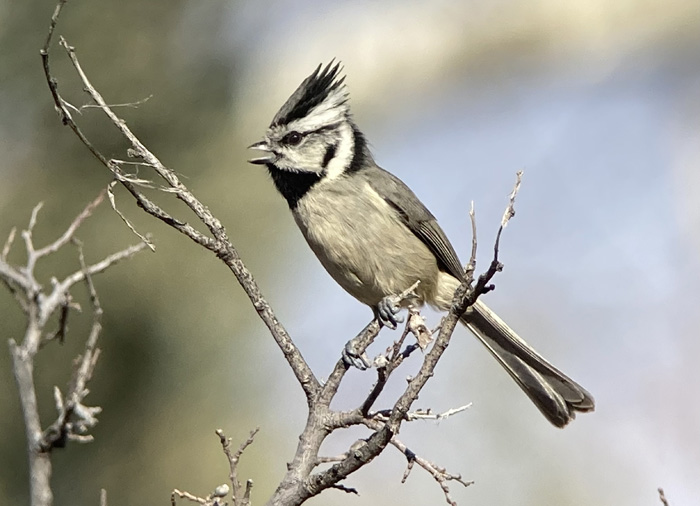 Bridled Titmouse (New Mexico) - Barry Zimmer
Winter New Mexico, January 10–16, 2024 with Barry Zimmer and Kevin Burke; $2,995 in double occupancy from El Paso (ends in Albuquerque). Limit 14; 5 spaces available.
January is a great time to bird far west Texas and adjacent southern New Mexico. The weather is usually pleasant and birds abound. In some years, mountain birds descend to lower elevations, bringing a collection of woodpeckers, jays, bluebirds, and finches into close proximity with resident desert species. One of the tour's many highlights is a visit to Bosque del Apache National Wildlife Refuge, where visitors are treated to spectacular gatherings of Snow and Ross's geese and other waterfowl, Sandhill Cranes, and a variety of eagles and hawks.
Winter Southern Arizona, January 22–28, 2024, with Barry Zimmer and Kevin Burke; $2,995 in double occupancy from Tucson. Limit 12. 5 spaces available.
Southeast Arizona, revered as a summertime birding mecca, is also a superb wintertime destination. On this tour, you will see many of the year-round resident birds of the deserts and foothills, plus a marvelous suite of winter visitors. Among the many species often encountered are Sandhill Crane, Mountain Plover, Ferruginous Hawk, Prairie Falcon, Burrowing Owl, Arizona Woodpecker, Mountain Bluebird, and Painted Redstart. This tour also has an enticing history of vagrant birds from Mexico.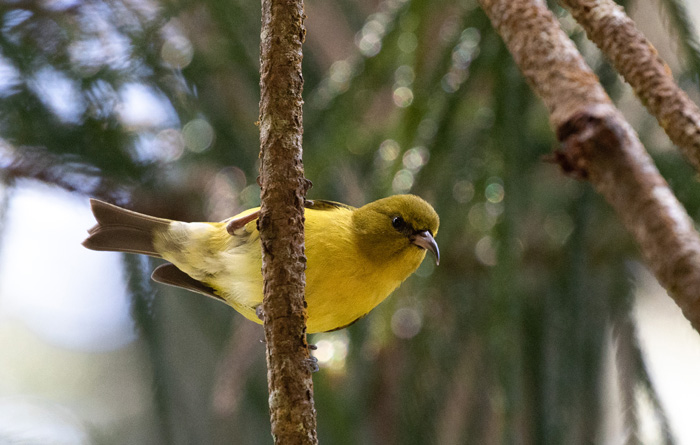 Oahu Amakihi (Hawaii) - Erik Bruhnke
Spring Hawaii, February 27–March 8, 2024 with Erik Bruhnke and Kevin Burke; $7,995 in double occupancy from Honolulu (ends in Hilo). Limit 12; 1 space available.
Beautiful island scenery, volcanic landscapes, nesting seabirds, and endemic landbirds. Who could ask for anything more?
Nebraska: Sandhill Cranes & Prairie Chickens, March 15–22, 2024 with Rick Wright and a second leader to be announced; $3,360 in double occupancy from Omaha. Limit: 14. 7 spaces available. Click here to view webinar.
The annual gathering of Sandhill Cranes in Nebraska's Platte River Country is one of the great natural history events of the world. Similarly, the early spring dancing of the prairie-chickens on the native prairie should be experienced by every birder. Join us next spring in Nebraska and experience both!
INTERNATIONAL WINTER TRAVEL OPPORTUNITIES
Those interested in traveling further afield during the first quarter of the new year may be tempted by a suite of international tours that will operate in the January–March period. Each of these fine trips promises outstanding birding in amazing locations. All still have spaces available.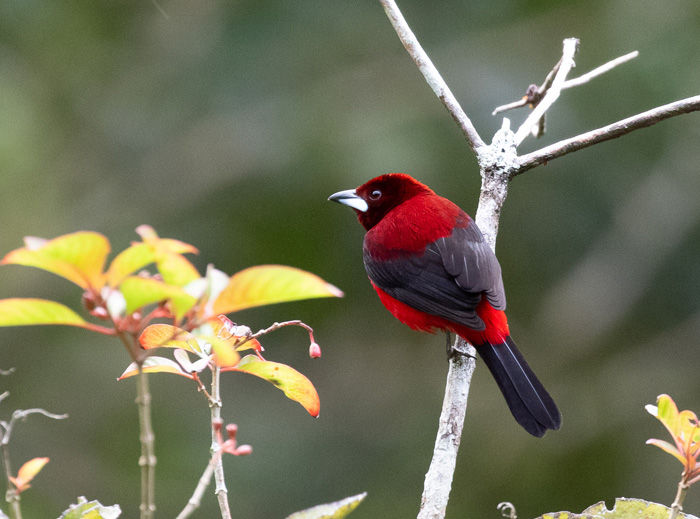 Crimson-backed Tanager (Panama) - Erik Bruhnke
Panama's Darien Lowlands: Canopy Camp, January 13–21, 2024 with Erik Bruhnke and a local leader; $4,675 in double occupancy from Panama City. Limit 12; 5 spaces available. Click here to view webinar.
Experience the rainforest lowlands in style, featuring a stay at an Africa-style tented camp while seeking Harpy Eagle and hundreds of tropical bird species.
Panama: El Valle's Canopy Lodge, January 20–27, 2024 with Erik Bruhnke and a local leader; $4,195 in double occupancy from Panama City. Limit 12; 2 spaces available.
Possibly the loveliest of the three "Canopy Family" lodges, the Canopy Lodge offers spacious and inviting accommodations, enchanting gardens, and easy access to cloud forest habitat.
Ecuador: Eastern Slope of the Andes, January 22–February 1, 2024 with Paul Greenfield and Remy Grefa; $4,095 in double occupancy from Quito. Limit 14. Click here to view webinar.
Travel from foothill rainforest to Andean treeline, staying at three lodges at different elevations, each promising marvelous birding opportunities replete with hummingbirds, tanagers, and other showy birds.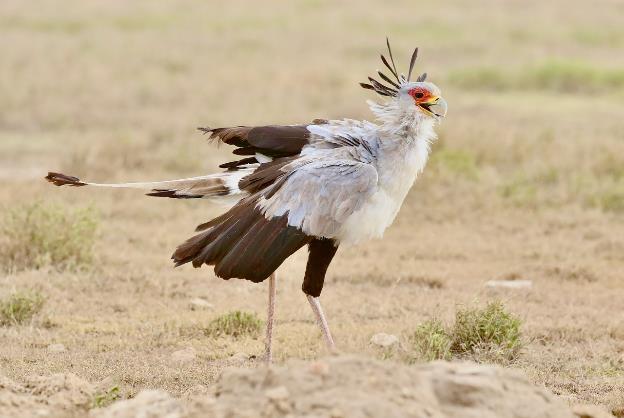 Secretarybird (Tanzania) - Kevin Zimmer
Northern Tanzania: Birding & Wildlife in the Serengeti, Ngorongoro Crater & Beyond, February 14–March 3, 2024 with Kevin Zimmer, who is an expert on the birds and wildlife, and a local leader; $15,995 in double occupancy from Arusha. Limit 12; 4 spaces available.
It simply does not get better than this. This flagship Africa tour features some of the greatest wildlife spectacles on earth. Among the many highlights, participants will witness: world-class exotic birding amid up to a million calving Wildebeest, and daily extravaganzas of birding plus abundant big game including Elephant, Giraffe, Zebra, Lion, Leopard, and Cheetah in the famous national parks of Arusha, Serengeti, Ngorongoro, Manyara, and Tarangire.
Short Costa Rica: Toucans to Quetzals, March 2–10, 2024 with Brad McKinney and a local leader; $4,495 in double occupancy from San Jose. Limit 14; 7 spaces available.
A dandy of a trip combines cool cloud forest with warm lowland rainforest. Cerro de la Muerte and the Sarapiquí lowlands at La Selva are primary birding locations for this tour and two of the best birding locations in Costa Rica.
Best of Belize: Crooked Tree & Chan Chich Lodge, March 10–18, 2024 with Barry Zimmer and Brian Gibbons; $7,495 in double occupancy from Belize City. Limit 14; 5 spaces available.
A premier Belize birding and natural history experience centering on two outstanding lodges. Incomparable Chan Chich Lodge is one of the finest jungle lodges anywhere, set amid thousands of acres of undamaged lowland forest teeming with birds and mammals. Please note that Brian Gibbons was recently added to this tour as second leader.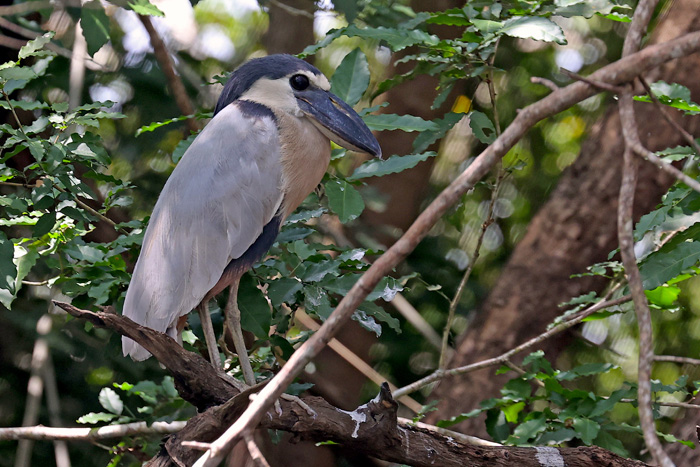 Boat-billed Heron (Belize) - Michael O'Brien
Belize: A Relaxed & Easy Tour, March 14–21, 2024 with Michael O'Brien and Louise Zemaitis; $4,545 in double occupancy from Belize City. Limit 12; 1 space available.
This ever-popular tour offers a compact route, two excellent lodges, and access to a complex of habitats, each teeming with wonderful tropical birds.
Trinidad: Rainforest & Coast, March 30–April 7, 2024 with Rafael Galvez and a second leader to be announced; $6,695 in double occupancy from Port of Spain. Limit 14. Click here to view webinar.
The re-opening of the world-famous Asa Wright Nature Centre is cause for celebration! This tour features a multi-night stay at the famous property, in addition to visits to Grand Riviere for piping-guans and possibly sea turtles, and the Caroni Swamp for the renowned evening flight spectacle of Scarlet Ibis.
E-BIRD BIG YEARS FOR DION HOBCROFT & DAVID ASCANIO
One of the obvious benefits of a career as a professional birding guide is the opportunity to see birds in a multitude of exceptional locations. A tour leader with eight or more major trips a year to an array of international destinations can see well over a thousand species of birds. It so happens that in 2023, VENT tour leaders Dion Hobcroft and David Ascanio have been neck and neck on their way to seeing an astonishing 2,000 species of birds this year!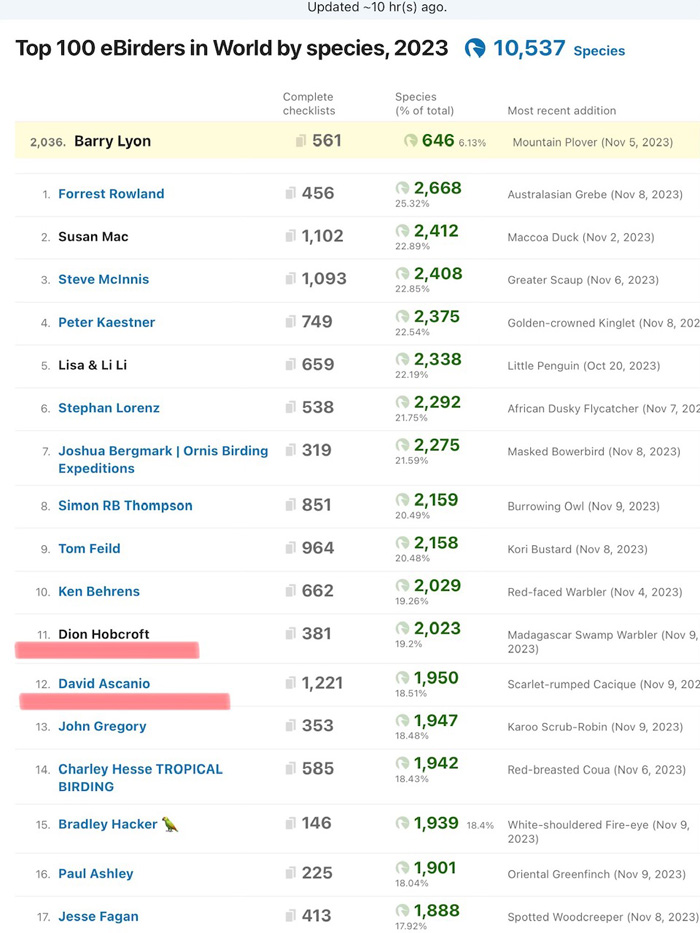 e-Bird Stats
Using the Cornell Lab of Ornithology's e-Bird application, Dion and David have logged their birding exploits over the course of the year from one tour or trip to the next. Without actively planning their tour schedules to maximize the number of birds they would see, they have by coincidence found themselves right next to each other, flirting with the Top Ten list of e-Birders for most birds seen in the world this year. Dion surpassed the 2,000 mark last week while leading our Madagascar Highlights tour, and days later added Madagascar Swamp Warbler for number 2,023 on the year. Immediately behind him, David recorded the Scarlet-rumped Cacique while guiding our annual fall Relaxed & Easy tour to Costa Rica. That bird was number 1950 on the year for David. With a tour to Colombia still in store, and a December trip to Texas yet to come, we're pulling for David to hit the 2,000 mark as well!
Behind the scenes, it has been great fun to follow the birding endeavors of each of these outstanding guides. We will provide more updates as we close in on the end of the year.
As I recently celebrated my 83rd birthday, I read and appreciated the following piece by Verlyn Klinkenborg, which appeared years ago in the New York Times. I feel that it captures the end of the autumn season with winter coming on.
"Late November comes and the fallen leaf, the empty pod and the hibernating woodchuck are typical of the season. The vast spectrum of life that leafed and bloomed and fruited, hopped and flew and swam and ran from April through October now needs a rest and sleep. It needs winter simply because life must catch up some time, must compensate for the intensity of its summer existence.
We usually think of the dead stems and fallen leaves as the year's waste, the clutter left behind when summer's work is finished. But this is not entirely true. The annual plant has had its season and is dispensable, but it leaves behind the seeds for a new generation of its kind. The ephemeral insect whose life span never includes a second summer, is reduced to a dead husk, but has left something of itself in egg clusters on a weed stem or a fallen leaf, to crawl and fly and hum and buzz in another August. Actually, the autumn clutter is the rumpled bed in spring, which all these germs of life will sleep until another spring. It isn't waste at all.
And the dormancy of a seed or an egg isn't time wasted, either. Some seeds and some eggs will not germinate without such a rest. Some lose their spark of life unless kept in darkness. And some will never make new life until they have had the fierce bite of hard frost. It is all a part of a pattern complex beyond belief but clearly dominated by the seasonal rhythms. Without winter there would never be another summer, and without the long, cold sleep we would never know another spring."
I hope you are enjoying the fall season wherever you live.
Best wishes,
Victor Emanuel