VENTFLASH #280
October 5, 2021
Dear friends:
Many of our longtime travelers will remember the name Greg Lasley. Through the 1980s into the early 2000s, Greg was a part-time tour leader for Victor Emanuel Nature Tours, leading tours throughout North America and to Antarctica and El Triunfo, Mexico. Sadly, Greg passed away from pulmonary fibrosis early this year.  
This Friday night, October 8, at 6:00 p.m. CDT, Greg will posthumously receive the Victor Emanuel Conservation Award from Travis Audubon Society, here in Austin, Texas, for his contributions to natural history in Central Texas and beyond. The Victor Emanuel Conservation Award Celebration will be a virtual event and attendance is free. As part of the ceremony, I, along with VENT COO Barry Lyon and our longtime close friend and fellow naturalist Chuck Sexton, will share memories of Greg. For more information about the event or to register, please visit the website of Travis Audubon. I hope you will consider joining us online for what promises to be a very special occasion.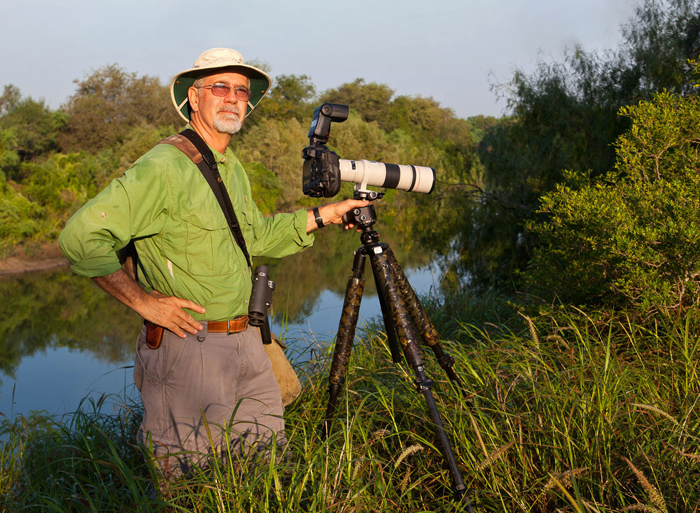 Greg Lasley - photo by Mike Murphy
I first met Greg Lasley in 1978 after I had relocated from Houston to Austin. Greg was active in the local birding community to which I was brand-new. Over a period of years, he became one of my closest friends. In his full-time job, Greg was an officer in the Austin Police Department, yet his career allowed him enough time to also guide tours for VENT.  
Greg was a workhorse. Beyond his careers in law enforcement and tour leading, he was also a leader in the Texas birding community, serving as co-editor of the Texas section of American Birds. For many years he was secretary of the Texas Bird Records Committee and served on the American Birding Association's Checklist Committee. Greg was also a superb wildlife photographer and a pioneer in Odonata (dragonflies and damselflies) photography in particular. Through his involvement in iNaturalist, an online citizen science database, he helped thousands of people all over the world identify creatures they had photographed. Greg's detailed records of birds and other animals will play a huge role in conservation by documenting the occurrence and changes in populations of many species.
Best wishes,
Victor Emanuel
Victor Emanuel Nature Tours  |  2525 Wallingwood Drive, Suite 1003  |  Austin, TX 78746
Phone: 800-328-8368 / 512-328-5221  |  Email: info@ventbird.com
Follow us on
© 2021 Victor Emanuel Nature Tours. All rights reserved.