VENTFLASH #297
June 1, 2023
Dear friends:
After spending time at my beach house on the Texas coast in April, I returned to my home in Austin full of gratitude for all the wonderful birds I had seen at the High Island sanctuaries and the great people I met there. While viewing lovely Scarlet Tanagers, I knew I probably would not see another one in such glorious plumage for another year. Those thoughts enhanced my appreciation of those birds all the more. Most of all, I enjoyed each warbler I saw. I don't know why I became so attached to warblers. They are small birds, yet many are clad in a lovely array of colors that are often different on various areas of their plumage. Every time I see one, I study it for as long as I can and observe its behavior. Some, such as my favorite, the Hooded Warbler, stay close to the ground. The Ovenbird walks on the ground turning up dead leaves, hoping to find an insect. Others are high in a tree sticking their heads in a mass of leaves. Each has its own personality. All of them bring me joy.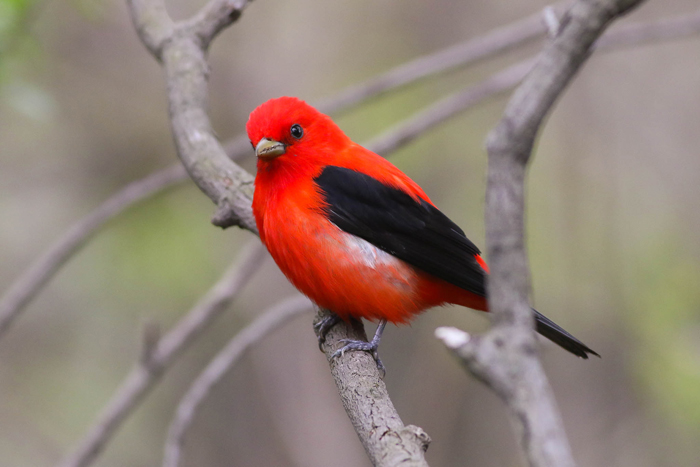 Scarlet Tanager - Michael O'Brien
Back in Austin, I knew my chances of seeing a warbler species that I had not seen on the coast were slight. On an afternoon in early May, I walked in the lovely park across the street from my house. I remember feeling disappointed at the seemingly complete lack of warblers. But then, while sitting in a chair below a spreading oak, a male Magnolia Warbler appeared. I had not seen this species on the Texas coast. I was exhilarated to add a warbler to my year's list. On the very next day, I went to a park that is a good local hotspot for migrating warblers. Even though I had ended the previous day with great looks at that Magnolia, I longed for one more warbler. Right away I spotted a Wilson's Warbler, another species I had not yet seen this year. That Wilson's was my thirtieth warbler species for the year! I thought about the title of my memoir, One More Warbler. My friend Steve Harrigan had suggested that title. It was perfect.
IN THIS ISSUE:
INDIA: BIRDS AND CULTURE ABOARD THE MAHARAJAS' EXPRESS
AMAZON RIVER CRUISE 2024: $1,000 EARLY REGISTRATION DISCOUNT OPPORTUNITY!
OUR NEXT WEBINAR: AMAZON RIVER CRUISE
SUMMER AND FALL TOURS WITH SPACES STILL AVAILABLE
CLOSING THOUGHTS
INDIA: BIRDS AND CULTURE ABOARD THE MAHARAJAS' EXPRESS
More than twenty years ago, VENT offered a new way to experience the magnificent country of India: a birds and culture tour aboard a luxury train. Palace on Wheels was the name of that first departure, an unforgettable journey that paved the way for many subsequent outstanding train trips in India. In 2019 we traveled aboard the Maharajas' Express, India's newest and most luxurious train yet. That trip, India: Birds & Culture on the Maharajas' Express, was wonderful in every way and marked a new high for us in terms of the quality of experience delivered. With the world returning to a post-pandemic "normal," we operated another highly successful trip aboard the Maharajas' Express this past January. Given the clear appeal of this tour among our travelers, I am delighted to announce that VENT will again operate this fabulous trip early next year, January 31–February 16, 2024.
This tour is among the most amazing we have ever operated—a superb mix of birding and wildlife and historical and cultural wonders. The centerpiece of this journey, from Mumbai to Delhi, is a five-night stay on the Maharajas' Express.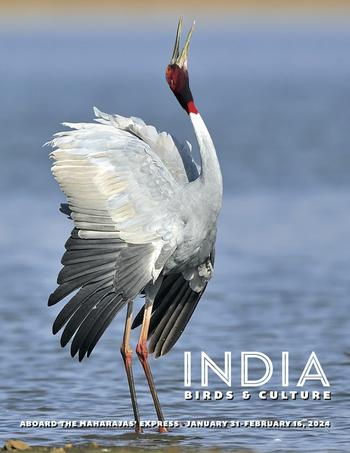 Click on photo to view brochure
Many wonderful events are included on this tour, and every day brings new delights. The birds and mammals are marvelous, particularly at Ranthambore and Keoladeo national parks. The palaces of the princely cities of Udaipur, Jodhpur, and Jaipur are extraordinary. Among the many cultural highlights are a folk dance under the stars amid the sand dunes of the Thar Desert, a luncheon on the veranda of the maharaja's palace of Jaipur, and evening and morning visits to the magnificent Taj Mahal.
As a kid, I read Rudyard Kipling's Jungle Book. One of the main characters in that book is the tiger named Shere Khan. Throughout my life I had always hoped to see a tiger. When I finally saw my first tiger, many years ago on a trip to India, I said, "Shere Khan, at last." On this trip, we'll spend two days at Ranthambore, where we'll have good chances of seeing a tiger, among an array of other wonderful birds and mammals.
Co-leading this trip with me is a superb team of VENT leaders: Max Breckenridge, Brian Gibbons, Michael O'Brien, Louise Zemaitis, and Barry Lyon. We will be joined by Raj Singh, whose company has for years organized VENT's tours to India. Not only a native of India, Raj is a descendant of a maharaja. He is an authority on all facets of his country and will be eager to share his knowledge with our tour group.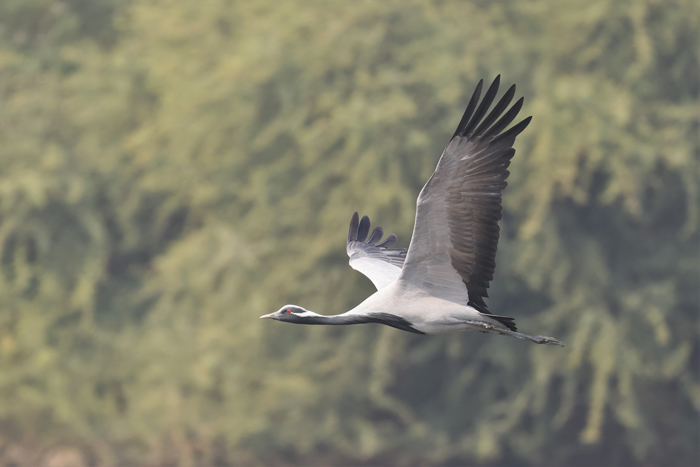 Demoiselle Crane, India - Brian Gibbons
Last Thursday, May 25, we produced a webinar featuring this trip. I urge you to watch this presentation, which provides a full overview of the tour from start to finish. In addition to enticing imagery and narration by me, Barry, Max, and Brian, we included a wonderful 11-minute video (which begins at 44 minutes) from the India National Railway that focuses exclusively on the train and experiences to be had while aboard. Please click this link, India: Birds & Culture on the Maharajas' Express, to view this production.
Over the course of my 46-year career, I have led over 200 tours and have visited all seven continents. This India train trip is one of my five all-time favorite trips. I hope you will reserve a cabin. I assure you that this trip will be one of the best experiences of your life.
For more information or to register, please contact Tour Operations Manager Greg Lopez by email (greg@ventbird.com) or phone (800.328.8368 or 512.328.5221).
India: Birds & Culture on the Maharajas' Express, January 31–February 16, 2024 with Victor Emanuel, Max Breckenridge, Brian Gibbons, Michael O'Brien, Louise Zemaitis, Barry Lyon, and Raj Singh; $22,575 in double occupancy from Mumbai (ends in Delhi). Limit 40.
Those wanting to spend more time in India are encouraged to join optional pre- and post-tours. Our Kanha National Park pre-trip offers increased chances for Tigers and a range of birds we won't see on the main tour, while our Kaziranga National Park Extension promises an array of special birds, such as Greater Adjutant, and a pageant of mammals, including Asian Elephant and Indian Rhinoceros.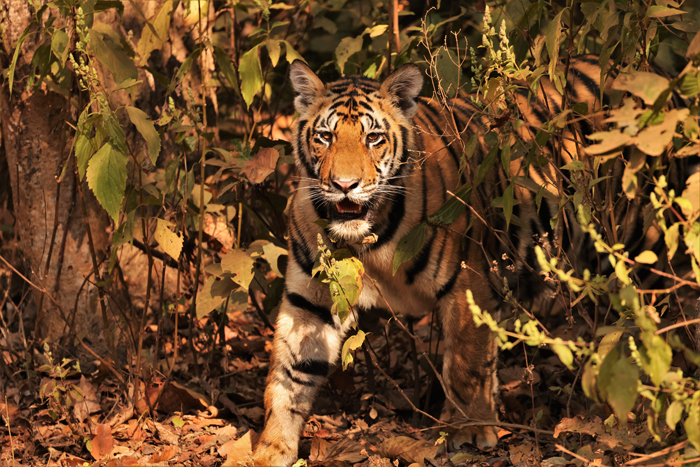 Bengal Tiger, Kanha National Park, India - Brian Gibbons
Kanha National Park Pre-trip, January 26–February 1, 2024, with Max Breckenridge and Brian Gibbons; $3,730 in double occupancy from Delhi (ends in Mumbai). Limit 15.
Kaziranga National Park Extension, February 16–21, 2024, with Max Breckenridge and a local leader; $3,995 in double occupancy from Delhi. Limit 15.
AMAZON RIVER CRUISE 2024: $1,000 EARLY REGISTRATION DISCOUNT OPPORTUNITY!
Our Amazon River Cruise has long been one of our most popular tours. Next winter VENT will operate two departures: January 25–February 4 and February 15–25. In early April I announced that spaces on these voyages will be available with an early registration discount incentive: Register by August 1 and receive a $1,000 per person early registration discount! I am pleased with the response we have received to this point, but I'm again publicizing this announcement in case you missed it the first time!
Visiting remote and unspoiled regions, this trip affords an unforgettable opportunity—a full Amazonian rainforest and river experience. While birding is an important element of this program, we will be immersed in the full suite of Amazonian wildlife.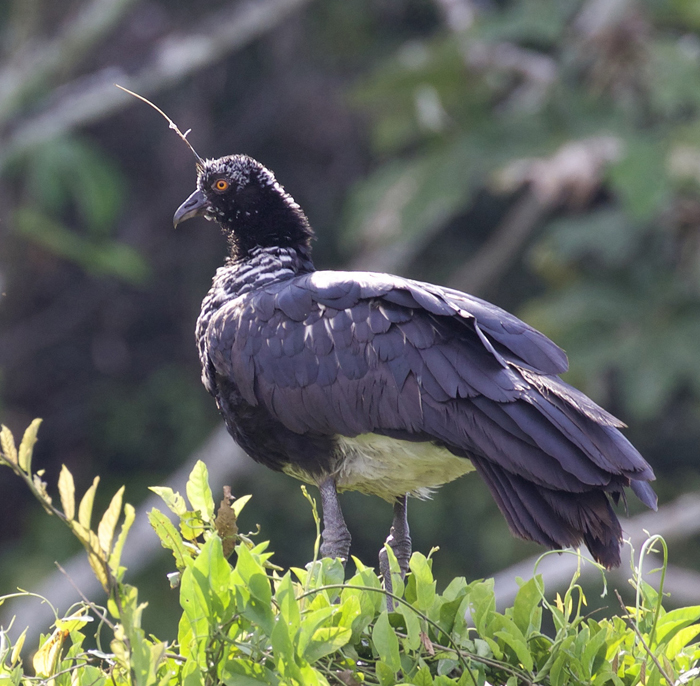 Horned Screamer - David Ascanio
Highlights from this year's cruise included Horned Screamer, Hoatzin, fourteen species of hawks and eagles, three species of owls, five species of kingfishers, five species of toucans, ten species of woodpeckers, nineteen species of parrots and macaws, four species of primates, and two types of river dolphins among hundreds of other birds, mammals, reptiles, and more.
For these departures, we'll again use the beautiful Zafiro, featuring elegant design, superior stability and viewing conditions, spacious rooms with private viewing decks, good cuisine, and an excellent staff. It is one of the most comfortable river boats available. Finally, our leadership teams for these cruises are among the most knowledgeable guides in tropical ornithology. David Ascanio, Andrew Whittaker, and Doris Valencia will co-lead the first departure, while David and Doris will be joined by Paul Greenfield on the second.
For an in-depth look at our Amazon River Cruise, please view our webinar, produced eight months ago.
Amazon River Cruise: Birding and Natural History Odyssey aboard Zafiro, January 25–February 4, 2024 with David Ascanio, Andrew Whittaker, and Doris Valencia; cabins start at $10,495 per person in double occupancy from Lima. Limit 31. Register by August 1 and receive a $1,000 per person early registration discount!
Amazon River Cruise: Birding and Natural History Odyssey aboard Zafiro, February 15–25, 2024 with David Ascanio, Doris Valencia, and Paul Greenfield; cabins start at $10,495 per person in double occupancy from Lima. Limit 31. Register by August 1 and receive a $1,000 per person early registration discount!
OUR NEXT WEBINAR: AMAZON RIVER CRUISE
Our program of VENT Webinars continues next month with an encore presentation of Amazon River Cruise: A Birding & Natural History Odyssey Aboard Zafiro. This webinar was last shown in September 2022, but enough time has lapsed since that showing that it's likely many of our travelers either missed it or may not be aware of it.
This webinar will be presented Thursday, June 8, at 1:00 pm CDT, with David Ascanio, Andrew Whittaker, and Doris Valencia. Please check your email for the invitation sent Tuesday, May 30, or click here to register.
The Amazon River, the most diverse watershed on earth, hosts the world's largest avifauna and myriad other life forms. Our Amazon River Cruise is always among our most popular departures. From Iquitos, Peru, we will explore three major rivers and various tributaries aboard the beautiful and extremely comfortable Zafiro. Individual cabins face the river, and an upper deck offers a delightful wildlife observation experience. Excellent cuisine and service are provided by a riverboat crew that is among the best in the world.
SUMMER AND FALL TOURS WITH SPACES STILL AVAILABLE
We realize that most people have already made their travel plans for the rest of the year, but if you are still open to travel in the next six months, I thought you might like to know about some of our 2023 departures on which spaces are still available. Each of these tours promises wonderful travel experiences. Birding is always at the forefront, but these departures, depending on the destination, also offer superb mammal viewing and exceptional landscapes, while our tour to the Republic of Georgia includes unforgettable cultural highlights.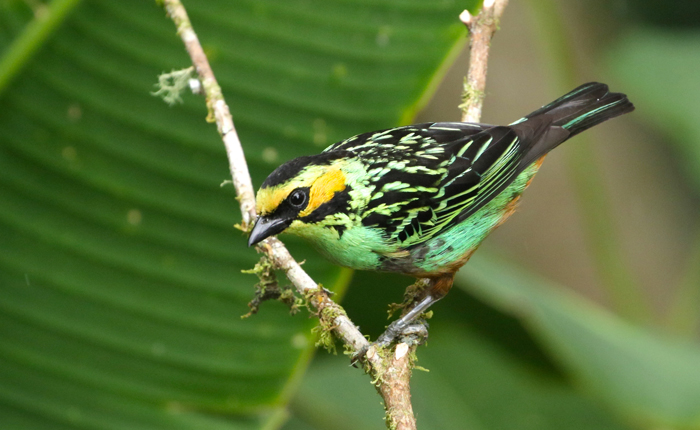 Golden-eared Tanager, one of the many stunning tanagers found in Ecuador - Steve Hilty
Southern Ecuador Hummingbird & Tanager Extravaganza, August 20–31, 2023 with Paul Greenfield and Remy Grefa; $4,695 in double occupancy from Guayaquil. Limit 8; 4 spaces available.
This tour visits the less-often visited southern part of Ecuador, where you'll enjoy unforgettable avian spectacles featuring almost 40 species of hummingbirds and 30 tanagers among many others.
Snow Leopards of Mongolia: Birds & Rare Mammals of the Mongolian Wilderness, September 1–15, 2023 with Attila Steiner and Rafael Galvez; $11,645 in double occupancy from Ulaanbaatar. Limit 10. 4 spaces available.
Good chances for seeing Snow Leopard among many other remarkable birds and mammals in spectacular wilderness settings.
Autumn Grand Manan: Birds & Whales, September 4–10, 2023 with Barry Zimmer and a second leader to be announced; $3,895 in double occupancy from Bangor. Limit 12; 6 spaces available.
A wonderful Canadian maritime getaway features migrating shorebirds, seabirds, and landbirds, with nearly 20 species of warblers and several types of whales possible.
Caucasus Georgia: Birds, Ancient Chants & Wine, September 23–October 9, 2023 with Rafael Galvez and Attila Steiner; $8,795 in double occupancy from Tbilisi. Limit 14.
A unique program featuring amazing birding, landscapes, and cultural experiences including: a world-renowned raptor migration, special birds of the Caucasus Mountains, and centuries-old chanting and wine-making traditions.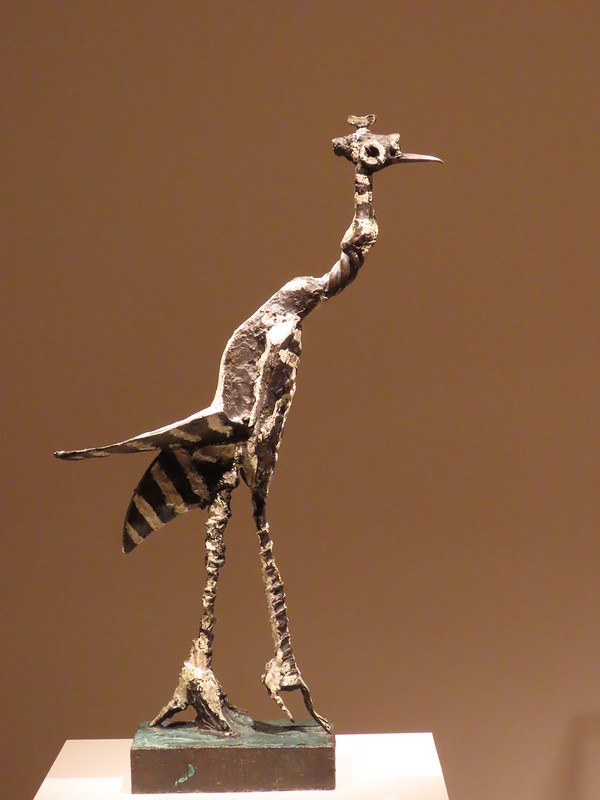 Picasso's 1952 "Crane," in the Berggruen Museum, Berlin - Rick Wright
Germany: Birds & Art in Berlin & Brandenburg, September 28–October 7 with Rick Wright; $4,395 in double occupancy from Berlin. Limit 8.
Another of our Birds & Art programs features amazing Berlin and its assortment of museums and architectural wonders. In and around the city we'll seek a range of enticing birds including Great Bustards, Common Cranes, and more.
Escape to Amazonian Colombia: Mitú, October 10–19, 2023 with Steve Hilty and a local leader; $6,095 in double occupancy from Bogotá. Limit 8; 3 spaces available.
A brand-new tour to an overlooked region of the Colombian Amazon features many special birds representing species of the northern Amazonian and Guianan avifaunas.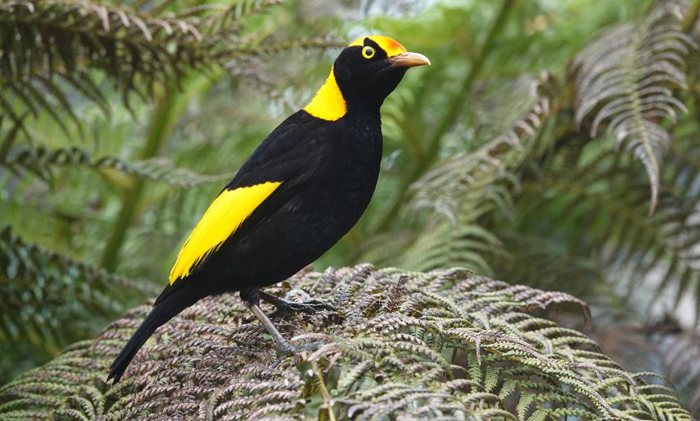 Regent Bowerbird, Australia - Max Breckenridge
Grand Australia Part II: Queensland, Victoria & Plains-wanderer, October 12–29, 2023 with Scott Baker; $8,995 in double occupancy from Brisbane (ends in Melbourne). Limit 10; 3 spaces available.
Join one of VENT's newest leaders, Scott Baker, for a classic tour of northeast Australia's Queensland state.
Ecuador: Avian Jewels of the Northwest Andes: Hummingbirds, Tanagers & Antpittas Galore!, November 7–16, 2023 with Paul Greenfield and Remy Grefa; $4,295 in double occupancy from Quito. Limit 12.
This is our flagship Ecuador tour, and for good reason. Participants should expect many dozens of dazzling hummingbirds and tanagers among other spectacular birds, such as Plate-billed Mountain-Toucan and Toucan Barbet.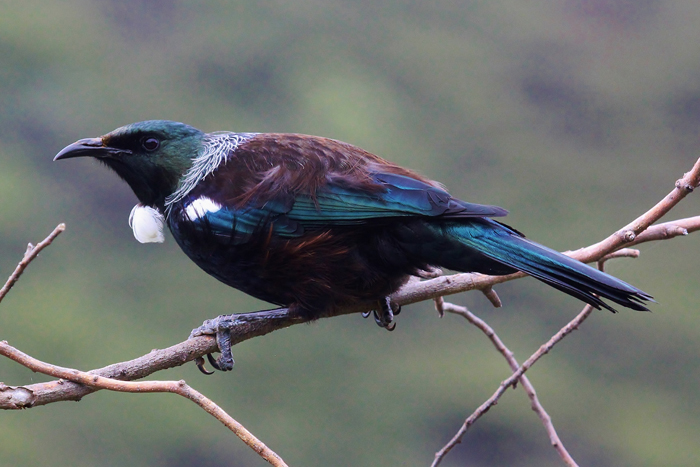 Tui, a classic New Zealand bird with a fabulous song - Dion Hobcroft
New Zealand Highlights, November 30–December 18, 2023 with Dion Hobcroft and a local leader; $8,995 in double occupancy from Auckland (ends in Dunedin). Limit 12; 5 spaces available. Register by July 1 and receive a $500 early registration discount.
Our tour to one of the world's most beautiful countries showcases endemic landbirds, incomparable seabird spectacles, and magisterial scenery.
After many wonderful days on the Upper Texas Coast, I returned home with the knowledge that although I would not be seeing as many migratory birds, I knew that nature would have more marvelous experiences in store. When the rainfall is good, the Texas wildflower show is among the best in the world. This has been such a year. In late March and early April, I saw fields covered with Bluebonnets and Texas Paintbrush. In May, these same flowers have been succeeded by thousands of Gaillardia (Blanket Flower) and Monarda (Bee Balm), two of my favorite flowers. A few migrant warblers are still being spotted, including gorgeous Magnolia and Bay-breasted warblers.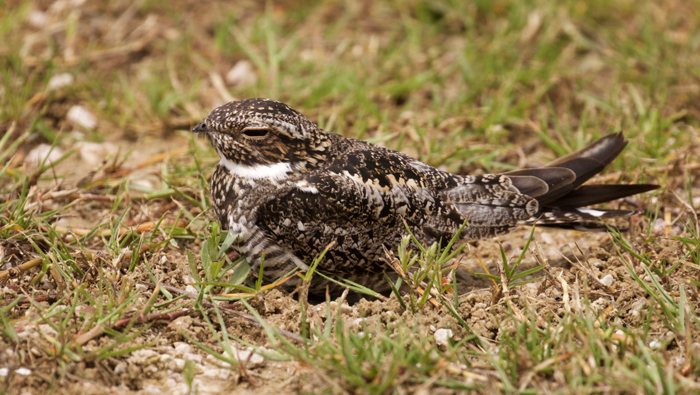 Common Nighthawk - David Ascanio
I love it when observation of a given bird raises questions about its behavior and life cycle. A few Common Nighthawks have been feeding high over the park near my house for the last several weeks. A few days ago, I saw a flock of twenty nighthawks right in front of my house, circling low. That sighting caused me to wonder if those birds were a migratory flock headed much further north. Years ago, I attended a local rodeo in northwest Montana when all of a sudden, a flock of 200 nighthawks appeared and circled for a short time, and then headed south. Birds and nature offer us so much beauty, as well as, at times, questions. All of these experiences bring joy into our lives.
Best wishes,
Victor Emanuel