When I founded Victor Emanuel Nature Tours over 40 years ago, I never dreamed it would become the largest company in the world specializing in birding tours. Birding tours were just developing in the early 70s when I started taking individuals out for trips. After planning trips to Yucatan in conjunction with the National Audubon Society's 1974 convention, VENT expanded into Texas, Arizona, Mexico, Trinidad, Tobago, Kenya, and Botswana. I have wonderful memories of trips led by Peter Matthiessen, one of the world's finest natural history writers, and the incomparable Roger Tory Peterson.

We have continued to grow, adding new destinations and new leaders almost every year. This year we will offer some 150 tours to over 100 destinations ranging from the Texas coast to the forest-clad Himalayan highlands of tiny Bhutan, to the huge expanses of Brazil's bird-rich Pantanal, and to Antarctica, Africa, and many places in-between.

Our success has been due to the quality of our leaders and the standards they maintain. Almost from VENT's inception I was fortunate to be joined by outstanding birders who had a talent for finding birds and showing them to others, and for handling the complex logistics of a tour. Included in this group were David Wolf, Steve Hilty, Bob Ridgely, the late Ted Parker, Kenn Kaufman, Kevin Zimmer, and Barry Zimmer.

VENT also benefited early on from the support, advice, and encouragement given us by my good friends, the late Peter Matthiessen and the late Roger Tory Peterson.

Working hand-in-hand with our leaders to make every trip a satisfying experience for each participant is a highly skilled and professional office staff that is dedicated to keeping you well-informed and prepared for every tour. When you call the VENT office you are dealing with a staff that has over 80 years of combined experience with travel and tour operation. You can feel confident that your questions and requests will be handled by the best in the business.

VENT has played a pioneer role in helping develop ecotourism. We have been a strong advocate of supporting local conservation organizations, using local drivers and guides, and using in-country tourism operators. In 1986, VENT conducted the first youth birding camp in Southeast Arizona. Every summer since then, we have conducted these camps for young birders ages 14 to 18. During the past 30 years over 400 young birders have attended these VENT camps, which are co-sponsored by the American Birding Association, Black Swamp Bird Observatory, and Leica Sport Optics.

In 1998 and 1999 we were delighted to expand into new territory by offering a cruise program designed exclusively for birders. Since then, our cruise program has expanded to include general natural history, as well as history and culture. Classic cruise destinations such as Antarctica, the Amazon, and the Galapagos Islands are traditional favorites, while other destinations such as the Bering Sea, the South Pacific, Baja California, Greece, and the British Isles regularly appear on our schedule.

Thanks to your support we have created a marvelous organization that gives us the opportunity to do what we like best and enables us to bring excitement, pleasure, and enrichment to the lives of thousands of people. We look forward to our upcoming tours and the opportunity to share and appreciate the vast diversity of nature.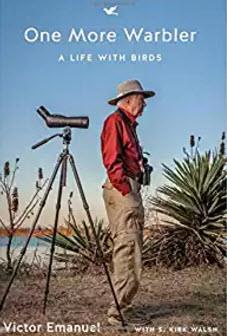 Victor Emanuel releases his book 'One More Warbler'

With stories of sighting rare birds ranging from an Eskimo Curlew to the cranes of Asia, one of America's foremost birders recalls a lifetime of birding adventures.

| | |
| --- | --- |
| Victor Emanuel, Naturalist & Birdwatcher. | Victor Emanuel at BookPeople, Austin, Texas, July 15, 2017. |