June 4, 2020
VENTFLASH #268: 2022 TOUR SCHEDULE, RISK-FREE TRAVEL OFFER & MORE!
Dear friends: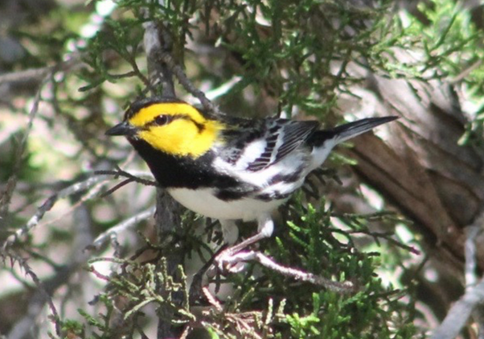 Golden-cheeked Warbler © Barry Zimmer
The past few months have been some of the most challenging of our lives. Fortunately, we have had our families, friends, and nature to sustain us. After a wonderful five weeks at my beach house on the Bolivar Peninsula of the Texas coast, I returned to Austin on May 1. May is the best time to enjoy bird migration in Central Texas. I saw 26 warbler species while I was at Bolivar. I added five more in the Austin area, including the Golden-cheeked Warbler. For central Texas birders, seeing their first Golden-cheeked of the year is a special experience. For a week I birded Mills Pond, a local birding hot spot, almost every day and saw ten species of warblers each time, including gorgeous Bay-breasted Warblers.
On a less fortunate note, VENT tour leader and Venezuela resident David Ascanio has been stranded in Texas since the end of March. On May 1, David moved to my beach house while waiting for international air travel to Central and South America to resume, at which point he will be able to get home. Separated from family and friends, these times are not easy for David; however, the opportunity to live in a beautiful place, surrounded by nature, has been a source of great relief and comfort for him. He uses words such as "paradise" and "magical" to describe the atmosphere and natural wonders of Bolivar. These are thoughts I love to hear. They are precisely why I bought that house in that location almost twenty years ago.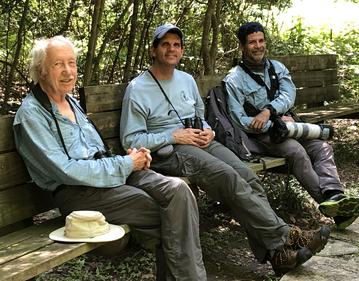 Victor Emanuel, Barry Lyon, David Ascanio © Brooke Smith
During these difficult times, I think about how the rhythms of nature continue despite what is happening in the world. While we can't be certain of what will happen in the world in the next few months, I find solace knowing that the shorebirds, warblers, and other landbird migrants will pass through our lives in the late summer and fall just as they have for tens of thousands of years. That knowledge is reassuring and gives us a lot to look forward to. Every day we can experience things in nature that brighten our lives. If we are observant and have the right attitude, almost every nature walk can be very rewarding.
Here at VENT we are all well. Our staff is hard at work from their homes, booking services for our 2021 tours while simultaneously completing work on our master schedule for 2022. In addition to operating a traditional slate of tours, we have some exciting new trips planned. VENT has been one of the most successful birding and nature tours in the world for over forty years, and this is due to the tremendous efforts of our terrific leaders and office staff, and, of course, to the many wonderful people that take our tours. We are looking forward to once again sharing nature with the people who love our tour leaders and our tours. Our travelers are more than "participants" or "clients"—they are friends. I doubt any company has ever had a better base of support.
In this issue:
2022 TOUR SCHEDULE NOW AVAILABLE: EARLY REGISTRATION DISCOUNT OFFER
RISK-FREE TRAVEL INCENTIVE OFFER FOR 2021 AND 2022 TOURS
WEBINAR SERIES DEBUT FEATURING VENT TOUR LEADERS
SUMMER READING RECOMMENDATIONS
2022 TOUR SCHEDULE NOW AVAILABLE: EARLY REGISTRATION DISCOUNT OFFER
It goes without saying that everyone is looking forward to that time when we are "post-Covid," to a time when we can feel comfortable resuming our routines and movements without the fear of becoming ill. At VENT, we are bursting at the seams to get back to sharing nature with our travelers and experiencing the world's natural wonders in their myriad forms. Unfortunately, we are not there yet. While anticipating better days ahead—whether through a vaccine or simply waiting for the crisis to abate naturally—the reality is that few people are willing to travel at this time.
Looking ahead to next year, we are optimistic that people will feel more confident about traveling and getting back into nature. By the time we reach 2022, we expect massive improvement of the situation on all fronts, with the travel industry enjoying a strong rebound. This said, we understand that some of our travelers are not likely to begin traveling again until next year at the earliest, while others will choose to stay on the sidelines until 2022. For this reason, we have produced our next tour schedule (2022) at an earlier date than ever. While some aren't considering travel any time soon, we know that many will be ready to venture out by 2022, and we thought you should be aware of your options. By booking a 2022 tour now, you will be locking in future plans at a time when the worst of the pandemic crisis will have long since abated. And you will be giving yourself something wonderful to look forward to as we wait for these difficult times to pass.
To encourage 2022 tour registrations, we are offering a $500 early registration discount for all new bookings. Reserve your space(s) on any 2022 tour between June 5 and October 1, 2020 and receive a discount of $500 per person on the published tour fee. This unprecedented offer allows our travelers to book a tour, or multiple tours, and lock in a significant saving long in advance of the tour departure.
Our 2022 schedule includes departures to many familiar domestic and international destinations, in addition to a slate of brand-new tours and tours that we have not operated in a number of years. At this time, our 2022 schedule is mostly complete, but we continue adding tours here and there as we fill in the final blanks. I encourage you to visit our website and check out our offerings, and to check back regularly. A number of our 2021 tours are filling up, and I suspect that there will be great demand for tours in 2022. 
I hope you will consider a 2022 tour with VENT and will take advantage of this special opportunity for savings, available until October 1, 2020.      
RISK-FREE TRAVEL INCENTIVE OFFER FOR 2021 AND 2022 TOURS
We understand the hesitancy most people are feeling about booking future travel at this time. Concern for one's health and safety is paramount, but dealing with travel restrictions and the uncertainty of when the crisis will pass are also major factors in our thinking. As we work through this unprecedented time, one bit of feedback that we've received from some of our travelers is in the form of a question: "Why should I book future travel now when I still might not feel confident about traveling as the departure date approaches?"
This is an excellent question. In response, I am announcing that VENT is temporarily suspending its regular cancellation and change policies in place of a "Risk-Free" cancellation and change policy that grants greater flexibility for our travelers. Here's how it works:
•    Reserve your space now on any 2021 or 2022 tour between June 5 and October 1, 2020 
•    Receive the assurance that you have until 150 days prior to departure to either cancel your reservation or transfer your reservation to a future tour without paying cancellation or change fee penalties
We hope that the flexibility provided by this offer gives you confidence and peace of mind as you weigh the decision of whether or not to travel.
WEBINAR SERIES DEBUT FEATURING VENT TOUR LEADERS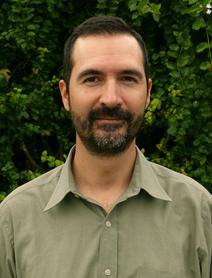 Rafael Galvez 
For a long time, I have sought greater exposure for the public to our tours and tour leaders than is possible through traditional means. I am proud of our website, annual tour catalogs, and other materials we produce, all of which provide wonderful information about our tours and our company; however, I have long desired for our tour leaders to play a standout role in communicating with our travelers. This idea is set to be realized with the debut of VENT Webinars.
Through VENT Webinars, you will have the opportunity to join live presentations, 30–40 minutes in duration, that showcase a select tour or region where we offer tours. Hosted by VENT tour leaders and illustrated with route maps, images of birds, animals, landscapes, and cultural attractions (depending on the tour), each webinar is designed to offer a more intimate feel for the places we travel and the experiences to be had than is otherwise available in our itineraries. You will find it a treat to hear directly from those who lead our tours. Every webinar will conclude with the opportunity to ask questions and engage with our tour leaders directly. 
The subject of our first VENT Webinar is a brand-new tour: Caucasus Georgia: Birds, Ancient Chants & Wine, a tour that will operate in September/October 2021. Hosting the webinar will be Rafael Galvez, a "Renaissance" man with intimate knowledge of the Republic of Georgia including its birds, people, and folkloric tradition.
Our webinar will take place Thursday, June 18, at 11:00 a.m. PDT/12:00 MDT/1:00 CDT/2:00 EDT. You will receive an invitation next Monday, June 8. I hope you can attend the debut of this much anticipated series.
Future webinars will feature an array of other tours, and will grow to encompass a wealth of birding and natural history related topics, all from an educational, instructional, or informational standpoint.
SUMMER READING RECOMMENDATIONS
In these challenging times, a good book can go a long way toward setting our minds at ease or offering an escape from bad news. With summer on the horizon, I thought you might be interested in a selection of books that I personally recommend highly. Each of the following titles is among my favorite books and each is a demonstration of superior nature writing.
Spring in Washington, by Louis Halle (1947). A career State Department official, Halle spent his professional life in Washington, D.C., where, outside his work with the federal government, he honed his passion for nature. He is best-known for Spring in Washington, a magisterial chronicling of the unfolding of spring in the nation's capital over several months. Halle's descriptions of birds and birdsong represent some of the most beautiful natural history writing I've encountered. In conveying the beauty and wonder of nature, he manages, to great effect, to also communicate his feelings about life.
The Tree Where Man Was Born, by Peter Matthiessen (1972). This was the first of Peter's books I read and the first of his three major works on Africa. In this wonderful book—part travel log, part natural history and anthropology chronicle—he describes his first trip to Africa, a journey from the Sudan to Kenya, and subsequent trips throughout Kenya and northern Tanzania. A hallmark of Matthiessen's non-fiction is his mastery of the descriptive writing style, which he demonstrates through arresting and at times haunting images of the immemorial landscapes of East Africa, its people, and its wildlife. Overall, this book provides a superb overview of East Africa.   
The following is an excerpt from Jane Goodall's introduction in the Penguin Classics edition (2010): "Peter Matthiessen's writing is a triumph of lucid evocative prose, superbly crafted. His love for and deep understanding of East Africa informs his narrative, capturing the magic of its changing landscapes. He shares all the emotions that Africa can evoke in the traveler—frustration, anger and sadness; excitement and fear; wonder and tranquility."
Journey Into Summer, by Edwin Way Teale (1960). This book describes a 19,000-mile road-trip Teale made with his wife across North America as the summer season unfolds. To read this beautiful book is to be made more observant and appreciative of the wonders of nature that are all around us every day.
I hope you will read one or more of these books, and maybe even let me know what you think!
Best wishes,
Victor Emanuel