VENTFLASH #270
August 27, 2020
Dear friends:
There is a line from a Beatles song that goes, "I get by with a little help from my friends." Never in my life have these words rung as true as they do now. Except for their children, my parents valued their friends more than anything in their lives. Through their work and hobbies, they made many wonderful friends. My mother was an antique dealer and artist. My father was a journalist and a superb bridge player.
My passion for birds and birding has given me more friends than anything else in my life. Some of my friends are people I met years ago as teenagers, who attended our summer youth camps. Many are people I met as participants on tours. Others are people who operated our tours. Two close friendships developed with people from backgrounds so unexpected that it is virtually certain I would not have met them were it not for birding. Inocente Argueta Lopez is a farmer in a little town at the base of the Sierra Madre de Chiapas in southern Mexico. He and his brothers provide the horses that carry our gear up and down the mountains on our El Triunfo tour. Over the years, I became good friends with all the brothers, but Inocente became a special friend. After many trips to El Triunfo, he wrote me a letter one year in which he asked for a special favor, an advancement of the money we pay the Argueta brothers for their services so that they could get their houses connected to the electric grid. We sent the money. At the end of our tours there, after coming down from the mountains, we typically have lunch at the Argueta family home. That year, after lunch, Inocente said to me, "Don Victor, when the lights went on for the first time, we thought of you."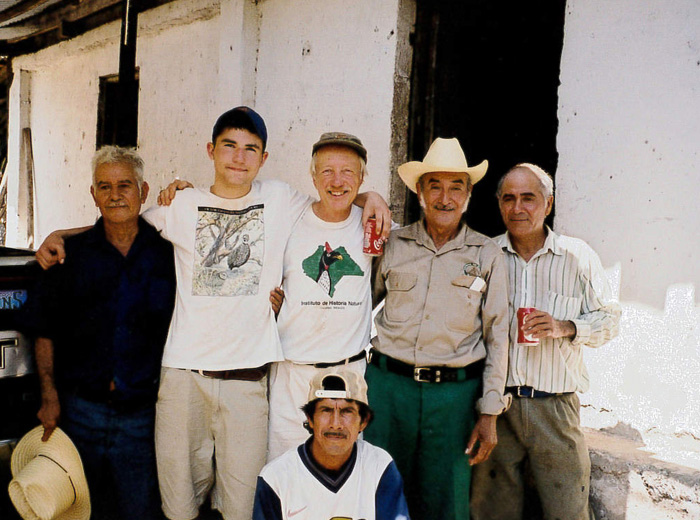 Inocente Argueta Lopez (left), Victor Emanuel, and the Argueta family, El Triunfo, Mexico
Another close friend I made through birding was Leonard Stiles. Back in the 1990s, when the famous King Ranch of South Texas chose VENT to help the ranch launch its birding tour program, Leonard was brought out of retirement to lead us around the 800,000-acre ranch.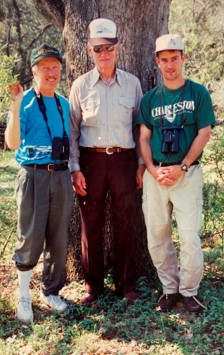 Victor, Leonard Stiles, Peter English
Leonard had worked for the ranch for more than thirty years. He had been the manager of the 200,000-acre Santa Gertrudis division. He knew every road on the entire property! During the ensuing years, I got to know Leonard well. He personally guided many VENT tour groups on the ranch. Even though we came from very different backgrounds, we became close friends. He died on September 8, 2001. Since there were no flights to the ranch from Austin, I drove to the King Ranch to attend his memorial service. Leonard was one of the finest men I've known.
As demonstrated in my own life, birding is one of the best ways to make friends. Many people who met as participants on our tours have become lifelong friends. Many of our tour leaders have become friends with our tour participants as well. Often, birds we see over and over become like friends. This is especially true of migrant birds that pass through our lives once or twice a year. August is the peak time to see shorebirds at Hornsby Bend, my favorite local birding area. When I see my first Wilson's Phalarope or Baird's Sandpiper of the spring, or returning birds in the fall, it's like seeing old friends that have reappeared in my life.
One of my closest friends is Greg Lasley, a longtime resident of Austin, Texas. Years ago, he gave me a plaque with a quotation from Ralph Waldo Emerson: "It might be said that a friend is the masterpiece of nature."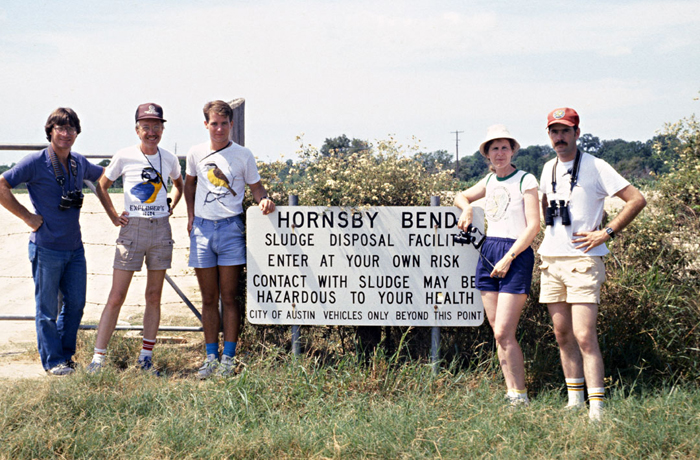 Chuck Sexton, Victor Emanuel, Kurt Huffman, Greg & Becky Lasley, Hornsby Bend 1983 - Greg Lasley
In this issue:
2022 TOURS NOW AVAILABLE & EARLY REGISTRATION DISCOUNT OFFER
RISK-FREE TRAVEL INCENTIVE OFFER FOR 2021 AND 2022 TOURS
VENT WEBINAR RECAP AND OUR NEXT PRESENTATION, FEATURING ERIK BRUHNKE
INTRODUCING "TRAVELER EXPERIENCES": YOUR EXPERIENCES POSTED ON OUR WEBSITE
CLOSING THOUGHTS
2022 TOURS NOW AVAILABLE & EARLY REGISTRATION DISCOUNT OFFER
Earlier this summer, I announced that our 2022 tour offerings are now available for viewing on our website. At the same time, I also announced a new early registration discount opportunity on 2022 tours and a new "Risk-Free" travel incentive offer for 2021 and 2022 tours. In case you missed these announcements, I am again sharing this important information.
It goes without saying that everyone is looking forward to that time when we are "post-pandemic," when we can feel comfortable resuming our routines and movements without the fear of becoming ill. Looking ahead to next year, we are optimistic that people will feel more confident about traveling and getting back into nature. By the time we reach 2022, we anticipate the travel industry enjoying a strong rebound. This said, we understand that some of our travelers are not likely to begin traveling again until the second half of next year at the earliest, while others will choose to stay on the sidelines until 2022. For this reason, we have produced our next tour schedule (2022) at an earlier date than ever. While some aren't considering travel anytime soon, we know that many will be ready to venture out by 2022, and we thought you should be aware of your options. By booking a 2022 tour now, you will be locking in future plans at a time when the worst of the pandemic crisis will have long since abated. And you will be giving yourself something wonderful to look forward to as we wait for these difficult times to pass.
To encourage 2022 tour registrations, we are offering a $500 early registration discount for all new bookings. Reserve your space(s) now on any 2022 tour by October 1, 2020 and receive a discount of $500 per person on the published tour fee. This unprecedented offer allows our travelers to book a tour, or multiple tours, and lock in a significant saving long in advance of the tour departure.
Our 2022 tour year includes departures to many familiar domestic and international destinations, in addition to a slate of brand-new tours and tours that we have not operated in a number of years. I encourage you to visit our website and check out our offerings, and to check back regularly. On our website you can peruse our tour offerings generally, or you may seek specific departures by searching for tours by destination, by year, by month, or by tour leader.
I hope you will consider a 2022 tour with VENT and take advantage of this special opportunity for savings, available until October 1, 2020.
RISK-FREE TRAVEL INCENTIVE OFFER FOR 2021 AND 2022 TOURS
We understand the hesitancy most people are feeling about booking future travel at this time. Concern for one's health and safety is paramount, but dealing with travel restrictions and the uncertainty of when the crisis will pass are also major factors in our thinking. As we work through this unprecedented time, one bit of feedback that we've received from some of our travelers is in the form of a question: "Why should I book future travel now when I still might not feel confident about traveling as the departure date approaches?"
This is an excellent question. In response, VENT is temporarily suspending its regular cancellation and change policies in place of a "Risk-Free" cancellation and change policy that grants greater flexibility for our travelers. Here's how it works:
Reserve your space now on any 2021 or 2022 tour by October 1, 2020
Receive the assurance that you have until 150 days prior to departure to either cancel your reservation or transfer your reservation to a future tour without paying cancellation or change fee penalties
We hope that the flexibility provided by this offer gives you confidence and peace of mind as you weigh the decision of whether or not to travel.
OUR NEXT VENT WEBINAR: FEATURING ERIK BRUHNKE
Erik Bruhnke
Our most recent VENT Webinar, featuring tour leaders Michael O'Brien and Louise Zemaitis discussing the birding and natural history wonders of Cape May, New Jersey, was held on August 20. Their presentation attracted almost 200 people and was a well-received event. Longtime Cape May residents, Michael and Louise are anchors of the Cape May natural history community and are as well qualified as anyone to convey the uniqueness of southernmost New Jersey. Michael and Louise did a superb job educating the viewers to the geography, birding areas, and seasonality of the Cape May area, one of the most storied locations in North America for experiencing bird migration.
In case you missed the webinar, CAPE aMAYzing: The Magic of Spring and Fall Birding in Cape May, you can view it on our YouTube Channel, which can be accessed from the VENT Webinars page on our website. From the home page, find the VENT Webinars page under Latest News on the toolbar. You may also view our webinars by clicking the link to our GoToStage website, which is affiliated with our webinar platform.
The subject of our next VENT Webinar will be the joys—and challenges—of observing and identifying raptors. Presenting the webinar will be Erik Bruhnke, a veteran hawkwatcher and VENT tour leader who has been observing, identifying, and counting birds of prey for more than ten years.
Erik's webinar, Raptor Identification 101, will be presented September 3 at 11:00 a.m. PDT/12:00 p.m. MDT/1:00 CDT/2:00 EDT. An invitation was sent by email on August 24. You can register by visiting the VENT Webinars page on our website, or directly on our GoToStage website.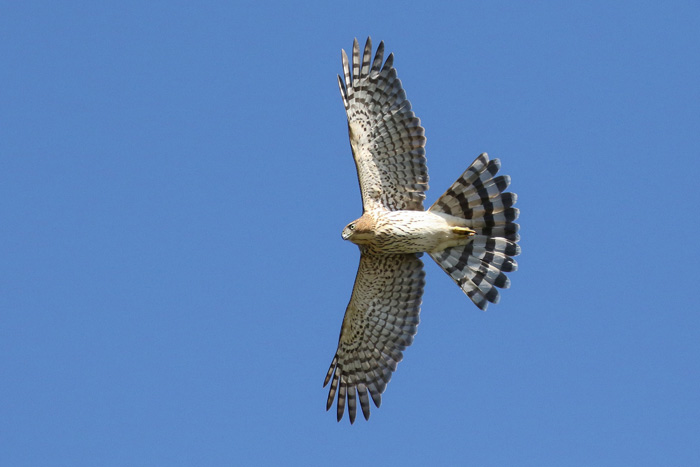 Cooper's Hawk - Erik Bruhnke
INTRODUCING: "TRAVELER EXPERIENCES": YOUR EXPERIENCES POSTED ON OUR WEBSITE
Many of you have let us know how much you are enjoying the "Messages & Memories" email messages from VENT tour leaders. We would also like to hear from you, our VENT travelers, about your experiences. We have created a new page on our website called "Traveler Experiences." If you would like to share your most memorable, remarkable, or just plain fun experiences while on a VENT tour:
Write about your experience in 50 to 500 words.
Attach one photo, either related to the experience or a photo of yourself. We can accept jpgs only. If you have other photos related to your experience that you'd like share, please upload them to a photo sharing site, such as Flickr and SmugMug, and we will link your story to that site.
Send your text and photo to TäV Garvin (tav@ventbird.com). She will let you know when your experience has been posted to our website. If you'd like, rather than sharing a particular experience, you can tell us about one of your favorite trips!
Please send any questions you may have to TäV. We look forward to hearing from you!
This week has been a rough one for many citizens of California, Louisiana, and east Texas. In California, another summer of ferocious wildfires has sown fear and suffering among residents of that state from one end to the other, while only last night, residents of Louisiana and coastal east Texas received a terrifying strike from Hurricane Laura. Such blows from Mother Nature have served to compound the strains and worries most of us share in this unprecedented of years, and are the last thing any of us needs. Scenes of our fellow citizens suddenly rendered homeless, communities severely damaged, and landscapes permanently altered cannot fail to evoke sorrow for the pain and misfortune experienced by others. On behalf of all of us at VENT, we convey our deepest sympathy to those whose lives have been affected by these natural disasters.
Best wishes,
Victor Emanuel