VENTFLASH #272
December 17, 2020
Dear friends:
The middle of December marks the start of the Christmas Bird Count season, one of the great events in North American natural history. The Christmas Bird Count, or CBC, is an institution that dates to the early twentieth century, when ornithologist Frank Chapman proposed a "Christmas Bird Census" to count birds during the holiday season. The first counts were held on Christmas Day in 1900, and a tradition was born.
My first Christmas Count was the Houston Count in 1950. I remember seeing my lifer Vermilion Flycatcher on that count and looking at a lake covered with hundreds of ducks. Six years later, I organized the first Freeport Christmas Bird Count, southeast of Houston on the Upper Texas Coast. I was 16 then, and never could I have imagined how my decision to start that count would change my life and the lives of many others. From the beginning, the Freeport CBC was an outstanding count, and as participation grew over the years, more and more species were recorded.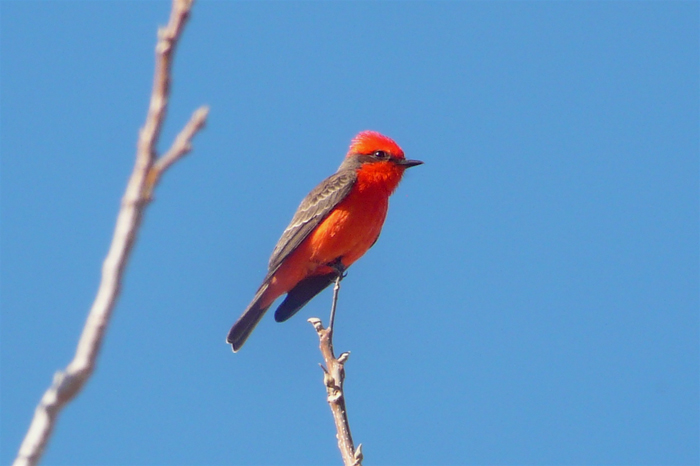 Vermilion Flycatcher - Barry Zimmer
In 1971, the count tallied 226 species, which at the time was the highest total ever recorded on any CBC. The next year, Les Line, the editor of Audubon magazine, sent George Plimpton to Texas to participate on the Freeport count and write a story about being an amateur among professionals (as he considered us) on a Christmas Bird Count. His story, Tsi-lick! Goes the Henslow's, was the first story about birding to appear in that magazine. Along with my observations of the Eskimo Curlew on Galveston Island in the late fifties and early sixties, Plimpton's story helped give me a national reputation. George and I became friends and kept in touch. He introduced me to his oldest friend, Peter Matthiessen. Upon founding VENT in 1976, I asked George and Peter to co-lead VENT's first Africa tours. Over the years, they each wrote more articles about trips with me. These articles and their support played an important role in VENT's inception and success.
Over the years, I have missed very few Freeport counts, and the ones that I did miss were due to tour leading obligations. This Sunday, December 20, I will participate in the 64th Freeport Christmas Bird Count. As always, I will recall that '72 count with George, as well as other past counts with luminaries such as Kenn Kaufman and the late Ted Parker, in addition to many other friends. And, as always, I will be hoping to see one more warbler. If we're lucky, we may find one of the rarer species that normally winter further south, such as a Yellow-throated or Prairie Warbler. Seeing birds every day is a very important part of my life. This is especially so during the holidays when it's again that special time when I'll head to the coast to count birds on the annual Freeport Christmas Bird Count.
Christmas Bird Counts have provided valuable data on winter bird populations for over one hundred years and are considered among the most successful citizen-science experiments ever. They also give the participants an opportunity to see old friends (although this year will be different).
I hope you get to see birds over the holidays, and perhaps even participate on a CBC where you live. 
IN THIS ISSUE:
NEW IN '22: KENYA!
VENT WEBINARS UPDATE
CLOSING THOUGHTS
I am excited to share the news that after an absence of six years, VENT will return to Kenya in 2022 with a brand-new Birds and Wildlife tour!
With its abundance of amazing birds and wildlife and fantastic parks and preserves, Kenya was for many decades considered the jewel of East Africa—the ultimate safari destination. Kenya was the first place in Africa where VENT offered a tour. That was in 1979. In the following years, we offered Kenya tours every year. Things began to change about ten years ago when Kenya experienced a period of unrest. This, in combination with the rise in popularity of neighboring Tanzania and Uganda, led to Kenya slipping off the radar for many travelers. For these reasons, we made the decision five years ago to suspend our program.
I have led tours to Kenya in addition to many other countries in Africa. I have always felt that Kenya has the greatest diversity of landscapes, mammals, and birds of any African country. Somehow, it simply didn't feel "right" that VENT was not going there. My interest in Kenya has remained strong, and I've been determined that VENT would again begin operating tours there when the time was right. More recently, I have spoken to numbers of people about Kenya and have been greatly encouraged by the news I've received. The bird and mammal spectacles are as great as ever; the parks and preserves are in good shape, and the southern two-thirds of the country, the premier region for birding and wildlife viewing, is safe and secure.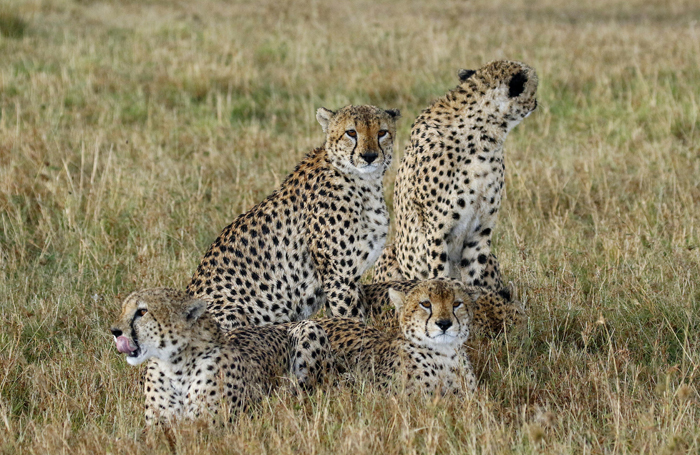 Cheetah brothers after a rainstorm - Andrew Whittaker
Coincidentally, several months ago VENT tour leader Machiel Valkenburg approached me with an idea to revitalize our Kenya program. He proposed a major scouting trip for this fall that would include a fresh look at the wildlife, destinations, and services that would be taken into account for a brand-new tour. I was thrilled with the idea and approved it immediately. Along the way, his colleague and friend Andrew Whittaker signed on to the endeavor, and the two of them went on to spend almost a month there.
I have spoken with both Machiel and Andrew following their return home, just before Thanksgiving, and they both delivered glowing reports of their experiences there. Kenya is still as great a place to travel as ever. In visiting classic destinations such as the Masai Mara, Kakamega Forest, Lake Baringo, Mount Kenya, and Samburu and Tsavo national parks, they were treated to magnificent birding and mammal viewing. In their travels they saw an astounding 650 species of birds and a long list of mammals and other wildlife. They were very impressed with the high quality of the lodges, local leaders, vehicles, and drivers. Most important, they talked with a number of people about security issues and were reassured to learn that the country is safe. The government and people of Kenya are proud of their wildlife and have made great efforts to protect it. They value nature tourism highly.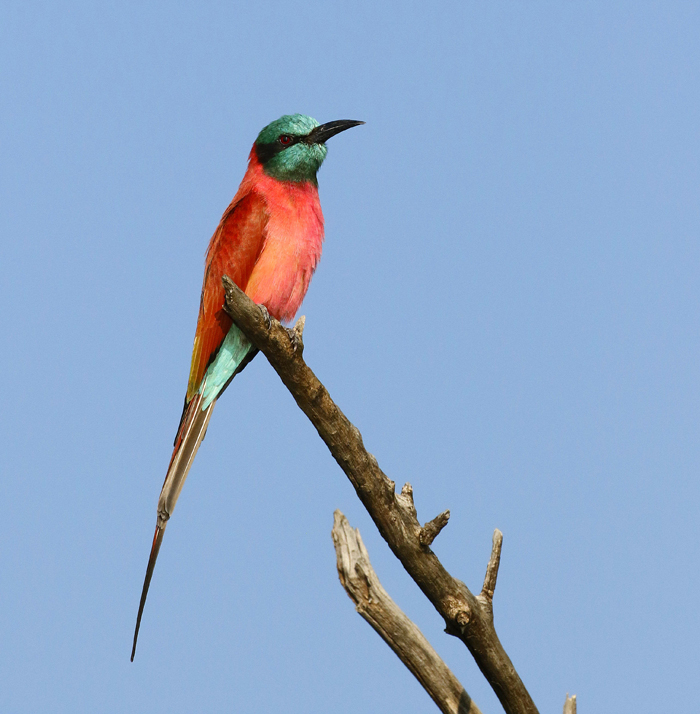 Northern Carmine Bee-eater, Lake Baringo - Andrew Whittaker
Based on their reports, I have determined that VENT will offer a new Kenya tour in the fall of 2022. The dates of our Kenya: Birds & Wildlife tour are not yet finalized, but will be approximately November 5–21, 2022. The tour will be led by Machiel Valkenburg and a local leader and will be limited to 8 participants. Information about this tour will appear on our website soon. I expect an enthusiastic response. Please contact Patrick Swaggerty at the VENT office by email (patrick@ventbird.com) or phone (512-947-4828) to request more information about this tour as it becomes available, or to reserve your space in advance. You can reserve your space(s) with a $1,000 deposit, which will be fully refundable until February 1, 2022.      
Six months ago, we debuted our VENT Webinar series, live presentations 30–40 minutes in duration that showcase a select tour or region where we offer tours, or some facet of bird identification. Hosted by VENT tour leaders and illustrated with route maps, images of birds, animals, landscapes, and cultural attractions (depending on the tour), each webinar is designed to offer a more intimate feel for the destinations we visit and the experiences to be had than is otherwise available in our itineraries. To date, we have produced eleven webinars, and I have been thrilled with the success of this program. In fact, in a year filled with challenges and hardship, the success of our webinar program has been a true high point.
It has been a treat to hear directly from those who lead our tours and who are masters in their fields. Among the tour leaders who have presented are Victor Emanuel, Rafael Galvez, Michael O'Brien and Louise Zemaitis, Erik Bruhnke, Rick Wright, Andrew Whittaker, and Barry Zimmer. All of our webinars have been well attended, with some webinars receiving hundreds of registrations.
If you have not yet watched one of our webinars, past productions are available for viewing on the VENT Webinars page of our website (located under Latest News), on our YouTube channel, or by visiting our GoToStage website, which is affiliated with our webinar platform and reached from the VENT Webinars page of our website.
From the outset, we had a feeling that our webinar series was a good idea, and our efforts to date have confirmed it. The subject of our next VENT Webinar will be sparrow identification. Presenting the webinar will be Rick Wright, a VENT tour leader and author of the acclaimed Peterson Reference Guide to the Sparrows of North America (2019).
Rick's webinar, East is East and West is West? The Sparrows of Winter, will be presented December 30 at 11:00 a.m. PST/12:00 p.m. MST/1:00 CST/2:00 EST. An invitation will be sent by email. You can also register by visiting the VENT Webinars page on our website, or directly on our GoToStage website.
Every season is special. For birders and naturalists, the change of seasons keeps us in close touch with the natural world and brightens our days. In the autumn, the leaves of many deciduous trees become brightly colored and then fall. When such trees are bare, we can see their structures more clearly. Many birds depart for the tropics. Others arrive in their place to spend the winter. Birding and observing nature promote lifelong learning. This is especially true as we relearn how to identify various sparrows. Every winter is different. This year, more birds that normally winter farther west are showing up where I live in central Texas. In some areas near Austin there have been flocks of fifty Mountain Bluebirds, a species that rarely occurs this far east. Every season passes quickly, which is all the more reason to savor each one.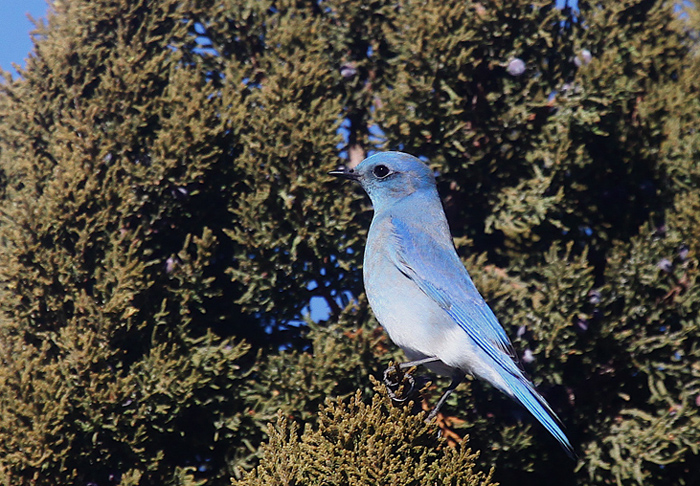 Mountain Bluebird - Kevin J. Zimmer
I am very fond of a piece called The Sleep, by Verlyn Klinkenborg, that appeared years ago in the New York Times. I like it because to me it captures the end of the autumn season with winter coming on.
"Late November comes and the fallen leaf, the empty pod and the hibernating woodchuck are typical of the season. The vast spectrum of life that leafed and bloomed and fruited, hopped and flew and swam and ran from April through October now needs a rest and sleep. It needs winter simply because life must catch up some time, must compensate for the intensity of its summer existence.
We usually think of the dead stems and fallen leaves as the year's waste, the clutter left behind when summer's work is finished. But this is not entirely true. The annual plant has had its season and is dispensable, but it leaves behind the seeds for a new generation of its kind. The ephemeral insect whose life span never includes a second summer, is reduced to a dead husk, but has left something of itself in egg clusters on a weed stem or a fallen leaf, to crawl and fly and hum and buzz in another August. Actually, the autumn clutter is the rumpled bed in spring, which all these germs of life will sleep until another spring. It isn't waste at all.
And the dormancy of a seed or an egg isn't time wasted, either. Some seeds and some eggs will not germinate without such a rest. Some lose their spark of life unless kept in darkness. And some will never make new life until they have had the fierce bite of hard frost. It is all a part of a pattern complex beyond belief but clearly dominated by the seasonal rhythms. Without winter there would never be another summer, and without the long, cold sleep we would never know another spring."
In recognition of the holidays, we've held two Zoom meetings for our employees. The first meeting was with our office staff and the second was with our tour leaders. It was great to be in touch with everyone. These people together form the core of our company. Last year at this time, almost all of us were together here in Austin, Texas for our biennial Company Meeting. Many of us will be together at our 45th Anniversary Celebration in South Texas in November 2021. We are all looking forward to resuming our tour departures sometime in 2021 and hope to see many of you at our Anniversary Celebration and on another of our tours.
Despite all that has happened this year, I hope that you and your family have a happy holiday season. We at VENT are looking forward to a brighter new year.
Best wishes,
Victor Emanuel