February 19, 2020
VENTFLASH #265: SPRING–SUMMER TOURS WITH SPACES STILL AVAILABLE
Dear friends: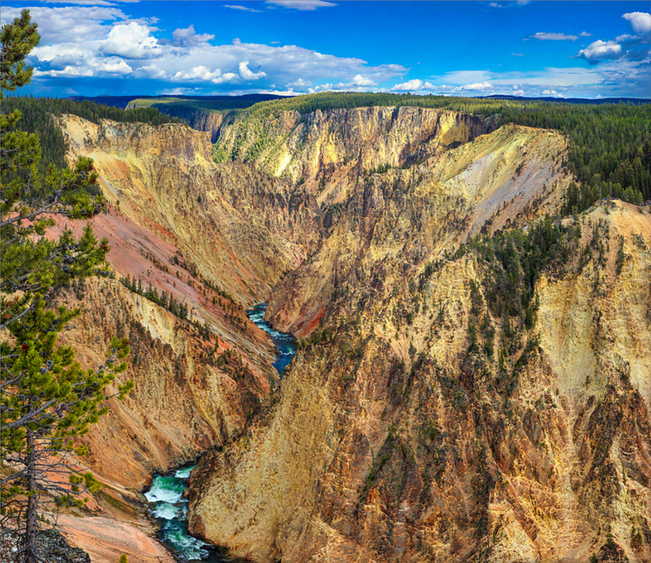 Grand Canyon of the Yellowstone River ©? Richard Reynolds
With March quickly approaching, VENT's tour calendar will transition, moving beyond the winter travel season and focusing on the domestic front. Many of our tours are sold out, and waiting lists have been established for others. Looking ahead to the next six months, VENT will operate many tours throughout the U.S. and a lesser number to Europe and South America. If you've not yet made your spring or summer travel plans, I thought you might like to know about upcoming travel opportunities on trips ranging from the great north of Alaska to the equatorial climes of Peru. All of these tours have a few spaces available, and all promise great experiences in nature:
Yellowstone in Early Spring: Wolves, Bison, Elk & Birds, March 24-30, 2020 with Denver Holt and Matt Larson; $2,595 in double occupancy from Bozeman. 5 spaces available.
On this exciting tour, naturalist Denver Holt will lead us through the north portion of Yellowstone National Park at the end of the winter season focusing on Grizzlies, wolves, birds, and the natural history of the region. The park hosts a number of bird species at this time of year, and our visit should produce Bald and Golden eagles, Rough-legged Hawk, Black-billed Magpie, Clark's Nutcracker, and Pinyon Jay. Specialties such as Trumpeter Swan, Barrow's Goldeneye, Black and Gray-crowned rosy-finches, Red Crossbill, and Northern Pygmy-Owl are possible as well. Yellowstone, however, is best known for its mega-fauna. Bison and Elk have long been symbols of the park; Grizzly Bear studies and wolf reintroductions in the 1990s have made these animals among Yellowstone's most popular attractions. There are other species of mammals to look for, however, and Moose, Mule Deer, Bighorn Sheep, and Pronghorn are relatively easy to observe. In addition, we will take time to discuss the predator-prey relationships that define the park's natural processes. Our first national park, Yellowstone is also one of the most scenic places on the planet.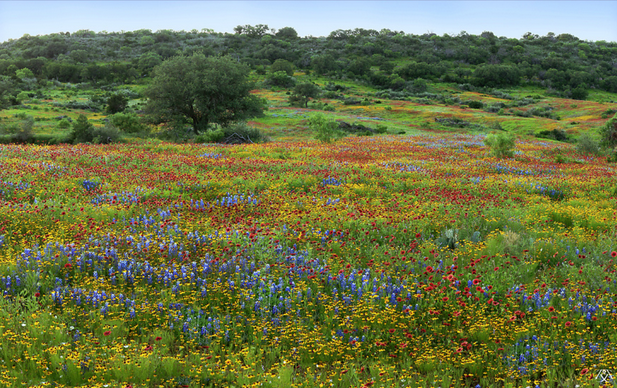 Texas Hill Country Wildflowers © Richard Reynolds
Spring in South Texas, April 5-14, 2020 with Barry Zimmer and Justin Bosler; $3,595 in double occupancy from Corpus Christi (ends in Laredo). 6 spaces available.
This tour covers the Central Texas Coast, the King Ranch, the Lower Rio Grande Valley, and offers an extension to the beautiful Texas Hill Country, all at their finest when wonderful weather, a spectacular array of flowers, and arguably the best birding in the country combine for a truly memorable natural history experience.
Spring in South Texas: Hill Country Extension, April 14-18, 2020 with Barry Zimmer and Justin Bosler; $1,750 in double occupancy from Laredo (ends in San Antonio). 5 spaces available.
Experience the Texas Hill Country at its finest with birds and wildflowers at their peak on this short extension to our Spring in South Texas tour. Our prime targets will be the two Hill Country specialties, the endangered Black-capped Vireo and Golden-cheeked Warbler, here at the heart of their small ranges. Other possibilities include Zone-tailed Hawk, Crested Caracara, Green and Ringed kingfishers, Couch's Kingbird, Black Phoebe, Vermilion Flycatcher, Great Kiskadee, Woodhouse's Scrub-Jay, Cave Swallow, Canyon and Rock wrens, Long-billed Thrasher, Yellow-breasted Chat, Painted Bunting, Olive Sparrow, and Hooded, Audubon's, and Scott's orioles among others. In addition, we will visit a bat cave with an estimated ten million plus Mexican Free-tailed Bats emerging at dusk in one of the great natural history spectacles ever! This very birdy and pleasant area provides a wonderful conclusion to our Spring in South Texas tour or a quick getaway on its own.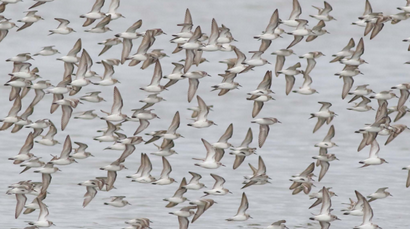 Semipalmated Sandpipers, Cape May ©? Michael O'Brien
Spring in Cape May: A Relaxed & Easy Tour, May 9-15, 2020 with Louise Zemaitis and Michael O'Brien; $2,345 in double occupancy from Philadelphia. 6 spaces available.
Spring in Cape May features delightful weather and a wide range of both migrant and resident birds, all seen within a relatively small area. Our short tour will visit all the major habitats of the area and see the best of what Cape May has to offer.
"Michael O'Brien's book, The Shorebird Guide, is the reason I picked this tour. I learn to identify shorebirds with the book and use it often in my work with a citizen science project. This was like taking a violin lesson from Jascha Heifetz. Particularly liked birding by ear, the patience and kindness of both leaders, and the fact that the leaders lived and worked in Cape May and gave us a real feel for the town, the habitat, and Cape May history/culture." – Becky Bowen, Spring in Cape May: Relaxed & Easy, 2018.
Spring Grand Arizona, May 14-24, 2020 with Barry Zimmer and Justin Bosler; $3,445 in double occupancy from Tucson. Spaces available.
Boasting a rich assortment of southwestern specialty species, Southeast Arizona is the destination of choice for many birders. Join Barry Zimmer for a birding extravaganza that promises a remarkable variety of birds with tropical affiliations including trogons, flycatchers, woodpeckers, warblers, orioles, tanagers, and others, in addition to fine panoramic scenery that includes bold deserts, sweeping grasslands, and mysterious "sky island" mountain ranges.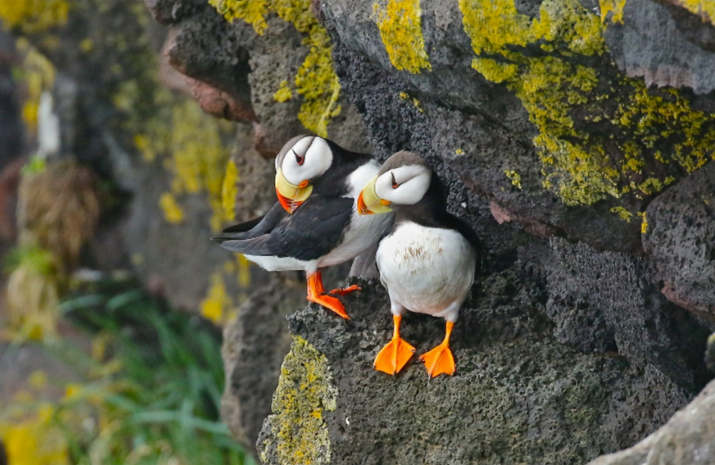 Horned Puffins, Ridgewall, St. Paul Island, AK ©? Kevin Zimmer
Grand Alaska: Pribilofs & Anchorage Pre-Trip, May 23-29, 2020 with Kevin Zimmer; $5,250 in double occupancy from Anchorage. 2 spaces available.
The Pribilof Islands and Anchorage area focuses on the amazing seabird spectacle of St. Paul Island, where participants will be treated to thousands of nesting seabirds, and will search for rare vagrant Asiatic shorebirds and landbirds.
Grand Alaska: Nome & Gambell, May 29-June 8, 2020 with Kevin Zimmer and Brian Gibbons; $7,495 in double occupancy from Anchorage. 4 spaces available.
Any trip to the Nome/Gambell area is exciting. Late May and early June, however, are the best times to visit these remote northern outposts. Highlights include cliffs stacked with nesting seabirds, and lakes, ponds, and Arctic tundra hosting breeding loons, raptors, shorebirds, jaegers, buntings, and longspurs. The spectacle of thousands of breeding and migrating birds makes for one of North America's most sensational birding experiences. And there is always the possibility that rare vagrant birds from Asia will be seen on this trip. Examples from recent tours include Emperor Goose, Common Greenshank, Red-necked Stint, and Eyebrowed Thrush.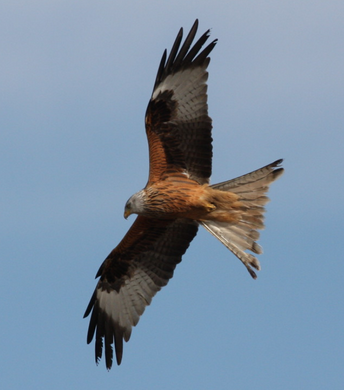 Red Kite
 ©? Brian Gibbons
Germany in Spring: Birds & Art in Berlin & Brandenburg: A Birds, Nature & Culture Tour, June 12-22, 2020 with Rick Wright and Alison Beringer; $4,150 in double occupancy from Berlin. Spaces available.
This relaxed-pace tour is based in the center of Berlin and delves into the city's natural and cultural heritage. Berlin's many artistic and architectural treasures beg for exploration, and we'll visit sites that represent both the bright and the dark sides of German history. Outside the city we will explore the countryside of Brandenburg, where we will look for Red Kites, wintering geese and shorebirds, and even the rare Great Bustard among many other birds.
Armed with a PhD in German from Princeton University, Rick Wright is the ideal guide for a Birds & Art tour. Among his outstanding credentials, Rick has worked as an Associate Professor of Medieval Studies and co-authored scholarly books on literature of the Middle Ages.
Northern Peru's Cloud Forest Endemics: Mythical Owlet & Stupendous Spatuletail, August 14-25, 2020 with Andrew Whittaker; $5,145 in double occupancy from Lima. 5 spaces available.
Join Andrew Whittaker for a trip to the cloud forests of northern Peru, a wonderland of tanagers, hummingbirds, and other extraordinary tropical birds. Seeing the Marvelous Spatuletail hummingbird is one highlight among many. This trip is one of our most popular South American tours.
Best wishes,
Victor Emanuel Nature Tours