March 4, 2020
VENTFLASH #266
Dear friends: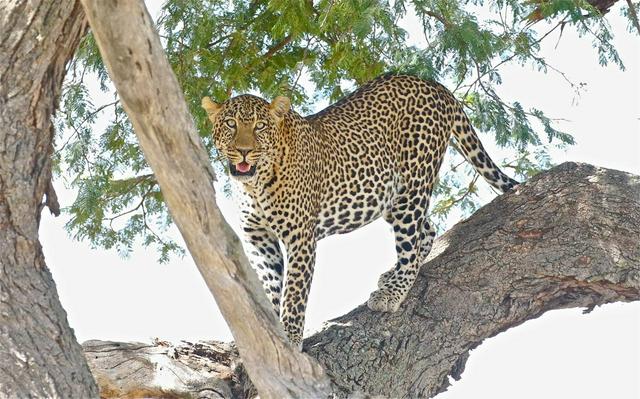 Leopard, Northern Tanzania © Kevin Zimmer
After a terrific start to the New Year, in terms of outstanding sightings on our tours, February got even better! We operated three tours to Tanzania, one of the greatest places in the world for birds and wildlife. One of the trips was a private departure that I co-led with Barry Lyon. I agree with a comment Barry made midway through the trip: "Africa is a dream." Among our highlights were two Lionesses together with seven cubs, a Cheetah with four cubs, a Leopard in a tree, and thousands of antelope and other mammals. Birds were everywhere. One of the joys of birding in Africa is that most of the birds perch in the open and therefore are easy to see. Two of the commonest species are the aptly named Superb Starling and the Lilac-breasted Roller. Even though one sees numbers of both of these beautiful birds every day, it is always a delight to see more. One of the advantages of being in Tanzania in February is the opportunity to visit the Serengeti and see thousands of Wildebeest, Zebra, and other mammals in migration. The long lines of animals seem to stretch across the plains to infinity. Seeing this spectacle is an almost overwhelming experience.
Besides seeing amazing birds and wildlife in amazing places, among the things that make VENT's Tanzania trips so special are the superb lodges where we stay. We feel that a trip to East Africa is such an important and incredible event in one's life that your trip with VENT should be exceptional in every way.
Space is available on our next Northern Tanzania tour, February 16-March 5, 2021 with Kevin Zimmer and a local leader; fee to be announced ($12,795 in 2020) in double occupancy from Arusha.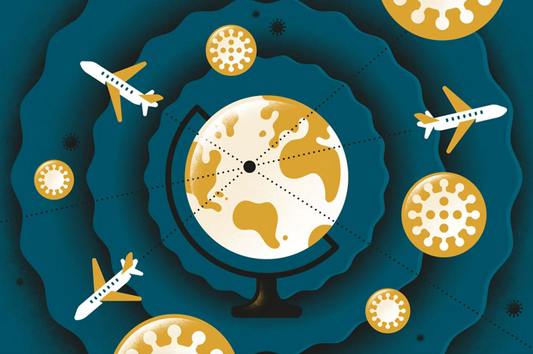 Coronavirus and Travel © Enisaurus for the Washington Post
THE CORONAVIRUS AND TRAVEL
As worries continue to grow regarding illness related to Coronavirus (COVID-19), we know that you are or may become concerned for your well-being with regard to travel. I assure you that we are as concerned as anyone and that we are monitoring the situation closely. The news on the world scene is mixed, with new cases appearing in countries previously unaffected, while the rate of transmission in mainland China, where the virus originated, has declined. Overall, it is still too early to tell what the ultimate impact of Covid-19 will be.
Given the relatively low incidence of confirmed cases outside of mainland China (and more recently South Korea), we feel confident in moving forward with the operation of our tours. At this time, we do not plan to cancel any of our upcoming tours, with the exception of our Classic China tour, which we cancelled this week.
I emphasize that we are paying close attention to the situation and will indeed cancel a tour if we decide it is prudent to do so, i.e. in light of changing circumstances. The health and safety of our travelers is our top priority.
A GREAT BIRD STORY: THE MOST OUT OF RANGE BIRD EVER TO OCCUR IN TEXAS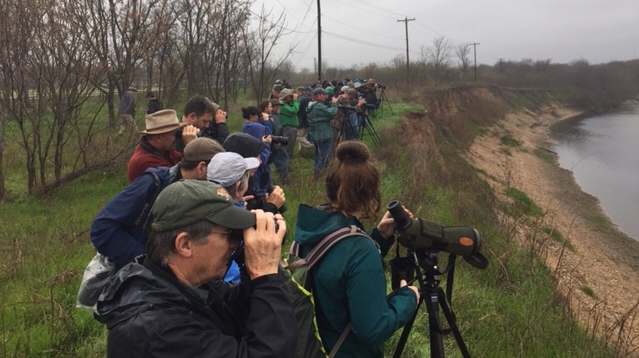 Birders viewing White Wagtail in Austin, TX © Ben Reynolds
Over the past few months, Roy Guerrero Park, which is fifteen minutes from my house here in Austin, Texas, has become my favorite local birding spot. From atop an escarpment, I can look down on the shallow waters of the Colorado River. As this location is below the last dam on the river, and because the native woodlands across the river have been preserved, one sees the river as it was a hundred years ago. I love to sit at that spot above the river in the late afternoon and savor the beauty that is all around me. Often, I see 20 or more species of birds in an hour, including at times Merlin, Peregrine Falcon, and about 200 ducks of four species. One of my favorite ducks is the Northern Pintail, and here I have seen up to 60 individuals at once.
Just before I left for Tanzania in early February, I spent an hour here at my favorite spot. Little did I imagine that once I arrived in Tanzania, I would learn that a White Wagtail had been sighted along the river at Roy Guerrero! I was chagrined that the most out of range bird ever to appear in Texas was found only fifteen minutes from my house at a time when I was thousands of miles away. This bird is very uncommon, even where it maintains a toehold in North America in northwest Alaska. The bird was seen every day for about two weeks. After it had stopped being reported, I assumed I had missed the opportunity to see this extraordinary rarity. However, no sooner had I returned to Austin when I learned the bird had reappeared at the same location. Fortunately, on February 29 I made it to the place where people gathered every day to see the bird, and I saw it. When I arrived at the site, I saw twenty birders lined up looking through scopes at this striking little black and white bird that was feeding on a gravel bar across the river. Among the birders there were a boy and a girl who will attend VENT's youth camp this summer, Camp Chiricahua!
How remarkable it is that after birding Texas for over sixty years, that I would see the most out of range bird of my life only fifteen minutes from my house! 
ESKIMO CURLEW SCULPTURE UNVEILING AT GALVESTON STATE PARK, MARCH 29, 2020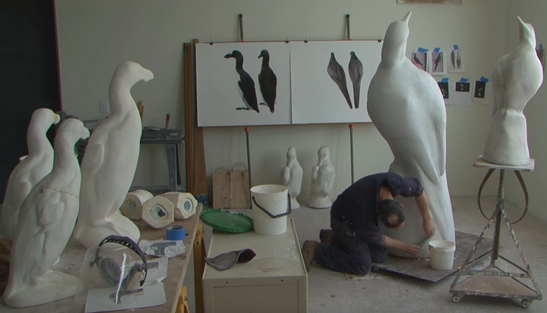 Todd McGrain producing sculptures © Courtesy of Lost Bird Project
Following his reading of the book Hope Is the Thing with Feathers: A Personal Chronicle of Vanished Birds (2000) by Christopher Cokinos, artist Todd McGrain is producing sculptures of all the birds that have gone extinct in North America. The latest addition by McGrain to his Lost Bird Project is a six-foot sculpture of the Eskimo Curlew, a shorebird that was last documented in 1962 from Galveston Island. 
The Eskimo Curlew memorial sculpture will be unveiled and installed at Galveston State Park on Galveston Island, Texas at 4:00 p.m. on March 29, 2020 on the Clapper Rail Trail.
Ben Feltner, who discovered the Eskimo Curlew on March 22, 1959 on Galveston Island, will attend. Also in attendance will be John Rowlett, Rose Ann Rowlett, and Victor Emanuel, all of whom saw the Eskimo Curlew.
Prior to the unveiling, there will be a photo exhibit at the Bryan Museum in Galveston featuring rare photos taken of the Eskimo Curlew; there will also be an art exhibit. Other activities include a walk-through of the Lost Bird Project Exhibit with Todd McGrain on which participants can view models of the other sculptures in the series; and Dr. Keith Arnold, Professor Emeritus at Texas A&M University, will deliver a presentation entitled People vs Birds: The Road to Extinction?
For additional information on The Lost Bird Project Exhibit, featuring the Eskimo Curlew Memorial Sculpture unveiling, please check the websites of the Galveston Island Nature Tourism Council, the Bryan Museum, and Houston Audubon.
Best wishes,
Victor Emanuel