May 18, 2020
SPRUCE GROUSE ON A SNOWY DAY IN MINNESOTA
By Erik Bruhnke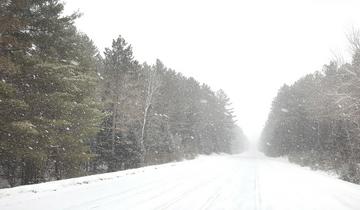 Winter Wonderland © Erik Bruhnke
VENT's Minnesota Winter Weekend tour is a scenic and bird-filled adventure that you have to experience to believe. Vibrant specialties originating in the heart of northern Canada funnel down into Minnesota's Northwoods. These migratory species mix with the beautiful local residents that endure brisk winters as part of their year-round experience. Walleye, wild rice, and maple syrup are part of our dining options. The winter scenery is wonderful—it's a grand time!
Two years ago, I led this tour with Rafael Galvez, and our last full day of the tour was one of the most scenic days I've ever experienced. We had found our target birds early in the tour and saved the last day for exploring the Superior National Forest. While en route to the expanses of old growth evergreen forests, we drove along miles of frozen lakeshore, mixed forests, and quaint little cabins.
Rafael and I got to the vans with ample time to warm them up and brush off the snow before the day began with the birders. It was pre-dawn, and the nearby streetlights glowed with intensity as each cast its own "snow-globe" effect. The falling flakes filled the air and dampened sounds, adding to the beauty of the morning.
We drove the vans carefully and slowly on the snow-packed roads. Entering the Superior National Forest felt like a royal experience, as snow-blanketed trees graced the landscape. Spruce Grouse were high on our wish list for the morning, and we would focus our efforts on a few roads with suitable habitat. This habitat specialist prefers very remote areas and will consume spruce needles when its usual food is hard to come by. The first road was lined with a corridor of lovely trees and interspersed glowing white openings, but Spruce Grouse were absent.
The second road had gnarly thickets of black spruce creating shelter from the snow, while towering old growth white pines stood out among the already impressive forests. And there they were, sitting together in the shelter of the spruce trees. Finding one or two Spruce Grouse usually makes a tour successful, but we found six of them huddled near each other among the lower spruce branches. As the snow continued, we were close enough to see their profiles clearly and make out the beautiful details of their striking feathers. We sat in quiet wonder to marvel at the beauty of these birds.
After a hearty lunch of hot Minnesota fixin's, we birded our way back to the hotel. Snow was still falling when we headed to our finale dinner. What a special experience it was. I'm already looking forward to this tour next winter!
Erik's bio and upcoming tour schedule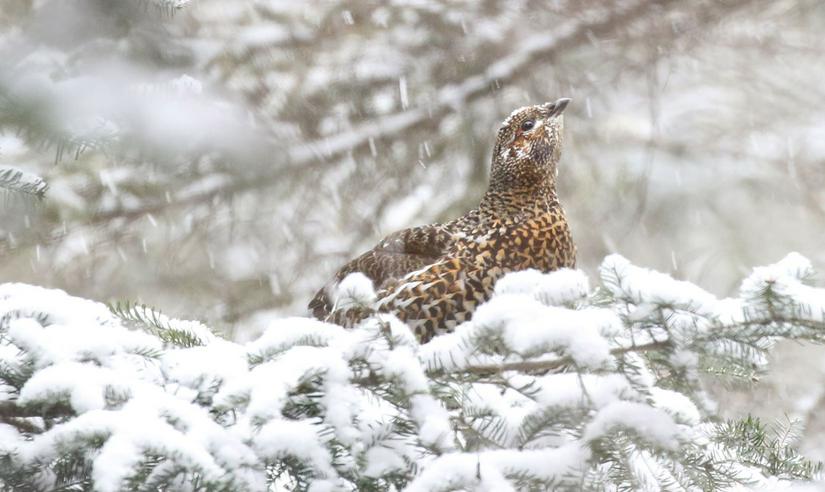 Spruce Grouse © Erik Bruhnke