June 12, 2020
AN ANTIPODEAN WINTER
By Dion Hobcroft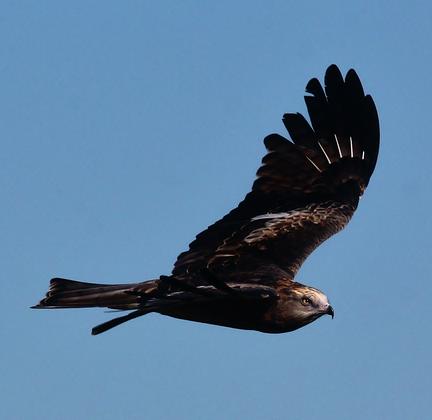 Square-tailed Kite, a rare endemic raptor specializes on feeding on nestling honeyeaters © Dion Hobcroft
Since my wings have been clipped with all of the travel restrictions, I have been focusing my attention closer to home. Many of you who have traveled to Sydney to begin our Grand Australia tours are aware that the "Harbour City" is my home. During the tour we spend three nights in Sydney, and there is good reason for this, as by its location and ease of access to diverse habitats, we typically have over one hundred species of birds under our belts to get the tour off to a rollercoaster start. For many, this is their first taste of birding "Down Under," and virtually every species is a new one.
It is officially winter here in Sydney now, and there is never any snow except for occasional flurries in the higher regions of the Blue Mountains. However, there are frosts, frequent episodes of morning fog, reduced daylight hours, and frequent gales rolling in from the Southern Ocean with often driving rain. There is a complete absence of tropical migrants, most of which have fled to tropical northern Australia, New Guinea, Indonesia, and, for some species like the shorebirds and swifts, to breed in far eastern Russia. There is also a complete absence of any bird tour participants. Nearly all the birders arrive in early October when the austral spring is in full effect.
There are a few winter migrants in Sydney. Arriving from New Zealand are Double-banded Plovers and White-fronted Terns. Escaping Tasmania are Swift Parrots, Striated Pardalotes, Silvereyes and quite a few insectivorous birds, and even some odd ones like the Southern Boobook Owl that fly across Bass Strait. The formation of sea ice in the Antarctic pushes millions of seabirds farther north, and seabird diversity is at its best in the winter months off Sydney where four species of albatross and many species of petrels and prions arrive. Winter pelagics can be both bracing and spectacular: hungry albatrosses feeding at arm's-length off the back of the boat as we are rocked by giant swells.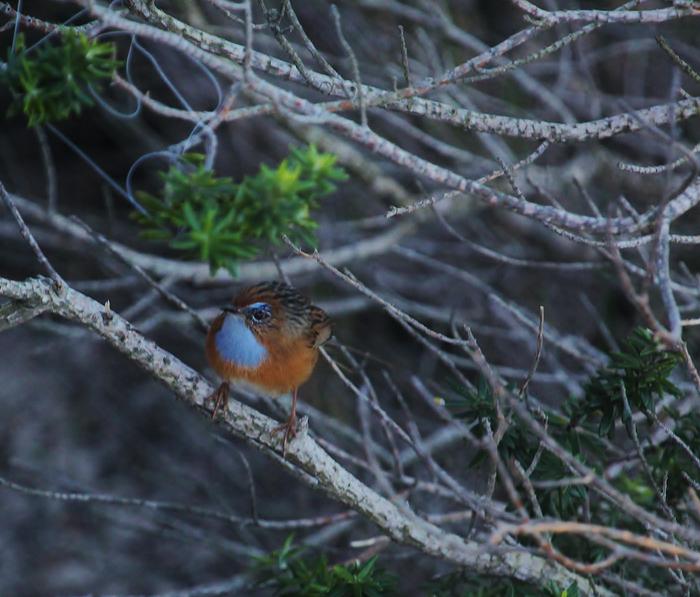 Southern Emuwren in Royal National Park © Dion Hobcroft
Still, at this time there are no boat trips running, and we are being asked to keep social distance, so I have been exploring one of Sydney's greatest treasures largely by myself. Encircling the city is a great fortress of sandstone national parks. On our tour we visit the most famous and bird-rich—the extraordinary Royal National Park on Sydney's south. It is home to the Superb Lyrebird, Rockwarbler, Powerful Owl, and another two hundred plus species. Pockets of subtropical rainforest, tall wet Eucalypt forest, sandplain heathlands, and spectacular sandstone cliffs overlooking the Tasman Sea guarantee epic birding. I have been visiting generally one day a week to enjoy the Humpback Whale migration and the frenetic activity of hundreds of hyperactive honeyeaters of ten or more species. Colorful parrots are much in evidence—Rainbow Lorikeets, Crimson Rosellas, and the amazing Australian King-Parrot— while noisy flocks of macaw-like Yellow-tailed Black-Cockatoos wail in piercing screeches as they hunt for Banksia cones and wood-boring beetle larvae.
Royal is but one of the national parks adjoining Sydney, so I have been visiting many of the others like Heathcote, Garigal, Yengo, and Dharug. Recently I have spent most time in the Kuringai Chase in Sydney's north. It is not as rich in birdlife as Royal, but you can sure get away from humanity here and hike into remote backblocks, and there is always something to look at. Aboriginal petroglyphs are a feature here: echidnas, whales, warriors, and mysterious giant creatures are carved into the sandstone escarpments. Botanical diversity is dizzying, and many plants are moving into flowering, which peaks in August. Like the Fynbos of South Africa, the poor, nutrient deficient soils have led to a race of speciation. Working out plants, butterflies, and dragonflies is my new go-to to keep my brain and guiding skills up to speed and improving. There is so much to learn and so much to absorb as the winter solstice nears, and then surely, but slowly, the daylight length increases. This sends the birds into reproductive mode, and I look forward to studying my local avifauna hopefully having a bumper breeding season, with recent good rains helping insects and plants to recover from several very dry years.
Yesterday was a good example. I left the house at about 11:00 and drove for forty minutes to the Chiltern track. After parking the car, I walked out, encountering fabulous displays of flowering Pink Grevillea, Heath-leaved Banksia, occasional Mountain Devil, Lance-leafed Crowea, Lesser Flannel Flowers, and Coral Heath, and I found a new one for myself—the Chloanthes. I also found an endangered Eucalypt that was a new one for me: Camfield's Mallee—very range-restricted to just a handful of sightings. Like the outback mallees, it grows from an underground lignotuber—literally a tree trunk under the ground that can be six meters across and thousands of years old. The tree has evolved like this to survive the frequent fires that burn through with ferocious heat and speed. A magnificent big male Black Wallaby sitting on a sandstone ledge made for a perfect photo, but I was too slow to get my camera, and it spooked away. I identified about thirty species of birds, with great views of Yellow-tufted Honeyeater the best. A Superb Lyrebird could be heard belting out its incredible, powerful song deep in a remote gully, safe from human eyes. Back at the car, an Australian Brushturkey crossed the road, and then a surprise White-headed Pigeon sat on a roadside powerline. I was not expecting that. Then came the rain, so it was time to head back home.
Tomorrow I will head out to Royal and visit some rainforest pockets. Hopefully I can stake out some owls for spring, and I hope to search for the Bolwarra—one of the most ancient surviving flowering plants—one I have never seen. Even on my doorstep there is hidden diversity.
Dion's bio and upcoming tour schedule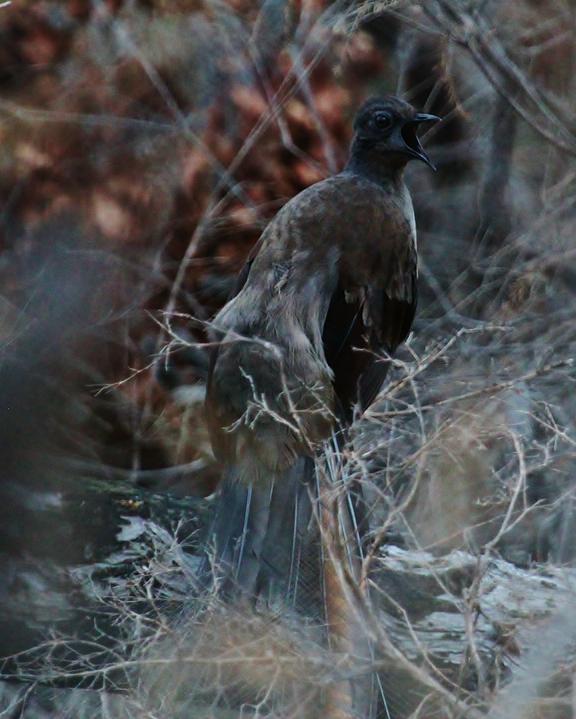 male Superb Lyrebird singing in display in Kuringai Chase National Park ©​ Dion Hobcroft