VENTFLASH #301
August 22, 2023
Dear friends:
From time to time, I make a point of highlighting the Cornell Lab of Ornithology (CLO) in VENTFLASH. The reason is clear: the Lab is widely acknowledged as the preeminent institution for the study of birds and bird conservation. As the business of our company is birding and natural history-based tourism, we feel connected to the Lab and are committed to supporting it and the work that goes on there. With that in mind, I've been thinking a lot about hummingbirds lately after reading the summer edition of Living Bird, the Lab's excellent magazine publication.
The feature article in this issue, The Essence of Iridescence, by Marc Devokaitis, explores the recent advances that have occurred in our understanding of how hummingbirds produce not only their intense coloration, but also the amazing spectrum of colors that make this group of birds truly the most colorful in the world. I was so taken with the piece, I wanted to make sure our travelers are aware of it.
Most hummingbirds display the greatest color intensity on their crown and gorget, a quality that ornithologists attribute to the pressures of sexual selection, by which male hummingbirds have evolved their vibrancy of colors through endless competition with other male birds to attract mates. As the article relates, both the spectrum of colors visible to us (and to the birds!), and their intensity, stem from astonishingly miniscule physical structures within the birds' feather barbules. Called "nano-structures," these are composed of layers of keratin and melanosomes that, depending on their degrees of thickness, determine the colors we perceive. As light penetrates these layers, it bends and is then reflected from varying depths and at different wavelengths, which yield the multicolored, saturated sheens, or "iridescence" that we see. Of course, the angle at which we view the birds is also an important determinant in the colors we see. Together, these factors determine why a hummingbird's gorget may appear red or blue, or radiantly colorful one moment and entirely black the next.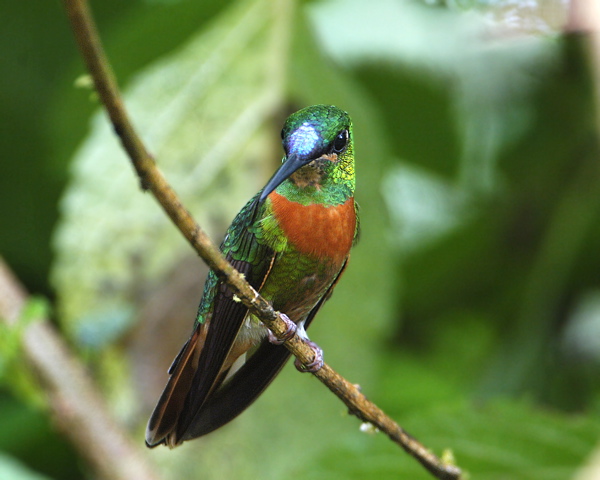 Gould's Jewelfront - Robert (Spike) Baker
The text is accompanied by dazzling photographs of a number of hummingbirds, many with heavenly names like Shining Sunbeam, Rainbow Starfrontlet, Gould's Jewelfront, Velvet-purple Coronet, and Fiery-throated Hummingbird. Subscribers to the magazine's print version will be delighted with the folded poster insert that illustrates an array of gemstones adjacent to the eponymously named hummingbirds (e.g., Tourmaline = Tourmaline Sunangel) to underscore the jewel-like qualities of many hummingbird species. (Click here for a free download of the poster.)
Living Bird is available online at the CLO's All About Birds website. If you are not a member of the CLO, I recommend that you join soon!
For anyone with a passion for birds, hummingbirds are among the most wonderful of nature's creations. Endlessly fascinating and mesmerizingly beautiful, these sprites of the natural world add pure joy to our natural history adventures. This article was a strong reminder of why we love them as we do.
VENT Chief Operating Officer Barry Lyon was recently in Tucson, Arizona for the annual Southeast Arizona Birding Festival, organized by Tucson Audubon Society. During his stay, Barry visited the Paton Center for Hummingbirds in the town of Patagonia. The PCH began as a project to save a beloved birding destination that I spearheaded with George Fenwick of the American Bird Conservancy and Paul Green of Tucson Audubon. We will retell a bit of that story in the next edition of VENTFLASH. For now, I encourage you to join one or more of our many tours on which hummingbird viewing is a featured activity. These include tours to Arizona, Costa Rica, Panama, Colombia, Ecuador, and Peru.
IN THIS ISSUE:
INTRODUCING NEW TOUR LEADER KEVIN BURKE
VENT MOVING TO PAPERLESS DISTRIBUTION OF TOUR MATERIALS
NEXT VENT WEBINAR: WINTER DOMESTIC TRAVEL OPPORTUNITIES
SPECIAL OFFER: VENT & THE CORNELL LAB OF ORNITHOLOGY'S BIRDS OF THE WORLD
NEW REQUIREMENT FOR EUROPEAN TRAVEL TO DEBUT IN 2024
CLOSING THOUGHTS
INTRODUCING NEW TOUR LEADER KEVIN BURKE
Almost two months ago I announced the addition of a cadre of new tour leaders to the VENT community. The first of the new leaders we profiled was Remy Grefa, of Ecuador. In this edition of VENTFLASH, I am pleased to introduce Kevin Burke.
Kevin Burke
This spring, Barry Lyon was contacted by one of our travelers who informed him of a talented and personable tour leader from western North Carolina who she felt would make an excellent addition to VENT's tour leader team. Any time we hear about new talent, or the availability of a potential new tour leader, we pay attention. While there are many people out there who desire to lead tours, it takes a special set of traits to lead tours for VENT. The person Barry was told about is Kevin Burke, who had previously guided tours for another organization.
From the first time Barry and I spoke with Kevin, we instinctively knew he would be a VENT-caliber tour leader. A resident of Hendersonville—south of Asheville—with his wife, Jennie, and their two children, Kevin has professional guiding experience across the United States, Costa Rica, Ecuador, and other areas. He is a skilled birder and possesses excellent "people skills." Kevin is also active in the North Carolina birding and natural history community. Through his own organization, Carolina Nature Tours, Kevin leads day tours around western North Carolina and speaks to an array of groups. Kevin brings to VENT a dedicated following, in addition to a business sense. Since officially joining VENT, several people who know him have already registered for VENT tours.
Kevin's first tour will be September Migration in the Pacific Northwest next month in Washington state. Thereafter, he will co-lead our Fall Hawaii tour in October (which still has spaces available) with Brian Gibbons, followed by a slate of domestic tours in 2024. We are still assembling Kevin's tour leading schedule for 2025, but that work will be completed by the end of the month.
NOTE: Our Fall Hawaii tour visits the islands of Oahu, Kauai, and the Big Island; we do not visit Maui, scene of the recent tragic fire that destroyed the city of Lahaina.
Please visit our website to view Kevin's bio, which also displays his tour leading schedule.
I take this opportunity to welcome Kevin to our wonderful community. I hope you will join him on a VENT tour soon!
VENT MOVING TO PAPERLESS DISTRIBUTION OF TOUR MATERIALS
Of the many changes that occurred in society during the pandemic era, some have proven temporary and others longer lasting, even permanent. In the business community, the pandemic accelerated the ongoing transition from paper communication to electronic, a trend that is likely irreversible. Some employees working from home, supply shortages, a desire to reduce waste, a drive to cut expenses, inflation, and an ever-increasing acceptance of electronic communication among the public are all drivers of this foundational change.
For many of these very reasons, we have made the decision to begin shifting to electronic documents in the distribution of our tour materials. This process will occur in at least two stages, with the first stage concerning our "Participant Folders." Per our policy, those registered on tours receive a Participant Folder approximately 150 days prior to departure. The most important items in the folder are the Tour Itinerary, Field Report from the previous tour, and Arrival/Departure flight information form. These items will now be distributed as electronic documents via email starting with all tours departing on or after January 1, 2024.
The second stage of the transition will occur in the fall with the distribution of "Departure Packet" envelopes that we send out approximately three weeks prior to departure. This process will be addressed in a future announcement.
For now, we will continue to provide a hard copy of the Field Checklist along with name badges and a luggage tag.
The process of sending electronic documents actually began a decade ago or more when we started distributing Field Reports from recently completed tours electronically. This latest move is probably overdue, and we hope it will be well-received by our travelers. As always, we emphasize that hard copy materials can be provided upon request.
Please watch for the next announcement on this matter in October.
NEXT VENT WEBINAR: WINTER DOMESTIC TRAVEL OPPORTUNITIES
Our program of VENT Webinars continues this month with a presentation that features domestic travel opportunities in the coming winter season. The late summer is a time when many people are making winter travel plans, and we thought you might like to know about our offerings in the January–March period.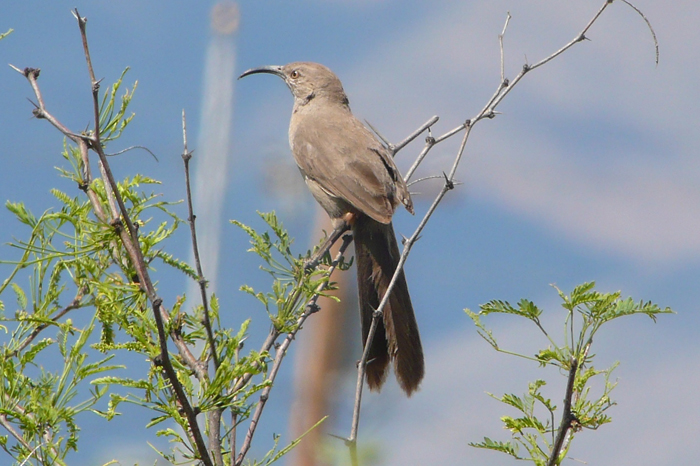 Crissal Thrasher - Barry Zimmer
The southwestern states of New Mexico, California, and Arizona are the setting for several short tours, each of which promises great birds and great birding spectacles, while other tours to Minnesota, Hawaii, and Nebraska are specialty trips in their own right. Leading this presentation are Victor Emanuel and Barry Lyon, who will showcase six VENT domestic tours operating in the first three months of the new year. We are also excited to use this opportunity to introduce Kevin Burke to our travelers. A resident of North Carolina, Kevin is the newest addition to our tour leader team. He will co-lead five of our winter tours and will join this presentation in real-time.
The webinar will begin Thursday, August 24, 2023 at 11:00 am PDT/12:00 pm MDT/1:00 pm CDT/2:00 pm EDT. 
Register for the webinar: Winter Domestic Travel Opportunities.
SPECIAL OFFER: VENT & THE CORNELL LAB OF ORNITHOLOGY'S BIRDS OF THE WORLD
The most recent presentation in the VENT Webinar series was a joint effort with VENT and the Cornell Lab of Ornithology to demonstrate the CLO's Birds of the World. Birds of the World is an online resource that profiles each of the world's nearly 11,000 species of birds. Within each species account is a wealth of information on a range of topics, including identification, distribution, habitat, movements and migration, diet, behavior, nesting, and much more. Birds of the World offers far more information about a given species than is available in traditional field guides. You can use it to prepare for your upcoming VENT tours and learn more about the birds you most want to see!
Please click here to view the webinar: Birds of the World with VENT and Cornell Lab of Ornithology
Birds of the World is a subscription service with an annual fee of $49. Thanks to the special relationship VENT enjoys with the Lab of Ornithology, we are able to offer a 30% discount off the first-year subscription for first-time subscribers. This offer is exclusive to VENT travelers!
To secure the discount, enter the promotional code "VENT" when completing your purchase.
NEW REQUIREMENT FOR EUROPEAN TRAVEL TO DEBUT IN 2024
We share news of a new entry requirement for travelers to Europe that will debut in 2024. The European Union (EU) has announced the impending deployment of its European Travel Information and Authorization System, or "ETIAS" for short. Through ETIAS, travelers to most European destinations will be required to obtain authorization for entry by means of a short application process. ETIAS will apply to all travelers to the thirty European countries that do not currently require a travel visa for entry. This includes almost all of the best-known destinations in Europe, a number of which are regularly visited by VENT tours including Spain, Portugal, Germany, France, Italy, and Greece.
Following are the most important facts about ETIAS:
Why? The origins of ETIAS date to the terrorist act of 9/11, when the countries of the EU determined better tracking of people coming to Europe was needed. It was not until recently that the project neared completion. The EU has determined that terrorist activities (based on recent arrest reports) remain high enough that the system is needed.
What? ETIAS is not a traditional visa, but rather an "authorization" that is granted to travelers going to any of thirty European countries that do not currently require a visa for entry, including all twenty-seven nations that form the Schengen Area—those EU member states that agreed to ease border restrictions. ETIAS authorization is intended for short-term visits of up to 90 days within any 180-day period.
Who? Passport holders from 60 countries (including the United States and Canada) who can currently travel to most European destinations without a visa.
How? An application will be available via a web portal and/or a mobile phone app. It will take only a few minutes to complete. Once approved, the authorization will be valid for three years or until the traveler's passport associated with the authorization expires—whichever occurs first.
When? The system will go into effect in 2024, but the EU has not yet announced a specific launch date.
We will keep our travelers apprised as additional information is received.
I just spent ten wonderful days in Panama. I have been to that marvelous country many times over the decades, and each time I go, I deeply appreciate the birds, butterflies, and mammals that await. On this trip I traveled with a family with whom I am close, and we spent four days at the amazing Canopy Tower and several more days at the Canopy Lodge.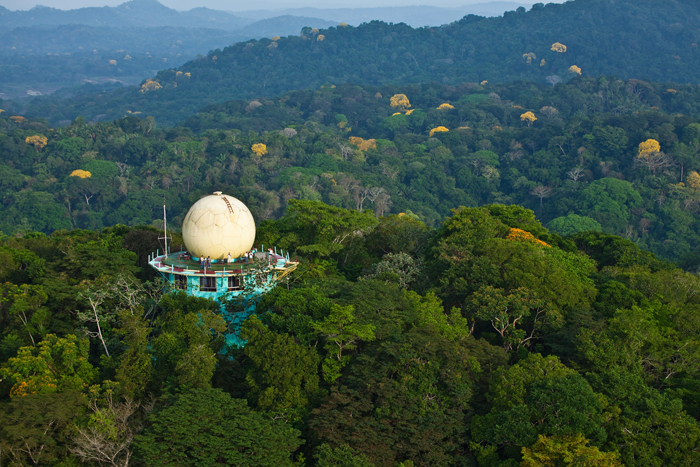 Panama's Canopy Tower - courtesy Canopy Tower
The Canopy Tower rises up among beautiful tropical forest on the edge of Soberania National Park. Thanks to the design of the structure, you can gaze at the forest from your guest room on one level and from the dining room on the next floor up. Then you walk up a short flight of steps to the platform that surrounds the top of the Tower. From this elevated perch, you can watch the sunrise, see a Keel-billed Toucan at eye level, and admire the five colors of its huge bill. The staff provides coffee and tea to start each morning. During the next hour and a half, you see wonderful birds perched in nearby trees, a representation of which includes Masked Tityra, Red-crowned and Cinnamon woodpeckers, Green Honeycreeper, White-vented Euphonia, and Palm and Blue-gray tanagers. While watching birds, Mantled Howler Monkeys start calling, and Geoffroy's Tamarin monkeys come to feed on bananas nearby. Then a Three-toed Sloth starts to climb up a cecropia tree next to the Tower. In the distance, a ship appears in the Panama Canal.  This is an amazing way to start your day!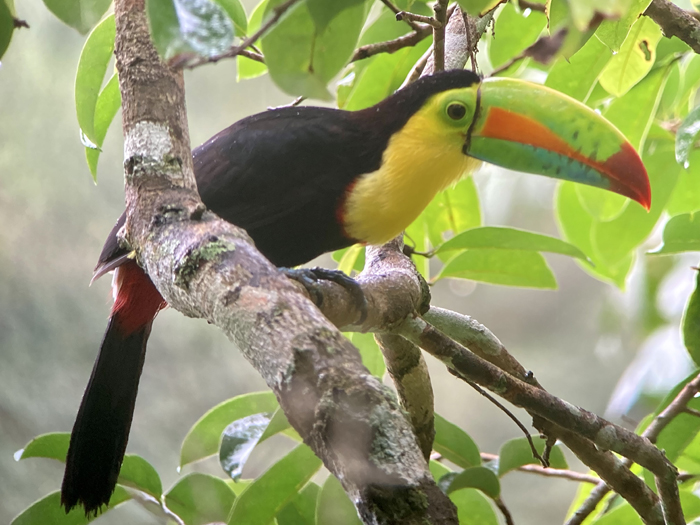 Keel-billed Toucan - Barry Zimmer
After breakfast, you walk down the hill on the paved entry road. Forest is all around you. A mixed species flock of antbirds, woodcreepers, and other birds may appear. Nearby, you may see a Black-throated Trogon perched low in a bush, or a lovely and small White-whiskered Puffbird perched over the road. With good luck you may see a Great Tinamou walking through the undergrowth. After a gentle, easy walk of a couple of hours, the staff will bring you coffee, tea, and a snack at midmorning, and for those who desire, a ride back up the hill to the Tower. On another day you will walk along famous Pipeline Road through superb lowland forest. Pipeline Road is possibly the greatest birding road in the world, with 350 species having been counted on the annual Christmas Bird Count!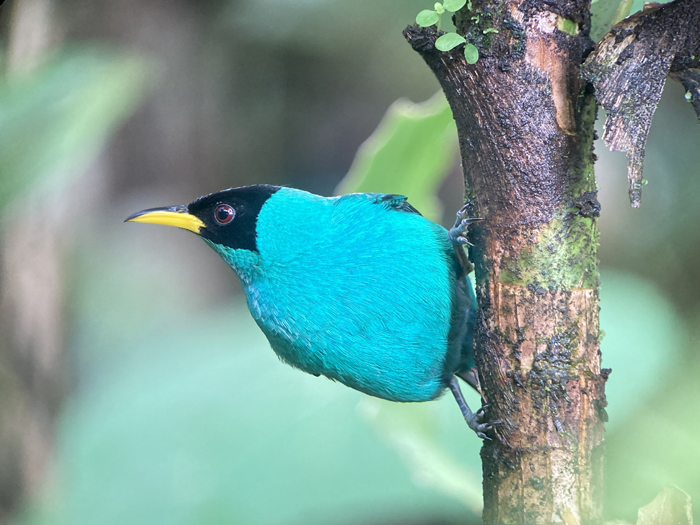 Green Honeycreeper - Barry Zimmer
Your visit to the Canopy Tower can be combined with an equally wonderful visit to the Canopy Lodge, near the town of El Valle, in west-central Panama, or the Canopy Camp in the Darien lowlands of eastern Panama, where you will see many more great birds and animals.
VENT will operate tours to the Canopy Camp, Canopy Lodge, and Canopy Tower this October, and in January to the Lodge and Tower (combined trip), and again to the Camp and Lodge. Spaces are still available on many of these departures.
We hope to see you on a VENT tour soon!
Best wishes,
Victor Emanuel