VENTFLASH #293
December 23, 2022
Dear friends:
.As the year 2022 draws to a close, I want to thank all of the wonderful people who have been instrumental in making this a very successful year for VENT. First and foremost, I want to thank everyone who traveled with us. Many of our longtime clients signed up for one—or more—of our tours, and their dedication and support have been invaluable. In addition, a number of folks who have never traveled with us before chose to sign up for a VENT tour in 2022, and we appreciate their interest and confidence during these difficult times.
I cannot say enough about the efforts of our tour leaders and office staff to provide fun, exciting, and educational experiences for our tour participants. They are "the best in the business!"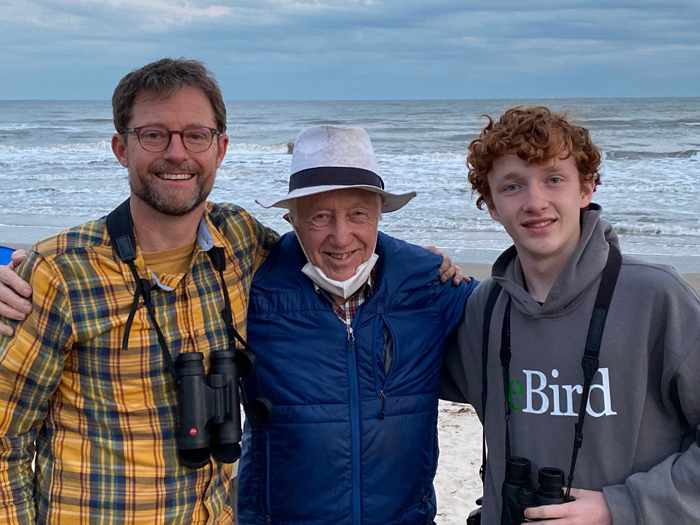 Andy Gerhart, Victor Emanuel & Caleb Helsel, Freeport CBC, 12-18-22 - Photo: Carolyn Helsel
On December 18, I participated in the 66th annual Freeport Christmas Bird Count in Texas. It was, once again, very successful and a great deal of fun. We saw 187 species of birds. I urge you to participate in a CBC this year and, of course, in future years. You do not have to be an expert birder; beginners to experts are all welcome. And you will have a lot of fun! Contact your local Audubon chapter for information on counts in your area. I am including a link here to the Houston Audubon website, where you can find dates and information for all of the counts in Texas.
On behalf of VENT's tour leaders and office staff, please accept our best wishes for the holidays and the New Year!
Victor Emanuel
Victor Emanuel Nature Tours  |  2525 Wallingwood Drive, Suite 1003  |  Austin, TX 78746
Phone: 800-328-8368 / 512-328-5221  |  Email: info@ventbird.com
Follow us on
© 2022 Victor Emanuel Nature Tours. All rights reserved.